Firm Profile > BMA - Barbosa, Müssnich, Aragão > Sao Paulo, Brazil
BMA - Barbosa, Müssnich, Aragão
Offices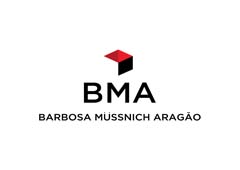 BMA - Barbosa, Müssnich, Aragão
AV. PRESIDENTE JUSCELINO KUBITSCHEK, 1.455 - 10º ANDAR
CEP: 04543-011 - ITAIM BIBI
Brazil
BMA - Barbosa, Müssnich, Aragão > The Legal 500
Rankings
BMA - Barbosa, Müssnich, Aragão >
Firm Profile
Founded in the 1990s, when Brazil was undergoing structural changes, BMA – Barbosa Mussnich Aragao was inspired by a mission to find innovative solutions that are legally viable and sustainable in an environment of rapid development, new regulatory frameworks and new business models in almost all sectors of the economy. BMA is inspired to be a pioneering law firm, ready – and more than able – to take on the big projects and big problems that require sophisticated solutions.
An active participant in the privatizations that took place in the 1990s, BMA had achieved a solid reputation and both national and international recognition even before becoming one of the leading firms in Brazil in the mid-2000s, when the Brazilian market experienced a wave of IPOs and mergers and acquisitions.
BMA has been present in most of the major M&A transactions in Brazil over the last two decades, participating in the creation of corporate groups that do business around the world.
BMA has acquired an impressive stock of know-how in infrastructure projects, especially in the areas of ports, railroads, highways, oil and gas, energy and telecommunications. The firm also had a major part to play in the 2014 FIFA World Cup, negotiating the contracts that gave Brazil the right to host the event and acting as legal counsel to the local organizing committee.
BMA's experienced professionals know that a thorough understanding of its clients' business objectives is essential. BMA works to achieve creative, effective solutions by integrating its specialist teams to ensure a multidisciplinary approach to legal problems.
Senior partners
Francisco Mussnich, Luiz Antonio Campos, Paulo Cezar Aragao and Plinio Barbosa.
Managing partner
Amir Bocayuva Cunha.
Partners
Adriana Dantas, Ana Muller, Andre Abbud, Andre Macedo, Anna Carolina Malta, Antonella Carminatti, Barbara Rosenberg, Camila Chouzal, Camila Goldberg, Camilla Paoletti, Carlos Frederico Bingemer, Cibelle Linero, Claudia Schulz, Cristiana Moreira, Cristiane Mamprin, Daniel Loria, Daniella Fragoso, Debora Bacellar, Eduardo Carvalhaes, Eduardo G. Wanderley, Elaine Palmer, Fabiana Fagundes, Fabio Henrique Peres, Felipe Galea, Fernanda Carneiro, Franciny de Barros, Gisela Sampaio, Guilherme Zoghbi Ayala, Helio Alvarez, Henrique Beloch, Hermano Barbosa, Ian Bussinger, Jane Goldman Nusbaum, Joao Paulo Cavinatto, Jose Eduardo Pieri, Jose Guilherme Berman, Jose Inecio Ferraz, Jose Otavio Faloppa, Leandro Bittencourt, Ligia Regini, Luciana Magalhaes, Luciana Marsal, Luis Bernardo Cascao, Luis Henrique Costa, Luis  Flaks, Luiz Fernando Fraga, Luiz Marcelo Gois, Luiza Lacerda, Marcio Pereira, Marcos Exposto, Maria da Paz Tierno Lopes, Mario Gelli, Mauricio Faro, Miguel Ramos, Monique Mavignier, Patricia Sabino, Paulo Ceppas Figueiredo, Pedro Barroso, Pedro Costa, Rafael Calabria, Rafael Castilho, Rafael Dutra, Raquel Mansanaro, Roberto Dias Carneiro, Rodolfo de Tella, Sandra Terepins, Sergio Fagundes, Sergio Savi, Tatiana Amorim, Thais Meira, Vitor Butruce and Vivian Casanova.
Main Contacts
| Department | Name | Email | Telephone |
| --- | --- | --- | --- |
| Bankruptcy, Business Restructuring and Insolvency | | | |
| Business Crime | | | |
| Competition | | | |
| Compliance, Investigations and Law Enforcement | | | |
| Corporate and M&A | | | |
| Digital Law and New Technologies | | | |
| Employment | | | |
| Environmental | | | |
| Finance and Capital Markets | | | |
| French Desk | | | |
| Infrastructure, regulatory and government Affairs | | | |
| Insurance | | | |
| Intellectual property | | | |
| International trade | | | |
| Litigation and Arbitration | | | |
| Oil & Gas | | | |
| Real Estate | | | |
| Superior Courts | | | |
| Tax | | | |
| Wealth Management and Succession Planning | | | |
Staff Figures
Other fee-earners : 221 Total staff : 530
Other
Contacts : 77
Top Tier Firm Rankings
Firm Rankings
Firm Rankings