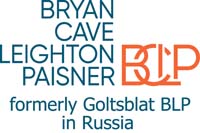 Bryan Cave Leighton Paisner Russia (formerly Goltsblat BLP in Russia) has successfully advised H.M.S. Technologies Limited (HMST), the major shareholder in HMS Group, on restructuring its 71.51% shareholding in HMS Hydraulic Machines & Systems Group Plc (LSE: HMSG) (HMS Group Plc), the Cyprus-based parent of HMS Group.
The restructuring saw the Cypriot holding company HMST transfer its entire stock of shares and GDRs of HMS Group Plc to JSC HMS Holding, registered in Russia. 
This was a unique restructuring project as the Cypriot HMST swapped LSE-listed GDRs of HMS Group Plc for privately issued additional shares in the Russian HMS Holding. Duly cleared by UK and Cypriot regulators and the Bank of Russia, the transaction is truly unparalleled on the Russian market. 
The dedicated Bryan Cave Leighton Paisner team was led by Partner Matvey Kaploukhiy and Counsel Yury Babichev and included Associates Mikhail Filatov, Elena Shelomenzeva, Tuyana Molokhoeva, Mikhail Erokhin, Kseniya Shevchenko and Counsel Igor Zhivotov, as well as BCLP's London-based Partner Benjamin Lee, Counsel Brian Mulkerrins, Associate Tom Bacon and Trainee Solicitor Ida Nizankowska-Polus. BCLP advised the client on Russian, English and EU law.
A Harneys team featuring Partner Nancy Erotocritou and Associates Sonia Hamshaw and Elina Mantrali advised on Cyprus law aspects of the restructuring. 
EY provided tax advice for the restructuring and Renaissance Capital acted as a broker for the GDR transaction.
For more detail about the restructuring, please visit HMS Group's website  here
For additional information, please contact:
Ksenia Soboleva                                      Tel.:     +7 495 287 44 44
Head of PR and Communications               Mob.:   +7 965 125 03 73
  ksenia.soboleva@bclplaw.com
Bryan Cave Leighton Paisner (Russia) LLP (formerly Goltsblat BLP in Russia)  has one of the oldest, most resourceful, best established and stable teams in Russia, top-ranked in most legal directories. The highly respected Moscow team of over 100 lawyers, qualified under Russian and English law, has over 20 years of experience in providing legal support for major Russian businesses, as well as multinationals implementing large-scale investment projects in Russia. Clients include over 1700 companies, among them major multinational investors operating in Russia (including 130 Forbes Global clients), Russian and international banks and financial institutions and Russian industry-leading companies. Five times winner of Law Firm of the Year in Russia since 2009, including Chambers Europe Awards 2010, 2014 and 2015; The Legal Business Awards (The Legal 500) 2010; The Lawyer European Awards 2014. Top-ranked by The Legal 500 and Chambers & Partners in core practice areas: corporate/M&A, real estate and construction, dispute resolution, competition/antitrust, tax/customs, IP. www.bclplaw.com
HMS Group  is a major pump, compressor equipment producer for oil & gas, power generation, utilities and water supply in Russia and CIS countries, a leading manufacturer of skid mounted modular oilfield equipment and a dynamically developing engineering company with a successful practice in design, installation and construction, commissioning of integrated oil & gas production and water facilities. Its GDRs are listed on the London Stock Exchange (LSE: HMSG).