Survey Results - Trainee feedback on
Kennedys Law LLP
The lowdown - Trainees (in their own words) on Kennedys Law LLP
Why did you choose this firm over any others? 'The values and the approachability of the staff', 'type of work', 'because of its success and global appearance', 'I was interested in defendant work, particularly involving personal injury litigation', 'good work/life balance', 'insurance practice/expertise', 'I worked here previously', 'reputable international firm with strong values that I align with', 'interest in insurance, not elitist, quality of life' 
What is the best thing about the firm? 'Responsibility and friendliness', 'my colleagues and the diverse work', 'Kennedys doesn't demand long hours when they aren't necessary and this, I feel, keeps the work ethic high and employee satisfaction at its best', 'trainees all get on and are sociable', 'the amount of client contact I get and the ability to take on big responsibilities', 'the people and clients', 'I do not feel pressure regarding billable hours' 
What is the worst thing about the firm? 'The (London) office – but we are moving', 'limited international secondments', 'there are only three seats in the Taunton office', 'when it comes to seat rotations, HR aren't always accommodating to our preferences', 'sometimes the teams can get extremely busy and not much work is delegated', 'the salary', 'not as many benefits or social activities as other firms', 'lengthy online training when you join the firm'  
What has been the best moment of your training to date? 'A secondment to Bermuda', attending a Court of Appeal hearing', 'the supervision in my first seat in the travel team and attending trials', 'attending a trial in my first week', 'receiving great feedback from our client's policyholder', 'getting good feedback in my review', 'different experiences day to day when I feel as though I am able to run my own files well', 'I don't have a particular best moment, but in general I am happy going to work there and I don't feel stressed, even if I am totally new at it' 
What has been the worst moment of your training to date? 'Probably the first couple of weeks, where we were settling in and all we were doing was training. It was necessary and helpful, but I felt like I was doing it for ages before I started getting actual, chargeable work from my supervisors', 'negative feedback', 'making a mistake of not telling the claimant's solicitor about an appointment with our expert', 'feeling overloaded with work', 'my work/life balance over the Christmas period' 
The Legal 500 Future Lawyers verdict on Kennedys Law LLP
Kennedys is praised for its 'insurance expertise' and 'innovative approach to litigation'. The national firm 'really sold the work/life balance and the sociable culture' on open days and during the interview process. 'It appeared to be the firm that considered their employees the most' said one trainee, and happily this has proved to be true on the ground: 'Kennedys' values are so central to everything the firm does'. Colleagues at all levels of seniority are 'so nice and approachable' and trainees know that they 'can approach others for help' – an attitude which applies to any office in the Kennedys network. The 'diverse, high-value work' pleased trainees no end and best moments include 'being able to assist with a case valued at close to half a billion pounds', 'attending an inquest in Newcastle with a partner from London' and 'preparing and assisting in a conference with counsel and witnesses'. One of the standout benefits of working at Kennedys is the work/life balance: 'I never feel guilty for logging off at 5:30pm if I have completed all of my work' said one respondent; 'the firm doesn't demand long hours when they aren't necessary'. One thing that frustrates trainees, however, is that some of the offices have a 'limited choice when it comes to seat options'. Another bugbear is the 'lack of transparency about which seat we are going into next – we are often told at the last minute'. When asked about their worst moments, several respondents talked about 'the IT/online training', which 'took so long!'. 'Being stressed about big deadlines' and 'working with some intimidating supervisors' were also mentioned. To train at a firm with a 'particularly strong presence in the insurance sector' and which has a 'positive work culture as well as a good reputation', research Kennedys. 
Q&A – the SQE programme Phillipa Tizard, trainee, Kennedys Law LLP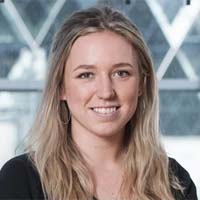 What team are you a part of at Kennedys?
I work as part of the travel team in the London office, currently undertaking the SQE programme at Kennedys. The SQE programme is a 30-month training programme where I will remain in the travel team for the duration. It involves working at Kennedys four days a week and going one day a week to study at BPP.
How did you start your career?
I began my career at Kennedys working in the marketing team within business development (BD). In BD you are exposed to a variety of work, but I mainly worked on thought leadership.
I worked on the fourth edition of the firm's coveted Claims Handling Guide, liaising with around 80 lawyers who had authored various chapters on their specialisms. Working with the content gave me a greater understanding of the plethora of work the firm covers and made me start reconsidering a legal career. Prior to Kennedys I had worked in retail, recruitment, media and au paired a few times.
What do you like most about the SQE programme?
The SQE programme makes becoming a solicitor far more financially viable and accessible. Kennedys was one of the first law firms to implement this programme as part of their training offerings. It was the first time post studying law at university I had seen a training programme that appealed to me. I like that I am studying at the same time as working and that I have a salary. It does present its own challenges too – good time management is essential!
What are your biggest achievements so far?
Being accepted onto the SQE programme was a big achievement in itself for me. The application process can be quite lengthy and a lot of personal time is invested, so it was incredibly rewarding to be successful.
What is the environment like at Kennedys?
You will often hear people say that it's the people that make Kennedys stand out, and it's true, colleagues look out for one another. My marketing colleagues were immensely supportive when I first informed them that I was looking to apply to the SQE programme and very encouraging of me pursuing my goal.
Within the travel team I am well supported. My supervisors recognise when there are opportunities for me to attend remote trials and help on larger, more complex files, to continue to build on my understanding of the legal issues faced by the travel sector. It's encouraging to see team members progress through their careers at the firm and that there's a clear pathway.
What advice would you give to someone looking to start the SQE programme?
The SQE programme at Kennedys provides a unique opportunity to become more specialised in a particular area, so I would recommend taking a look at the typical work you'll be exposed to on the Kennedys website.
It's important to see value in whatever path has led you to this point; all experience can be relevant in different ways. You will be amazed and intrigued by the backgrounds of your trainee cohort and it definitely is never too late to go for it.
About the firm
The firm: Kennedys is a global law firm with expertise in litigation, dispute resolution and advisory services. They handle contentious and non-contentious matters for many industries, and provide claims and coverage advice to insurers and self-insureds for all lines of business across the globe.
The clients: Aer Lingus; Brit; Chubb; Etihad Airways; Great Western Rail; Hilton Hotels; JD Wetherspoon; Ryanair; Travelers; TUI group.
The deals: Assisting Stagecoach South Western Trains with the employment elements of its move out of the South West Trains Rail franchise, including TUPE work and redundancy issues; acting for Protector Insurance, the property and liability insurer of the Royal Borough of Kensington and Chelsea (RBKC) and the RBKC Tenants Management Organisation (TMO), in relation to the Grenfell Tower tragedy; acted for AXA Insurance against Ted Baker in claims arising out of the theft of stock by an employee from its warehouse over a period of years; acting for British Airways and AIG on claims arising from the fire and evacuation of flight BA 2276 at Las Vegas-McCarran International Airport in 2015; represented Esure in a claim by an insurance customer for losses in connection with a motorcycle accident and consequent life-changing spinal cord injuries.
Senior partner: Nick Thomas
Managing partner: Suzanne Liversidge
Other offices: Auckland, Austin, Bangkok, Basking Ridge, Belfast, Bermuda, Birmingham, Bogotá, Bristol, Brussels, Buenos Aires, Cambridge, Chelmsford, Chicago, Copenhagen, Delaware, Dubai, Dublin, Edinburgh, Glasgow, Hamilton, Hong Kong, Israel, Kerala, Leeds, Lima, Lisbon, Madrid, Manchester, Melbourne, Mexico City, Miami, Mumbai, Moscow, New Delhi, New York, Oman, Paris, Perth, Philadelphia, San Francisco, Santiago, São Paulo, Sheffield, Singapore, Sydney, Taunton.
Who we are: Kennedys is a global law firm with expertise in litigation and dispute resolution, particularly in the insurance and liability industries. With over 2,300 people worldwide across 47 offices in the UK and Europe, the Middle East, Asia Pacific and Latin America, we have some of the most respected legal minds in their fields.
We're here to make a difference for our clients, and each other, every day. We empower our people to deliver the very best work and reach their full potential.
What we do: Kennedys' lawyers handle both contentious and non-contentious matters, and provide a range of specialist legal services for many industry sectors, including: insurance and reinsurance, aviation, banking and finance, construction, healthcare, life sciences, public sector, rail, real estate, retail, shipping and international trade, sport and leisure, transport and logistics, and travel and tourism. Kennedys also has particular expertise in litigation and dispute resolution, especially in defending insurance and liability claims.
What we're looking for: Kennedys aims to recruit the best trainee talent and encourage diversity and an environment built upon different skills and backgrounds, to represent our global firm. Kennedys has a vibrant and supportive working environment and is looking for sociable and enthusiastic team players with commercial awareness.
What you'll do: Kennedys has both a two-year training contract and a 30-month SQE programme, which allows trainees to develop relevant experience and skills that set them up in their careers as an excellent solicitor.
During the training contract, trainees will complete four six-month seats across Kennedys' core practice areas of insurance and reinsurance, liability, healthcare and commercial. Kennedys also offers exciting client and international secondment opportunities. In addition, trainees will be given the opportunity to attend in-house and external seminars, while having access to a large array of online training through Kennedys' internal learning management system.
Kennedys' SQE programme is an innovative training programme for graduates. The programme will prepare trainees for the Solicitors Qualifying Exam (SQE) that came into effect from Autumn 2021.
The 30-month training programme takes the form of a graduate solicitor apprenticeship that allows trainees to start working and earning at Kennedys immediately after university while gaining qualifying legal work experience in one of their core practice areas before sitting the SQE1 and SQE2 exams to qualify as a solicitor. The programme will involve working at Kennedys four days a week and having one day off a week to study at BBP. In addition to a dedicated supervisor at Kennedys, trainees will have a tutor and skills coach at BPP, to ensure that they have all the support at work and with their studies.
Perks: Life insurance, income protection, employee assistance programme, pension, private medical insurance, season ticket loan, gym subsidy, eye care vouchers, corporate GP, 25 days' holiday (increasing to 27 after five years).
Sponsorship details: LPC and PGDL/GDL sponsor.
Diversity and inclusion