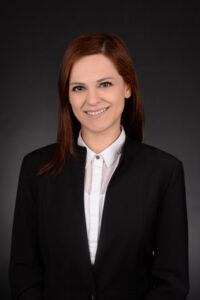 Tell us about your career choice and your journey. 
In fact, I was not dreaming to be a lawyer when I was in high school and before that. I wanted to engage in law as a social science and expected to be an academician instead. Although I was advised by some of my lecturers to continue at the university, I found the idea of practicing the science of law on-site more attractive and decided to become a lawyer. I love my profession and believe that I made the right decision. 
You worked as an in-house lawyer at leading company Aksigorta before joining Yavuz & Uyanik  in 2015. What has been your experience as a woman working in both private practice and in-house environments? 
I can say that in-house counselling and practicing in a private law office are quite different from each other.  When you work as an in-house counsel, you may feel more like a company employee than a lawyer. Some may find this field more comfortable to work in. But at the end of two years, I decided to work at a private law office. In 2015, I became part of the Yavuz & Uyanik family to work in the same field, namely, insurance law. Before I was a lawyer at one single company, but now I represent 10 insurance companies, which makes my work more interesting. 
What are your reflections on the culture of diversity and inclusion in the legal profession in Turkey? 
Although there are different perceptions and repercussions, tolerance for diversity and dissimilarity is part of Turkish culture. You can easily see that this is also reflected in legislation and the legal system. Turkey changed its Civil Law just three years after it announced the Republic in 1923. We should not forget that Switzerland, from which we derive our Civil Law, legitimatized women's suffrage in 1960, whereas Turkey recognized this right 26 years earlier, in 1934. 
How is Yavuz & Uyanik progressing with its diversity agenda? 
I would not be exaggerating if I say that in this regard, the Yavuz & Uyanik family is the best luck that an employee can have. I work in an office going beyond the legal requirements, which set out practicing without ignoring that these various people are "human" first before being employees. I think that, otherwise, it would not be possible for a law office, which was founded by two shareholders and was working with only five employees, to become a "Great Place to Work"-certified law firm, which is recognized as one of the "Best Workplaces of the Great Places to Work," and now has 130 employees. 
How do you define the culture at Yavuz & Uyanik? 
I think my answer to the previous question sums up the culture of Yavuz & Uyanik. The principle of this firm has always been "people first." Employees can always find someone to answer their questions and resolve their issues, and are fully supported. We have an organization that is flexible in terms of work shifts and working conditions, and is well-suited to the needs of its people. Especially during the pandemic, we deeply felt the effects of this culture. We received, and are still receiving, full material and moral support. 
How do you view the new generation of female lawyers? 
To give a more general answer, we see that "Generation Z" is gradually beginning to play its role. This generation is far more advanced than we were in terms of quick thinking and analyzing abilities. Also, they use technology much better than we do. As for their negative traits, they want to get results and feedback too quickly. Sometimes, law fails to respond to their needs as quickly as they want. Nevertheless, the legal profession is quite popular, especially among women. I believe the women of this generation will bring smart innovations to the profession, such as benefiting from artificial intelligence, as long as they learn to be patient. 
If you weren't a lawyer, what would you be? 
I might have studied law and become an academician.  
Which women have inspired you the most?  
My mother, although I think most women would probably give the same answer. She was an outstanding judge, and, more importantly, a legal expert. I have always had great respect for her fairness and honesty. She always maintained this attitude in her private life as well. I think this is a very honourable stance. 
What motivates you? 
Much research has shown that success is the main source of motivation for people, rather than material considerations. It is the same for me. To achieve is what motivates me the most. I believe that if we can achieve change and improvement, we can accomplish sustainability. 
In your career so far, what achievement are you most proud of? 
I take the most pride in being among the founding lawyers of the Yavuz & Uyanik law firm's insurance department. Our department, which we founded with three people, is now in the Legal 500, with 45 lawyers, 15 trainee solicitors, and 10 paralegals. This is the most important thing, and a point of honour, that I have accomplished.  
How do you manage your current work/life balance?  
I have a son who is three and a half years old. Because he is too young to take care of himself, I sometimes have difficulties with my busy schedule. However, my family has always supported and helped me, which allows me to focus on my work. I can't thank my family enough for that, especially my husband. 
When you look back at your career and the knowledge you've gained, what advice would you give to female students who are about to enter the legal profession? 
I believe there is nothing that a woman can't achieve if she receives the education she wants and engages in the work she loves. I think women should be more active in the business sphere. We should not forget that there is more to life than our roles as wives and mothers. A woman can have a good career and be a perfect mother at the same time. The place of a woman with a degree in law is in business, and this is true for women with other degrees as well. I hope they never forget that.