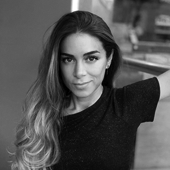 Tell us about your career choice and journey. What was it that made you want to become a lawyer?
It's a bit strange. People usually decide to be a lawyer by seeing or experiencing one in the family. For me there was no one. I was telling everyone around me when I was a child that I had decided to become a lawyer. I remember walking around in the kindergarten among kids and telling them that I was born to bring justice to the world. Weird! I wonder which cartoon or movie created this mindset.  It seems like I stuck to the plan though. 
After graduation I started my career with one of the most reputable law firms. I learned lots of things, but I think the most important outcome for me was being able to decide which area I didn't want to practice.  
In my point of view the most important thing for a person is to be aware of what he/she doesn't want in her life. I never created a path for my future based on what I want. Because as a human being we want everything.  
At the start of your career, you worked as a private practice lawyer for six years prior to moving in-house. What has been your experience as a woman working in both of these very different environments?
People might think that it should be almost the same, as you are ultimately a lawyer and you are practicing what you were educated for. 
It's completely different. Two different worlds. In private practice what is expected from you is to make things right and work in accordance with laws and regulations. You are the lawyer who fixes the problems for the clients. You usually step in once the problem is already there. 
As an In-house you are naturally a part of the client. Well, even it's not a client anymore: it is your family. You should be there during the building process; you draw the path with them, and you are not someone that fixes or solves the problems but the one who prevents those problems from occurring.  
The main difference between a private practice lawyer and an in-house is there the moment you step in. It wouldn't be wrong to say that in-house lawyers are the reason for revenue loss for private practice lawyers. 
My experience of being a woman working in both environments could be defined more or less the same. I don't think the environment is the key here. It's all about culture. There is a famous saying which I really agree with – the geography you are born into is your destiny. I was born in Turkey but lived in different countries. I have experienced the way people act towards women in many countries. I think I am lucky. Things are easier for a woman living in Turkey than before and I hope that continues to improve every day. 
In your 17 years as an in-house lawyer, what barriers have you encountered during your career growth and as a leading female GC in the Turkish legal market?
Well, there are lots of them. I don't even know where to start but I think I should talk about the one that has never changed in all those years.  
Even though I always mention this, the most important thing as a GC is being allies with the rest of the team, getting involved, understanding the needs and the nature of the business. People usually think that the only mission of the GC is to say NO! GC's are there to make things difficult etc etc.. 
I have always tried to show that this was wrong, that I was there to make things work. People who worked with me and my team for a few years felt very comfortable about us getting involved in everything. But once there is a change in the management team, we go back to square one, and become the enemy again.  
What accomplishments are you most proud of?
I can say that the best thing I created during my career is my amazing team. I always feel very proud to see their improvement during all those years.  
As a regular inductee to The Legal 500's GC Powerlist Turkey, you continue to receive deserved recognition as a leading in-house lawyer across the national and international stage. What has been the key to your success after all these years?  
Thank you for the question. Even being asked made me feel so proud and happy. I think the right answer is the trust I built during all those years. 
With both law firms and their clients valuing diversity, how do we get more women into leadership roles?
I always give the same example to this question as it makes it easy to visualize reality: consider your house, your family, and your parents. Who does the most challenging work at home? Who manages all of crises? Who has the immediate responsibility? 
Excluding some exceptions, the answer to these questions is most likely "The Mother".
As you all can see it's the woman who leads, who controls and to whom the control is given by the men. Home is the most important place for everybody's life. It's the core of our lives. So tell me why you give all the leadership and control to women at home and not at work? 
Do you see any challenges for women within the legal industry in Turkey? And what would they be?
I don't think there are challenges specifically for women. Diversity became an important issue, and companies and law firms value it. The challenges are the same for everyone. In the early years of my career things were simpler, there were some basic requirements. In these days each day you should do something to improve yourself. 
How do you manage a work-life balance?
It's a big challenge. It always has been for an obsessive and workaholic like me. I took some courses regarding management skills etc. In almost every course the most important thing mentioned was delegation. I realized that learning to delegate was also learning to trust. That is the key for being a good team.  
Thanks to my team, I now have a very good work-life balance.  
Which women have inspired you the most? 
Ursula K. Le Guin.
What has been your greatest achievement, in a professional and personal capacity? 
I think being nominated for The Legal 500's GC Powerlist Turkey since 2019 and seeing my name on their prestigious website is one of my greatest achievements.  It's not about being published, but to be recognized as a leading in-house lawyer across the national and international stage means many things. It means I did some good things, that they are noticed, and that they have value. 
What is the one piece of advice that you would give to a young woman at the start of her law career and has aspirations to become a leading lawyer one day?
As I mentioned above, Ursula K. Le Guin inspires me a lot. Once she said, " All of us have to learn how to invent our lives, make them up, imagine them. We need to be taught these skills; we need guides to show us how. If we don't, our lives get made up for us by other people". 
So, my advice would be don't be scared. You don't have to be like one of the successful lawyers around you. Success can have different a meaning for each person. Be you and always speak loud if you believe in what you are doing.