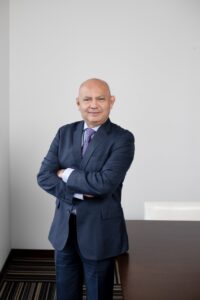 What are the biggest challenges facing Peru's legal market in the next 12 months?
I believe that the ability to adapt and respond quickly and efficiently to the demands of changing services, which are increasingly characterized by their multidisciplinarity, the incorporation of new technologies and contexts of institutional instability due to the impact of internal and external factors, will be fundamental.
Do you consider sustainability credentials important to your firm's business?
Having a solid organization is fundamental to face the challenges of the legal market, which does not necessarily depend on its size, but fundamentally on having clear objectives and the ideal human resources to achieve them.
Have ESG considerations prompted you to re-evaluate the service you provide?
For some time now, ESG factors have been criteria not only for the selection of clients, but also for the development or execution of our legal services. Consequently, rather than re-evaluating our services in terms of ESG, our efforts are aimed at maintaining and improving them.
Where do you feel your clients need the most legal support in the next 12 months?
I believe that the institutional instability of the country will be the main factor that will impact the needs of clients, so they will require legal services that incorporate these factors in the analysis of their problems and especially in their solutions.
What sets your firm apart from competitors?
We have demonstrated our ability to solve complex problems transcending the specific case and providing a vision of comprehensive solutions to our clients' problems, supported by a team that integrates experience, creativity and innovation.
The country has endured considerable political instability since the ousting or Martin Vizcarra, most recently with the deeply divisive and polarised 2021 presidential elections that brought Pedro Castillo to power; are there fears for the country's institutions – and more specifically, the independence of the judiciary and the rule of law?
In the middle of the political instability and in spite of its problems, which are not few, the Judiciary has maintained important levels of independence from the political power. In fact, I believe that it is one of the factors that sustain a certain institutionalism in the country in the midst of the crisis. I think that the political interference in the judiciary during Fujimori's government affected it a lot and this served as a learning process.
In recent years the Peruvian market has seen the proliferation of white-collar practices, both boutique offerings and those tied to larger corporate firms; as long standing specialists in this branch of law, to what do you attribute the very strong growth in this legal sub-sector?
· I believe that at a global level there is a process, with more or less intensity depending on the regions, of "taking good corporate practices seriously" in the understanding that companies, improperly managed, can be an important source of serious crimes such as tax fraud, attacks against the environment, against consumers and undoubtedly corruption that has a greater impact on the fundamental rights of people in less developed countries and societies.
· As a manifestation of this phenomenon, the approval of regulations sanctioning "white collar" practices was promoted by international bodies (OECD, OAS), and there were emblematic cases of criminal sanctions against multinational companies – and their executives – in their countries of origin, which has allowed them to export a culture of Criminal Compliance to our countries along with their economic activities. In this context, the impact of the Lava Jato case has been decisive in establishing in countries such as Peru the need to effectively prosecute "white collar" practices. The prosecution of 17 companies in the construction industry, among them the most important in the country, in the so-called "Construction Club" case, confirms this trend.
At the height of the pandemic it was predicted that a combination of the mining sector and tourism (and its related services, gastronomy etc), would be key to the country's recovery. Eighteen months on, the transactional sector appears to have remained strong – what is your vision of the country's recuperation post-pandemic?
I am very optimistic about overcoming the negative effects of the pandemic despite the serious impact it had on the economy. I base my assessment on the evidence that a good part of the economic actors showed a great capacity for adaptation and reconversion, and if this is accompanied by a sustained process of access to vaccines in the face of new "waves" or strains of the virus, I believe that this will accelerate the process of economic recovery.
To what extent has the pandemic forced modernization – in terms of technology – of court processes and practices, leading to a more efficient judicial system; or on the contrary, has an inability to make this step seen a move towards arbitration – at least for civil and commercial cases?
The pandemic undoubtedly triggered a process of technological modernization in the provision of justice services that is still underway, but is happily irreversible and necessary. For example, it is still pending that technology expands, more or less uniformly, to all specialties and throughout the territory; and above all, that it is reflected in a better quality of decisions. My impression is that the possible difficulties of this process do not or do not have a significant impact on the decision to move towards arbitration, which has to do not only with the time it will take to resolve conflicts but also with the quality of decisions, which often have to deal with complex and specialized problems.
Are there specific practice areas you see as particularly thriving, which you intend to bolster in coming years? Are there any new areas of practice that have emerged recently?
We have emblematic practice areas such as Criminal, Labor, Litigation or Public Law, which are in high demand and the challenge is to maintain and consolidate them as market leaders. We are also committed to relaunching our Tax and Corporate areas. In the first case, oriented to underserved sectors such as AgriFood and new technologies. However, our main concern is not so much the practice areas but the ability to address complex problems that require teamwork and multidisciplinary work. For example, nowadays an essential factor in most complex legal disputes is the reputational factor, and its impact on the commercial, corporate and financial dimensions of companies. Controlling all these variables, or contributing to do so, is part of a new way of conceiving our legal services.
How active are members of your team in terms of thought leadership?
One of the factors that we consider essential in our firm is the profile of our lawyers. We believe that it is not possible to achieve a good legal practice without a solid humanistic and dynamic academic background, that is to say, of permanent learning, understanding and adaptation to reality and innovation. We encourage our lawyers to fit this profile and their promotion to management or leadership positions is essentially defined by fulfilling it to a greater extent.
What are your firm's policies on diversity and inclusion? Does your firm have any specific diversity initiatives?
We are a firm with a special commitment to fundamental rights and among them certainly those of equality and non-discrimination, which imply the recognition and respect for diversity and certainly inclusion. Our partners include a former President of the Constitutional Court, a former Minister of Justice and Human Rights and a former First Deputy (e) of the Ombudsman's Office.
Dedicating hours to Pro Bono work, which often involves dealing with cases of discrimination, human trafficking or lack of access to justice for reasons of economic or social inequality, is a criterion of evaluation of our lawyers. Since last year we decided to accept the invitation of the firm Bullard Falla Ezcurra +, to join the Ayni initiative, which consists of providing students of public universities in the interior of the country, access to professionals and knowledge that otherwise would be impossible or very difficult for them. Ayni rewards the best students with a paid internship for six months in our firm.
What does innovation mean to you? Can you tell us about any specific innovation initiatives at your firm?
We understand innovation as the elaboration and execution of unprecedented solutions to complex legal problems. The formation of "tailor-made" teams to meet all foreseeable contingencies of complex cases, including non-lawyers.
What technological changes have you implemented at your firm to improve the legal services you provide to your clients?
Two fundamental measures. We are in the process of migrating to a digital document management platform for cases, which guarantees immediate remote access with sufficient guarantees of information security. We are also in the process of installing a digital attention system for certain queries that require immediacy, a sort of "digital help desk" for our clients.