Set Profile > 4-5 Gray's Inn Square > London, England
4-5 Gray's Inn Square
Offices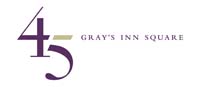 Chambers of Timothy Straker QC and Satinder Hunjan QC
4-5 Gray's Inn Square
LONDON
WC1R 5AH
England
4-5 Gray's Inn Square > The Legal 500
Rankings
4-5 Gray's Inn Square >
Set Profile
Commercial & Chancery
Our barristers offer specialist advice and advocacy across Commercial and chancery areas of practice and industry sectors – from contract-commercial disputes, to company law, insolvency, intellectual property and trusts. Chambers offers expertise in the areas of media & IP, commercial debt recovery, employment law, and international commercial practice. Members appear in courts and tribunals in England & Wales and in overseas jurisdictions, acting for both domestic and foreign clients, including individuals, corporations, and public bodies.
Planning & Environment
Our Planning Barristers specialise in the processes of planning applications for the development, construction or change of use of a building or buildings; compulsory purchase orders (CPO); and s106 agreements. Our members are experts in contentious judicial reviews, inquiries and appeals; and non-contentious planning and CPO strategies relating to development projects and urban regeneration schemes. Our members also undertake large infrastructure schemes.
Regulatory & Disciplinary
Our Regulatory and Disciplinary team has the expertise and experience to provide specialist advice and representation in all areas of regulatory and disciplinary law including financial services, public safety, environmental, tax, licensing, the medical professions, lawyers, accountants, architects, police, clergy and sports.
Members of Chambers regularly appear for regulators and defendants in front of a wide range of tribunals and other professional bodies and sit as tribunal members.
In the sports arena members have particular expertise in disciplinary proceedings brought by various governing bodies, including doping and misconduct cases, and regulatory matters involving selection, funding, safeguarding, licensing, sponsorship and FA Rule K arbitrations.
Public & Administrative
Our Barristers cover judicial reviews, statutory appeals, inquiries, disciplinary proceedings and non-contentious advice on the powers of administrative functions of central and local government and other public and regulatory bodies. 4-5 Barristers work on a whole spectrum of local government activities, including planning, environmental, education, community care, highways, housing, health, compulsory purchase, public procurement, freedom of information, rating, licensing and elections, issues relating to local government powers, structure and finance.
Housing & Property
Our barristers are noted experts in housing, landlord/tenant and residential & commercial property disputes; many are recommended in the legal directories and engage in wider policy work for government, MPs, pressure/trade groups and devolved governments. We cover everything from possession proceedings to leasehold enfranchisement; HMO and other licensing and homelessness; housing procurement to restrictive covenants.
Main Contacts
| Department | Name | Email | Telephone |
| --- | --- | --- | --- |
| Chief Executive | Vicky Thompson | vthompson@4-5.co.uk | 0207 404 5252 |
| Senior Clerk | Emily Martin | emartin@4-5.co.uk | 0207 670 1555 |
| Members of Chambers | STRAKER QC, Timothy (1977) | | |
| Members of Chambers | HUNJAN QC, Satinder (1984) | | |
| Members of Chambers | PRICE, Richard OBE QC (1969) | | |
| Members of Chambers | SAPSFORD QC, Philip (1974) | | |
| Members of Chambers | BRIDGEMAN SC, James (1989) | | |
| Members of Chambers | SINGER QC, Andrew (1990) | | |
| Members of Chambers | MANNING, Colin (1970) | | |
| Members of Chambers | JEFFERIS, Michael (1976) | | |
| Members of Chambers | LAMBERT, Jane (1977) | | |
| Members of Chambers | DAVEY, Toby (1977) | | |
| Members of Chambers | HORSINGTON, Simon (1978) | | |
| Members of Chambers | BARRETT, John (1982) | | |
| Members of Chambers | RANDLE, Simon (1982) | | |
| Members of Chambers | DIAS, Sappho (1982) | | |
| Members of Chambers | STEPHENS, Michael (1983) | | |
| Members of Chambers | BAKER, Christoper (1984) | | |
| Members of Chambers | POWELL, Jonathan (1984) | | |
| Members of Chambers | CLARKE, Gerard (1986) | | |
| Members of Chambers | ROSE, Jonathan (1986) | | |
| Members of Chambers | SHARMA, Kishore (1986) | | |
| Members of Chambers | FOSTER, Charles (1988) | | |
| Members of Chambers | MANNING, Jonathan (1989) | | |
| Members of Chambers | COLVILLE, Iain (1989) | | |
| Members of Chambers | OKOYA, William (1989) | | |
| Members of Chambers | BARKER, Stephen (1989) | | |
| Members of Chambers | PEACOCK, Ian (1990) | | |
| Members of Chambers | DYMOND, Andrew (1991) | | |
| Members of Chambers | CAFFERKEY, Annette (1994) | | |
| Members of Chambers | VANHEGAN, Toby (1996) | | |
| Members of Chambers | TAYLOR, Patrick (1996) | | |
| Members of Chambers | GREATOREX, Helen (1997) | | |
| Members of Chambers | QURESHI, Tanveer (2000) | | |
| Members of Chambers | AGNIHOTRI, Naveen (2001) | | |
| Members of Chambers | BELOFF, Rupert (2001) | | |
| Members of Chambers | LOVEGROVE, Stephanie (2004) | | |
| Members of Chambers | MCATEER, Helen (2008) | | |
| Members of Chambers | SEAL, Philippa (2008) | | |
| Members of Chambers | PANAYI, Christian (2009) | | |
| Members of Chambers | LARKIN, Christopher ( 2010) | | |
| Members of Chambers | PANDIT, Nikesh (2010) | | |
| Members of Chambers | ROBINS, Anneli (2011) | | |
| Members of Chambers | SEDGLEY, Vivienne (2011) | | |
| Members of Chambers | JONES, Selena ( 2011) | | |
| Members of Chambers | ZANG, Clara (2012) | | |
| Members of Chambers | DUNCAN, Salma (2012) | | |
| Members of Chambers | OMAR, Ayesha (2012) | | |
| Members of Chambers | FORD, Olivia (2013) | | |
| Members of Chambers | SHEPHARD, Max (2013) | | |
| Members of Chambers | IMAM, Rayan (2013) | | |
| Members of Chambers | MURRAY, Rea (2015) | | |
| Members of Chambers | FRANCIS, Thomas (2015) | | |
| Members of Chambers | COLVILE, Raoul (2016) | | |
| Members of Chambers | DORFMAN MOHAJER, Rosalee (2015) | | |
| Members of Chambers | ELLIOT, Katharine (2016) | | |
| Members of Chambers | SIDOSSIS, Alexandra (2016) | | |
| Members of Chambers | SARAN, Iulia-Claudia (2016) | | |
| Members of Chambers | DHANOA, Amrit (2016) | | |
| Members of Chambers | GARDINER, Hannah (2016) | | |
| Members of Chambers | HASSANALLY, Salmaan (2017) | | |
| Members of Chambers | HITCHENS, Josh (2018) | | |
| Members of Chambers | LINES, Katie (2018) | | |
| Members of Chambers | HARMS HON JUSTICE, Louis* | | |
| Members of Chambers | CARDUCCI, Prof. Dr. G* | | |
| Members of Chambers | KENNY QC, Caroline (2010)* | | |
| Members of Chambers | STUTZER, Dr Hansjörg* | | |
| Members of Chambers | BYRNE, Garrett (1986)* | | |
| Members of Chambers | BARAV, Ami (1993)* | | |
| Members of Chambers | PETER, Natasha (2001)* | | |
| Members of Chambers | DHANOA, Dilpreet K (2009)* | | |
| Members of Chambers | COHEN, Paul H (2011)* | | |
| Members of Chambers | FORSYTH, Prof. C (1987)** | | |
| Members of Chambers | CHRISTIE, Iain (1989)** | | |
| Members of Chambers | HOFFMAN, David (1997)** | | |
| Members of Chambers | *International Tenants | | |
| Members of Chambers | **Associate Tenants | | |
Barrister Profiles
| Photo | Name | Position | Profile |
| --- | --- | --- | --- |
| | Naveen Agnihotri | Barrister | View Profile |
| | Christopher Baker | After becoming established at the Bar in a wide range of litigation… | View Profile |
| | Stephen Barker | Stephen Barker is an independent commercial mediator. He is a CMC Registered… | View Profile |
| | John Barrett | Barrister | View Profile |
| | James Bridgeman SC | James Bridgeman SC is a practicing Barrister, Chartered Arbitrator and certified mediator.… | View Profile |
| | Annette Cafferkey | Annette started out in practice in 1995 and for five years had… | View Profile |
| | Guido Carducci | Barrister | View Profile |
| | Nikki Carr | Barrister | View Profile |
| | Iain Christie | Barrister | View Profile |
| | Paul Cohen | Barrister | View Profile |
| | Raoul Colvile | Raoul has a broad based dispute resolution practice and significant experience of… | View Profile |
| | Iain Colville | Since joining chambers in 1997, having previously worked in local government since… | View Profile |
| | Fionnuala Connolly | Barrister | View Profile |
| | Salma Duncan | Salma's practice comprises commercial and public law. She specialises in: commercial chancery;… | View Profile |
| | Andrew Dymond | Specialises in housing, landlord and tenant and local government law. Reported cases:… | View Profile |
| | Katharine Elliot | Katharine joined 4-5 Gray's Inn Square as a third-six pupil in 2017,… | View Profile |
| | Olivia Ford | Barrister | View Profile |
| | Thomas Francis | Thomas has a broad civil practice, encompassing public, commercial, professional discipline, and… | View Profile |
| | Hannah Gardiner | Barrister | View Profile |
| | Helen Greatorex | Barrister | View Profile |
| | Salmaan Hassanally | Barrister | View Profile |
| | Satinder Hunjan | Satinder's practice focuses on commercial litigation, insurance, private and manufacturing liability (including… | View Profile |
| | Rayan Imam | Barrister | View Profile |
| | Amy Just | Barrister | View Profile |
| | Caroline Kenny | Caroline Kenny practices in commercial law, with expertise in trade practices, insurance… | View Profile |
| | Christopher Larkin | Barrister | View Profile |
| | Stephanie Lovegrove | Barrister | View Profile |
| | Brooke Lyne | Barrister | View Profile |
| | Colin Manning | Colin has been a barrister for over 40 years and has wide… | View Profile |
| | Jonathan Manning | Examples of recent work: 1) Manchester CC v Pinnock [2010] UKSC 45;… | View Profile |
| | Helen McAteer | Helen accepts instructions for claimants and defendants in commercial, chancery, public law,… | View Profile |
| | John McCafferty | Specialises in housing, local government and public law. He was a junior… | View Profile |
| | Rea Murray | Barrister | View Profile |
| | William Okoya | Formerly a senior legal officer for a local authority and legal manager… | View Profile |
| | Ayesha Omar | Barrister | View Profile |
| | Ian Peacock | Barrister | View Profile |
| | Anneli Robins | Barrister | View Profile |
| | John Robson | Practises property law and commercial disputes. An experienced practitioner and trial lawyer,… | View Profile |
| | Jonathan Rose | Jonathan has significant specialised experience of civil fraud and criminal defence he… | View Profile |
| | Max Shephard | Max is regularly instructed in employment, regulatory, sports, and commercial cases. He… | View Profile |
| | Andrew Singer | Andrew practices exclusively in the field of construction and associated professional negligence… | View Profile |
| | Paul Stafford | Barrister | View Profile |
| | Michael Stephens | Michael is an experienced senior junior who has conducted a broad common… | View Profile |
| | Hansjorg Stutzer | Barrister | View Profile |
| | Patrick Taylor | Accredited & Registered Mediator – CEDR 2001. Since accreditation Patrick has been… | View Profile |
| | Toby Vanhegan | Barrister | View Profile |
| | Clara Zang | Barrister | View Profile |
Staff Figures
: