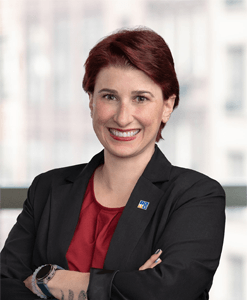 How has the pandemic and the flexi-working revolution affected the network model?
For us, it's helped. We've long been encouraging our members to engage with us and each other in between in-person events, with limited success. But the pandemic forced lawyers (and everyone) to work virtually and it helped us all to realize how easy and efficient it is. So while there is certainly a level of "zoom fatigue," we're finding that our members have never been more committed to staying connected and engaged with each other. It's also broadened our ability to develop the depth of engagement within our member firms, which is something that many networks have struggled with. It's impossible to have every lawyer at a firm attend your physical events – but you can easily connect virtually with many more lawyers because it's just their time that you're asking for. That still costs money for a lawyer, but not as much as if you're asking them to leave the building. The value proposition for them is easier to see.
How are networks adapting to fit into the post-covid world?
We're all still relevant in the same way as before, and probably more so. Client continue to want cost-effective, strategic solutions to their business problems and law firms can achieve that with network memberships. Networks have always been able to remain nimble because of our models – so pivoting to a virtual environment during the pandemic wasn't a big shift for us and many of us were doing it already. The ILN, for example, has been remote for 20 years. So we've created a more hybrid environment for our membership and they really appreciate that. The pandemic gave us the ability to try a lot of things out, to see what worked and what didn't, and then to use our successes as we move forward.
What are the key differentiators your network offers?
Our tagline is "where lawyers become friends." And that sounds very touchy-feely, but for us, it's an important business message because it's all about relationships. It means that our lawyers can trust that when they have a referral for another firm, that firm's lawyer will treat their client the same way that they would. When they have a multijurisdictional referral, they know the other lawyers well enough to figure out how to put together that team to work together. It means that I work together with each of our firms to develop strategies and face challenges to create value for our Network members. Yes, we get along and like each other, which is a benefit of the ILN, but it all comes down to being able to serve the client at the highest level because the lawyers know, like and trust each other.
Have client perceptions of networks shifted in recent years?
If I'm completely honest, I don't think clients care that much. At the end of the day, clients want a lawyer who is a trusted business partner, who is going to be upfront and honest with them about how to get their work done. If that work is done well because that lawyer is well-connected to firms around the world through their legal network? Great. But I don't think they worry too much about that side of things as long as they trust the lawyer that they have the relationship with. They just want to know that their lawyer is doing good work and as a result, we need to make sure that our lawyers are doing good work.
What are some of the key issues currently facing clients and how are networks positioned to deal with them?
It depends on the marketplace and where you are. There's a lot of global uncertainty right now because of inflation, the continuing war in Ukraine, etc. Networks always have somebody somewhere. And if they don't have a member in a location who has that expertise, they know someone who does. The networks at a certain level all communicate with each other and if we don't have coverage somewhere, we'll refer work to each other's firms, because we're confident in the vetting process that the networks undertake.
What do networks offer that global firms do not?
It really comes down to relationships. I was speaking with one of my lawyers a couple of years ago, and they pointed out that the firms in a network all have to do good work for each other, because if they don't, they won't last in the network very long. When you belong to a network, you're not required to work exclusively with other network firms – you can choose who you refer business to. So if you have a bad experience with another member, you won't refer work to them again, and you'll also share that with the administration. But in a global firm, a sub-par office might skate by for a while on the brand's name and reputation. Network members are always having to do their best work for each other, or they're out.
How are networks changing the way that they promote themselves?
We continue to go the way the legal market goes, so we use similar tools and strategies. The ILN runs on a fairly slim budget, so we rely on our members to amplify our reputation and tactics such as social media, marketing partnerships, speaking engagements, and the like. We do more guerrilla marketing.
What types of firms should be considering joining a network?
It depends on the network and what the firm is looking for. There are over 170 law firm networks in existence, and they range from global networks, like ours, to regional networks to practice-specific networks. When it comes to a global network like the ILN, we generally look for full-service firms that are mid-sized for their jurisdiction (so it varies by country). The firm should have a client base that is exporting work internationally, coupled with significant domestic experience. We tend to prefer firms that aren't already in other global networks, since we've found it can dilute the membership, but it's not required.
What is the future for the network model – which networks are best positioned to thrive in future?
This is a great question. I'd say those networks that are willing to adapt, who listen to their members, keep an eye to succession and the next generation and stay engaged and involved in the profession.
Your England-based member firm is currently Fladgate. Tell us more about that relationship – would you ever consider adding other English firms to the network?
We love Fladgate and they're a great firm. They're a London-based law firm and over the last few years, have grown to be very engaged and involved in the ILN, broadening their involvement in the Network. We would consider adding other English firms to the Network and it's something that we've looked into doing. The way that we typically do this is with the involvement of the existing member – we wouldn't be looking to add a firm with a London office, or a significant London presence. Our goal would be to add firms further north, with a different client base, preferably Manchester. We are also looking to add firms in the Channel Islands and the Isle of Man.
The network has recently been bolstered by firms in Cameroon, Slovenia and Germany. Tell us more about the thinking behind those new additions, and what their particular strengths are.
Yes, we're really excited about these firms. Over the last year, we've been able to bolster our presence in Africa, by admitting firms in Uganda and Kenya. Cameroon is our third African jurisdiction and growing the continent is a big goal for us over the next several years. Our membership is very interested in doing more business in Africa, and our African members themselves have a great deal of work happening within the continent.
Slovenia is a jurisdiction we had been working on for several years to recruit, and thanks to help from one of our Italian firms, we were able to bring in Law firm Kavčič, Bračun & Partners, which is an excellent firm.
Germany is an interesting country for us. We've decided that rather than having one large firm, we would have several smaller firms, each representing different areas of law. We had three firms, one covering IP, another doing labor law, and another doing corporate, banking and finance – all of them handling litigation. The newest firm handles corporate and real estate law, and they also do notarial work.
Are there any other jurisdictions that the network is considering expanding its reach to?
We're always expanding our group, but our current priorities are Panama, Northern Ireland, Poland, San Francisco, Malaysia, South Korea, the Middle East, and continuing to expand in Africa.