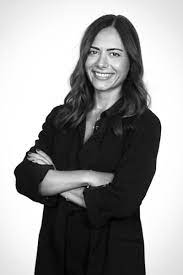 Tell us about your journey into law and what made you choose it as your profession.
As opposed to the number of people who embark on their journey of law mostly through relatives; I'm the first in my family to discover these territories. My path started when I was remarkably young and realized that my ability to manage human social interactions, listen and to solve problems. This was my superpower. Thus, when it came to choose a profession, law was the perfectly suited career path that I could best apply these abilities.
When I started law school and my career afterwards; it was a full circle experience for me both professionally and socially, former feeding the latter in terms of causation and correlation. We can connect the rationale of what we learn in law and apply it into life experiences through empathizing and vice versa.

What made you decide to start your career in-house and what were your experiences as a woman working in such an environment?
I've had the opportunity to do several internships in different law offices when I was in law school. These experiences made me realize that I wanted to have a roster of companies to work with but in order to give them the best service, I had to have an exposure and an understanding from the inside. With that idea in mind, I started my professional career in a leading beverage company as an in-house lawyer.
The time I spent there was very productive as this large scale company. I managed all the legal work in-house with a small team, giving me a business and commercial point of view along with the legal aspect. I can easily say that the insights and work discipline I obtained here prepared me to the career that I have today.
I feel lucky to say that I've had no challenges as a woman starting my career at an in-house environment.
You've joined leading independent law firm Aksan in 2016 and became a Partner in 2022. What have been your personal key highlights since joining the firm nearly 7 years ago?
Just as I was learning on a different path, unexpectedly, I started as Attorney at Law in Aksan. Specializing and worked with clients in a variety of departments inside the firm including Labour and Social Security Law.
Subsequent to becoming a Managing Attorney, I was heavily involved in Dispute Resolution and all client relations with extensive practice in full consultancy, documentary
support and forming key strategies on managing the commercial relationships of my clients. Managing and working alongside a team that takes on the work as their own, always hard at work and my eagerness to also be my clients' long-term solutions partner have definitely been my highlights. Carrying on with my journey as a Partner; having to work in company with our crowded, innovative and sincere family as Aksan for the past seven years has been exceptional.
What are your reflections on the diversity and inclusion culture in the legal profession in Turkey and how do you define the culture and diversity at Aksan Law Firm?
Hometown for generations of cultural diversity; Turkey has been the lead in some of the notable inclusivity moves over the history. Terms of diversity and inclusivity have long changed over time with the help of global reachability.
Law has historically suffered from being male dominated and in the lower end in terms of inclusivity as a profession, but in parallel with my previous statement; firms have been advertising their diversity agenda in adaptation to the current times. Aksan has an equal distribution of gender if not in more favor of women. While we have colleagues who have diverse backgrounds, Aksan focuses on exchanging knowledge and experience without creating an environment of competition and conflict. For that reason, as a common ground, Aksan always embraces the culture of compassion, respect and greetings within its roof. Reputable for our diverse global client portfolio; reflecting world dynamism has been our vision.
Which women have inspired you the most?
I believe that inspiration shouldn't come from just one person, but from a collection of people we encounter during our time. I've had the opportunity to come across a number of successful, determined and motivational women throughout my life, all of them have inspired me in different ways.
How do you manage your current work / life balance?
Law is one of those professions that will become your life and balance created comes from continuity. Having a hard-working team that supports each other with an active and healthy mindset and lifestyle, the correlation I've mentioned before has made my work/life balance manageable.
What motivates you?
As I've previously described, an individual choosing this profession has to acknowledge law as a part of their life. Precisely like patients in health, clients place the utmost importance to their legal endeavors and get thoroughly engaged. My motivation mostly comes from the remarkable journey we go through with every case and sharing it with the client.
When you look back at your career and the knowledge you've gained, what advice would you give to female students who are about to enter the legal industry?
Looking back, the variety of internships that I've worked in have genuinely helped me prepare to the career I've had today. During that time, the opportunity to combine theory and practice helped me master my studies as well as choose my area of expertise. Law students in general would definitely benefit from these work experiences.