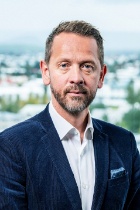 With travel restrictions and social distancing measures tightening across Europe, what are the greatest challenges facing the Icelandic legal market in the coming months? 
The key challenge is to ensure that law firms can continue to provide first-class legal services by reorganising the workplace and providing sufficient personal and professional support to their staff. 
What do you do to ensure that you are offering a distinctive service to your clients?
By ensuring continuous and swift top-level legal advice, combined with a sound commercial viewpoint and striving to gain an in-depth knowledge of our clients' business and operations. 
Iceland's 2021 budget proposal emphasises the importance of continued investment, rather than cuts, in response to the challenges posed by the pandemic. Looking ahead, which sectors do you think will provide important opportunities for investors? 
Here, the spectrum is broad, but key areas would be the renewable energy sector, the flourishing high-tech sector and, in fact, the tourism sector once the Covid-related restrictions are eased. Certain PPP infrastructure projects are also being prepared by the Icelandic government, which will provide investment opportunities for large infrastructure investors and contractors. 
The new Green Bond series offering by Reykjavik Energy (Orkuveita Reykjavikur) is to be listed on the NASDAQ Iceland Sustainable Bond market, making it the first issuance of a non-indexed Green Bond in Iceland. What kind of impact are Green Bonds and the Sustainable Bond market having on key players in the financial markets? 
Although the Sustainable Bond market in Iceland is not very advanced, it is a growing market and such Green Bond issuances are being noticed, both on the Icelandic market as well as on an international level.  Iceland's energy production is almost 100% from renewable resources and the country is therefore well placed to become a leader in respect of the proportion of Green Bond issuing on the bonds market. 
As urgency around the climate crisis mounts, how do Iceland's exceptional renewable energy credentials present opportunities for companies looking to go green? 
Iceland's renewable energy credentials provide many opportunities for Icelandic companies, which can demonstrate to their local and international customers that they are producing from clean energy resources. This gives companies a competitive advantage in the climate crisis and provides opportunities for Iceland to attract foreign investment in various sectors, including data centres and energy-intensive production. Iceland is a part of the European Guarantee of Origin (GO) system, and the Icelandic TSO Landsnet, manages the sale by Icelandic energy companies of GO's, thereby allowing companies to contribute to the increased production of renewable energy. 
 Which recent change of the legislation has impacted the market noticeably?  
In the spring of 2020, Iceland enacted a legislation relating to the AIFMD directive. This legislation will have a positive impact on the M&A market in Iceland. Furthermore, the Althingi (Icelandic Parliament) enacted a new law allowing the government to prepare and execute collaborative agreements (PPP agreements) relating to several smaller and larger upcoming road construction projects in Iceland. These projects will have a very positive effect on the market by creating jobs, and attracting foreign investment. 
Which are value-adding legal tech tools you developed to offer your clients?  
Our proprietary legal database enables us to analyse and navigate the key legal minefields in relation to some of the main sectors our clients operate in and to locate the appropriate standard form agreement in each case.  
What would you single out as the key distinguishments of your firm?  
Being a leading law firm in Iceland when it comes to complex, high-value international projects, as well as being the only law firm in Iceland providing advice to governments and multi-lateral developments banks on regulatory frameworks relating to geothermal, wind and solar energy. 
What does innovation mean to you and how can firms be better at it? 
To me, innovation in the legal sector is when legal services are made as practical and commercially sound as possible, for our clients to use these services in order to reduce risk and costs and increase profits to the extent possible. Law firms (including our own firm) can always try and do better in avoiding unnecessary complexity and formalities (whatever these may be in each case), of course at the same time as fully complying with any mandatory rules.