Han Kun Law Offices > Beijing, China > Firm Profile
Han Kun Law Offices
Offices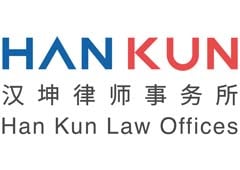 Han Kun Law Offices
9/F, OFFICE TOWER C1, ORIENTAL PLAZA
NO. 1 EAST CHANG AN AVE.
BEIJING 100738
China
Han Kun Law Offices > The Legal 500
Rankings
Han Kun Law Offices
's expertise spans the capital markets space, with the team regularly representing both Chinese issuers and international underwriters on overseas capital markets transactions. It is also well regarded for its IPOs practice, having acted on multiple high-profile companies' deals in recent years, as well as on follow-on equity and debt offering matters. The team is co-led by
Dafei Chen,
who splits his time between Beijing and Hong Kong, and
Jason Wang
and
Bing Xue
, who are both based in Shenzhen. Notable practitioners include
Charles Li
, who has significant experience advising on cross-border transactions across a wide variety of industries, and
Yijun Chao
who has onshore and offshore securities issuances and listing expertise.
Jin Wang
specialises in offshore public offerings, M&As, and foreign investment, whilst associate
Haoxiang Wang
 has experience advising on listings on mainland China, Hong Kong and US stock exchanges.
Han Kun Law Offices
remains one of the leading corporate law firms in China, with experience handling highly complex transactions involving restructurings, carve-outs, listed companies and VIE structures. The group is instructed by domestic and multinational clients across a broad range of sectors, including highly regulated industries such as financial services and technology.
Chaoying (Charles) Li
 heads up the team and has broad expertise in Chinese corporate law, across financings, M&A, investments and restructurings. In Shanghai,
David Tang
offers deep experience in acting for multinational and Chinese clients in corporate transactions, while
Yijun Chao
is noted for his work in the private equity and venture capital sectors.
Zaiguang Lu
's workload also encompasses venture capital and private equity fundraisings as well as listings, and
Aaron Zhou
 stands out for his work on cross-border matters. The practice continues to expand, with
Qing (Nick) Shu
 and
Shuting Qi
 joining the firm since 2021.
Han Kun Law Offices
' team has a wealth of experience in handling data compliance projects and corporate matters, making the practice a popular choice amongst leading domestic and international corporations looking to expand their presence across multiple jurisdictions. The practice is jointly led by
Yan Wang
,
Kevin Duan
,
David Tang
,
Min Zhu
, and
Michelle Gong
. Duan acts on data review matters, assisting companies in their overseas listings, while Zhu is recommended for cybersecurity and data compliance matters. Tang's '
knowledge of the local data privacy and protection regulations
is second to none
', which supplements his ability to provide advice on corporate mandates. Associate
Kemeng Cai
 is another notable figure.
With broad experience handling matters in the technology industry,
Han Kun Law Offices
provides a service offering characterized by particular expertise within fintech products, including P2P lending, payment and crowdfunding solutions. Notable figures in the team include Beijing-based
Jun Zhu
, who has experience in asset securitisation and insurance fund management, regularly advising clients in their development of innovative financial products, and
Felix Miao
, working out of the firm's Hong Kong office and with extensive experience acting in equity and debt capital market transactions. In Shanghai,
Wei Quan
specialises in the development of financial products in relation to consumer finance, supply chain finance, payment services and applying for financial licenses.
Han Kun Law Offices
covers private, venture capital and private equity funds in the majority of industry sectors and provides a '
knowledgeable
', '
practical
' and '
efficient
' service. Practice head
Daisy Qi
has a decade of experience in fund formation and investment management.
Lin Zhou
 focuses her practice on the formation and operations of various types of funds, including the structuring and the formation of venture capital funds, private equity funds, M&A funds, film and entertainment funds, sports funds, infrastructure funds, real estate funds, logistics funds and more.
Lu Ran
 is another name to note.
Han Kun Law Offices
 has a strong reputation in private equity, representing a range of large venture capital and private equity firms, including foreign firms on their investments and fundraising in China. It offers a range of legal services related to private equity, including foreign direct investment, M&A, fund formation and management, and onshore and offshore listings.
Yijun Chao,
Charles Li
and
David Li
co-lead the Beijing team, all of whom have extensive expertise in public and private financings across a wide variety of industries. Meanwhile,
Kelvin Gao
leads the Shanghai group, with experience representing leading investment institutions, multinational companies, and unicorn companies.
Sheng Li
 acts for clients across a wide range of industries, including TMT and new energy.
Paula Liu
 and
Yipu Li
are also notable for their expertise advising on international private equity funds. Shanghai-based
Cheng Chen
,
Yifan Gu
 and
Hong Huang
 are noted at the associate level.
Han Kun Law Offices
has a strong presence in the TMT sector, acting for a number of top Chinese technology and telecoms companies, including large multinational IT companies. It offers a wide array of legal services, including in venture capital and private equity, M&A, and IPO transactions.
Charles Li
has significant experience advising both Chinese and international companies in cross-border transactions, whilst
Yijun Chao
has expertise representing high-tech start-ups in their private equity and venture financings, M&A deals, and onshore and offshore listings.
David Li
specialises in foreign and domestic private equity funds, and
Kelvin Gao
provides additional expertise in securities offerings and corporate restructuring related matters. Also notable is
Dafei Chen
for his international experience and
Zaiguang Lu
who has experience advising on foreign direct investment in high-tech fields.
Han Kun Law Offices
advises on merger filings, agency investigations and competition compliance. The firm is noted for its ability to work '
seamlessly
' across practice areas, with the antitrust team working in conjunction with the firm's real estate and TMT practices. The practice has experienced growth over the past year, gaining a significant number of new clients including many well-known MNCs. As well as advising such multinationals on merger control in China, the firm advises PRC clients that are new to enforcement action as the anti-monopoly Law reform comes into force.
Chen Ma
regularly handles the antitrust compliance aspects of large transactions and provides representation for clients engaged in competition litigation. Ma is supported by
Da Shi
and
Angus Xie
, who handle merger filing and disputes.
Han Kun Law Offices
stands out for its wealth of experience in aircraft leasing and aircraft purchase financing matters and is regarded as '
one of the best aviation financing teams in mainland China
'. Recent mandates also include assisting with the issuance of asset-backed securities and advising on regulatory issues for financial services sector clients. Beijing-based practice head
Shu Wang
acts for domestic and foreign banks on their access to new products as well as on regulatory matters, and has experience advising on issues arising from the bankruptcy and insolvency of airlines.
TieCheng Yang
 has over 20 years of experience advising clients with regard to regulatory issues, and
Rong Fang
focuses on real estate and infrastructure sectors.
Han Kun Law Offices
has an impressive litigation offering, with the team advising on a variety of commercial disputes, acting for both domestic and international companies across a broad range of industries. The group is co-headed by
Eric Liu
,
Qiunan Sun
, and
Yang You
from Beijing. Liu has significant expertise acting for MNCs in cross-border transaction and commercial contract-related disputes. Sun specialises in civil and commercial contract disputes, as well as financial debt recovery and disposal and construction project contract disputes. Meanwhile, You primarily focuses on asset management-related litigation.
Yaxing Zhang
 is also noted for his experitise in corporate transaction disputes.
Han Kun Law Offices
' full-service IP offering covers both contentious and non-contentious matters in China, including patent, trade mark and industrial design-related prosecution, litigation and enforcement strategies. The practice routinely acts for global tech industry names on their most complex IP issues in China, including before the Supreme People's Court, IP courts and tribunals at different levels, as well as before the China National Intellectual Property Administration. On the transactional side, the group is particularly active in the TMT space. IP and litigation chair
Yan Wang
focuses on contentious IP law practice in China, and
Lili Wu
is experienced in IP portfolio management. Other key figures include IP disputes expert
Rui LUO
and patent specialist
Tao ZHANG
, while
Vivian He
is the name to note in Shenzhen.
Han Kun Law Offices
have a growing practice with branches in Beijing, Shanghai, Shenzen and Hong Kong. The '
versatile
' and '
user-friendly
' team, led by
Will Huang
, who specialises in employment contractual disputes and who is also supported by experienced labour arbitrator
Xiu Pei
, focusses chiefly on employer-side work and often advises on high-profile management level matters. The practice works closely with the firm's Intellectual Property team on such cases, which often involve non-compete clauses and other restrictive covenants.
Lifeng Lu
provides advice on employee compliance and lay-offs alongside his corporate and commercial practice.
Han Kun Law Offices
 is highly rated for its ability to
'assign a team with members from various departments to help with complex matters'
. Acting for a varied client roster of pharmaceutical and healthcare companies, investment funds, and private equity and venture capital firms, the practice is recognised for its strong expertise in handling joint ventures, M&A, financial transactions and licensing deals. As part of its broad offering, the group also handles IP matters, regulatory compliance, antitrust issues and litigation. From Shanghai,
'knowledgeable, patient and accessible' 
Yinshi Cao
, who focuses on private equity, venture capital and M&A, heads up the group while
Min Zhu
is recommended for foreign direct investment and corporate restructuring matters. In Beijing,
Charles Li
is a key contact for equity and debt financings and IP matters, and
Aaron Zhou
 is noted for his expertise in cross-border M&A and licensing deals.
Han Kun Law Offices
 primarily focuses on foreign-related arbitration services, though the team has experience representing clients before both domestic and foreign arbitration centres.
Liyu Jin
leads the group from Shanghai, with extensive experience in commercial arbitration matters alongside a wider contentious practice, which includes insurance, antitrust, criminal, and environmental liability matters.
Xianglin Chen
focuses on foreign-related arbitration in China, whilst
Yaxing Zhang
specialises in trade, investment and financing, and loans and guarantees disputes.
Han Kun Law Offices
handles a range of private wealth matters, including issues relating to family trusts, family offices, divorce and estate planning, with particular experience advising clients in the business community due to strong ties with the firm's wider PE finance and capital markets departments. It is also heavily involved in advising both domestic and global private banks, trust companies, and asset management companies.
Han Chen
leads the team, with extensive experience in family wealth management and intergenerational inheritance matters.
Acting as PRC counsel for JD Property and Brookfields Asset Management on some enormous acquisitions over the past year,
Han Kun Law Offices
' real estate and construction team has a growing market reputation with key strengths in financing and transactional work. The practice is jointly led by
Stephen (Shiwen) Dong
and
Rong Fang
. Dong advises both international and domestic real estate funds, warehouses and logistics enterprises and insurance firms. Fang is an expert on PPP and state-run infrastructure projects and also acts as a PPP expert for the Ministry of Finance alongside her practice.
Xiao Li
has experience in real estate M&A projects, bulk property transactions, and structured financing projects in real estate.
The corporate compliance group at
Han Kun Law Offices
is primarily known for its expertise in advising multinational and foreign-invested enterprises on regulatory compliance issues, as well as conducting internal investigations and developing internal control policies. It is also experienced in advising Chinese companies on export control and sanction compliance matters and offshore litigation matters.
Chen Ma
and
David Tang
co-lead the group from Beijing and Shanghai, respectively. Tang specialises in corporate compliance and regulatory matters, whilst Ma has extensive experience acting in commercial antitrust investigations and litigation cases, as well as on cross-border matters.
Michelle Gong
 is also recommended for expertise across a broad range of compliance matters.
Han Kun Law Offices >
Firm Profile
The firm: Han kun is a leading full-service law firm in china.
Over the years, Han Kun has been widely recognized as a leader in complex cross-border and domestic transactions.
Our main practice areas include private equity and venture capital, mergers and acquisitions, international and domestic capital markets, investment funds, asset management, antitrust/competition, banking and finance, aviation finance, foreign direct investment, compliance, private client/wealth management, intellectual property and dispute resolution.
We have more than 600 professionals located in our five offices in Beijing, Shanghai, Shenzhen, Hong Kong and Haikou.
All our lawyers are graduates of top universities and have extensive experience in complex cross-border transactions as counsel to both Chinese and foreign clients.
Memberships of international associations: Han Kun has joined World Services Group (WSG) to become its exclusive China law firm member. WSG is one of the world's largest multidisciplinary professional services networks, consisting of leading independent law firms, accounting firms and investment banks. WSG currently has more than 120 member firms from over 135 jurisdictions consisting of over 21,000 professionals.
Han Kun has joined Pacific Rim Advisory Council (PRAC) to become its exclusive China law firm member. The Pacific Rim Advisory Council is an international law firm association established in 1984. The association consists of 30 top-tier independent member law firms with over 12,000 lawyers practicing in key business centers around the world.
Main Contacts
| Department | Name | Email | Telephone |
| --- | --- | --- | --- |
| Antitrust/Competition | | | |
| Asset-backed Securitization | | | |
| Aviation and Aviation Finance | | | |
| Banking and Finance | | | |
| Compliance and Investigation | | | |
| Corporate restructuring | | | |
| Culture, Media and Entertainment | | | |
| Data Protection | | | |
| Dispute Resolution | | | |
| Domestic and International Capital Markets | | | |
| Energy, Minerals and Environmental Protection | | | |
| Family Law, Trust and Wealth Planning | | | |
| Financial Services and Cross-Border Asset Management Practice | | | |
| Fintech | | | |
| Foreign Direct Investment | | | |
| Intellectual Property | | | |
| Investment Funds | | | |
| Labor and Employment | | | |
| Life Sciences and Healthcare | | | |
| Mergers and Acquisitions | | | |
| Outbound Investment | | | |
| Private Equity and Venture Capital | | | |
| Real Estate and Infrastructure | | | |
| Restructuring and Bankruptcy | | | |
| Structured Finance | | | |
| Tax Services | | | |
| Technology, Media and Telecommunications | | | |
Staff Figures
Number of Lawyers (in All Offices) : 600+
Languages
English Japanese Korean German
Memberships
Pacific Rim Advisory Council World Services Group
Client Testimonials
COMPANY/FIRM: JD.COM, INC.
TESTIMONIAL: We have worked with Han Kun on numerous transactions, including private equity investments and mergers. We are impressed by their professionalism and knowledge of Internet, e-commerce, and M&A-related areas. Their work products are always presented with a high standard of professionalism and quality. They are very responsive to our requests and are capable of adapting to fast moving transactions.  They also have a deep understanding of our business, which helps them to provide practical solutions and legal advice.  We view Han Kun as one of the first tier PRC firms in areas of private equity transactions and M&A.
---
COMPANY/FIRM: [Baidu]
TESTIMONIAL: I have been intensively working with Hun Han Kun lawyers for about a year and a half, . and dDuring this period, I found their service highly professional and their responses surprisingly prompt. Also, they can always provide commercially feasible solutions to us, which was has often proved critical in for our speedy deals.
---
COMPANY/FIRM: Reignwood Group
TESTIMONIAL: The Han Kun team has rich practical experience, and they provide professional and highly effective legal services for Reignwood Group. The team is deeply involved in several of the Group's businesses, such as aircraft leasing, cross-border investment and financing. Being diligent and responsible, the Han Kun team has contributed strong and reliable legal support to Reignwood Group during its rapid development. In particular, Ms. Wang Shu demonstrates excellent professional skills and plays a key role. 
---
COMPANY/FIRM: China Renaissance Group
TESTIMONIAL: Han Kun is one of the leading law firms in the PE market.  The lawyers are responsible and diligent, and we always get quick responses, which is very helpful to for our work, especially for some urgent matters.  Han Kun gives us more than what we expect.  They not only provide professional legal advice,  but also share their expertise and insights with us, which helps us a lot to make commercial decisions.  We received the legal updates, like newly published regulations and guiding cases, from Han Kun from time to time and they do play an active role in the market.
---
COMPANY/FIRM: ORIX Asia Capital Limited
TESTIMONIAL: We have worked with Han Kun over several years in a wide range of situations including legal research on various topics, legal due diligence on finance companies, cross-border restructure deals, and establishing Joint joint ventures with state-owned entities. Han Kun is always an effective and experienced counsel, especially on matters requiring skills of such as designing transaction structures and analyze analyzing complex legal relationships.  We rely on Han Kun not only for the professional legal advices, but also for their business sense and ability to work with us for longer-term goals.
---
COMPANY/FIRM: Baidu
TESTIMONIAL: Han Kun has provided outstanding and professional legal services to Baidu for many years. In various high profile deals that Baidu engages in, Han Kun has always been a creative solution provider, rather than just a legal professional, and has assisted Baidu to navigate through complex legal and business situations. Legal professionals with strong business sense are the symbol of Han Kun attorneys which distinguishes them from other ordinary attorneys. From a client's perspective, it is always preferable to have Han Kun at your side rather than to let them go against you.
Press Releases
24th August 2022
June 30, 2021, Han Kun Law Offices issues Han Kun 2020 VC/PE Deal Data Analysis Report (the "Report").  The online version of the Report is available at the Firm's website. (Link: https://www.hankunlaw.com/downloadfile/newsAndInsights/5381f9ae173d179e242838860af29562.pdf)
8th December 2021
Private equity industry recovered in the second half of the year, saw remarkable growth in healthcare and online office areas.
6th July 2021
Biomedicine remained the No.1 investment destination, FIE structures increasingly favored by dealmakers in onshore transactions
Han Kun Law Office
s has released the H
an Kun 2021 VC/PE Deal Data Analysis Report
(English edition, the "
Report
"). The online version of the Report is available on the firm's website at:
https://www.hankunlaw.com/downloadfile/newsAndInsights/812c30456eef2419acf9250b618b993b.pdf
Legal Developments
16th November 2017
Authors: Han CHEN, Bing XUE, Qihui TANG
With rapid economic growth in China, wealth planning for high net worth individuals and the demand for establishing family offices have become popular topics in the market. In order to help readers understand the legal issues related to wealth inheritance and planning, we have prepared this article to discuss the reforms in foreign exchange administration and taxation policies that have been undertaken in recent years. This article is part of a series to be written on the topic of wealth management in China.
16th November 2017
Authors: Yaohua HU, Laixiang LI
On January 18, 2017, the State Council officially promulgated the Several Opinions of the State Council on Encouraging Non-governmental Sectors to Run Schools and Promoting the Healthy Development of Non-governmental Education (Guo Fa [2016] No. 81) (the "Opinions"). On the same day, the Ministry of Education published two regulations regarding private schools on its official website, namely the Notice of the Ministry of Education and other Four Departments on the Issuance of Detailed Rules for the Implementation of Private Schools Classification Registration (Jiao Fa [2016] No. 19) (the "Registration Rules") and the Notice of the Ministry of Education, the Ministry of Human Resources and Social Security and the State Administration for Industry and Commerce on the Issuance of Detailed Rules for the Implementation of the Supervision and Management of For-Profit Private Schools (Jiao Fa [2016] No. 20) ( the "Management Rules", which, together with the Opinions and the Registration Rules, are referred to as the "Regulations" ). The Regulations mentioned above are regarded as key rules in the private education industry and supplement the Private Education Promotion Law of the PRC (revised in 2016)1 (the "Promotion Law"), as amended on November 7, 2016. The Regulations will help to promote private school classification administration reforms and facilitate the implementation of related preferential policies. This article will provide a brief overview of the Regulations based upon relevant provisions of the Promotion Law.
16th November 2017
Authors: Gloria XU, Cheng CHEN, Qianfei WANG
On August 1, 2017, the Guiding Opinions on Encouraging and Regulating the Development of Internet Bicycle Rentals (Jiao Yun Fa [2017] No. 109) (the "Opinions") was jointly promulgated with State Council approval by ten ministries and departments, including the Ministry of Transport, the Publicity Department of CPC, the Office of the Central Leading Group for Cyberspace Affairs, the National Development and Reform Commission, the Ministry of Industry and Information Technology, the Ministry of Public Security, the Ministry of Housing and Urban-Rural Development, the People's Bank of China, the General Administration of Quality Supervision, Inspection and Quarantine and the National Tourism Administration. Before the promulgation of the Opinions, which is the first national departmental rules specially aimed at the Internet bicycle rental (hereinafter referred to as "bike-sharing") industry, road traffic administration or other related departments in Beijing, Shanghai, Tianjin, Shenzhen, Guangzhou, Chengdu, Shijiazhuang and several other cities had successively released normative documents or drafts for comments of such documents related to bike-sharing industry.
16th November 2017
Authors: Sheng LI, Xi YAN
On May 2, 2017, the Cyberspace Administration of China promulgated the Administrative Provisions for Internet News Information Services ("Provisions"), which will come into effect on June 1, 2017 and replace the existing Regulations for the Administration of Internet News Information Services ("Regulations") which was promulgated in 2005.
16th November 2017
Authors: Chen MA, Da SHI, Junfeng CUI
The drug market in China has long been subject to both market competition and administrative control. While the government leaves drug prices to market fundamentals in principle, it also actively intervenes in the case of market failures, which includes adjusting the market structure to regulate drug prices.
16th November 2017
Authors: David TANG, Min ZHU, Jundong GUO, Effy SUN
On July 10, 2017, the Cyberspace Administration of China ("CAC") promulgated the Regulations on the Security Protection of Critical Information Infrastructure (Draft for Comment) ("Draft Regulations"), which will be open for public comment until August 10, 2017.
16th November 2017
Authors: Yaohua HU 丨 Xin DU 丨 Yikai WANG 丨 Yunting YE
The PRC Law on Securities ("Securities Law") and relevant laws and regulations strictly prohibit the unauthorized issuance of shares to the public (the issuance of shares either to nonspecified persons or to specified persons which results in the issuer having more than 200 shareholders). In practice, the China Securities Regulatory Commission ("CSRC") is intently focused on whether the number of shareholders exceeds 200 upon applying certain shareholder "look-through" rules. In general, "look-through" means to examine the upstream shareholding structure of companies or the subscription structure of private equity ("PE") funds or asset management plans to determine the ultimate natural person, listed company or State-owned Assets Supervision and Administration Commission ("SASAC") investors. The scope of the look-through rules is an important factor that affects the 200 shareholder threshold determination, although this concept continues to be ambiguous. By analyzing the relevant laws, regulations and cases, this article discusses the scope of look-through in determining the number of shareholders in different types of capital market transactions, including IPOs, backdoor listings, asset purchases through share issuances (not constituting a backdoor listing), cash subscriptions for private share placements of A-share listed companies, public issuances of A-share listed companies (share allotments, additional share issuances), NEEQ listings and the private placements of NEEQ listed companies.
16th November 2017
on Proposed Amendments to the 2013 Rules
on Proposed Amendments to the 2013 Rules
In this June, a long-awaited law was passed and enacted by the Hong Kong Legislative Council, clearing the way for third parties to fund arbitration in Hong Kong.
16th November 2017
Authors: Shu WANG, Jun ZHU
While the aviation industry continues to expand quickly in the PRC market, it is still possible that things can go wrong and an individual lessee may default under a lease when it faces tough times due to various reasons. For all lessors, whether they are financial lessors or operating lessors, it is essential to have a good knowledge of their enforcement rights in the worst scenario and the actions that they can do to recover their aircraft when all other remedies have failed.
8th November 2017
Authors: David TANG, Jun LI, Serina WEI
On October 16, 2017, Shanghai Municipal People's government circulated the Several Opinions on Further Supporting Foreign-Invested Research and Development Centers to Participate in Shanghai's Construction of a Science and Technology Innovation Center with Global Influence (Hu Fu Fa [2017] No. 79, hereinafter "Opinions"), which can be regarded as a policy 2.0 to promote the establishment and development of foreign-invested research and development centers ("R&D Centers") following the issuance in 2012 of the Several Opinions of Shanghai Municipality on Encouraging the Establishment of Foreign-Invested Research and Development Centers by the Shanghai Municipal Commission of Commerce, the Science and Technology Commission of Shanghai Municipality and the Shanghai Municipal Development and Reform Commission.
8th November 2017
Authors: David TANG, Min ZHU
On May 2, 2017, the Cyberspace Administration of China ("CAC") issued a trial version of the Measures for the Security Review of Network Products and Services (Trial) ("Trial Measures"), which are slated to become effective on June 1. The Trial Measures are another supporting document of the Cybersecurity Law that is intended to enact the cybersecurity review requirements of Article 35 of the Cybersecurity Law, following its issuance on November 7, 2016.
8th November 2017
Authors: David TANG, Min ZHU, Will HUANG
On May 9, 2017, the Supreme People's Court and the Supreme People's Procuratorate held a press conference to release the Interpretations of the Supreme People's Court and the Supreme People's Procuratorate on Several Issues Concerning the Application of Law in the Handling of Criminal Cases Involving Infringement of Citizens' Personal Information (the "Interpretations"), which will be effective from June 1, 2017.
8th November 2017
Authors: Gloria XU, Claire XIAO
On August 4, 2017, the Guiding Opinions on Further Guiding and Regulating the Direction of Overseas Investment (Guo Ban Fa [2017] No. 74) " (the "Guiding Opinions") was jointly promulgated, with the approval of the State Council, by the National Development and Reform Commission ("NDRC"), the Ministry of Commerce ("MOFCOM"), the People's Bank of China ("PBOC") and the Ministry of Foreign Affairs ("MFA"). The Guiding Opinions have drawn wide attention by further categorizing overseas direct investments as "encouraged," "restricted" or "prohibited" based upon the previous "negative list" for overseas direct investment. In this article, we will summarize the main content of the Guiding Opinions by comparing them to the existing principles governing overseas direct investment in light of recent trends related to the supervision of overseas direct investment.
8th November 2017
David TANG, Min ZHU
On May 27, 2017, the National Standardization Technical Committee for Information Security ("Technical Committee") promulgated a draft for comment of the Information Security Technology – Guidelines for Data Cross-Border Transfer Security Assessment (Draft) (the "Guidelines"), in order to supplement the personal information and important data export assessment requirements stipulated under Cybersecurity Law, which came into force on June 1, 2017
8th November 2017
and Important Data to be Transmitted Abroad (for Public Comment)
David TANG, Min ZHU
On April 11, 2017, the Cyberspace Administration of China ("CAC") issued the Measures on Security Assessments for Personal Information and Important Data to be Transmitted Abroad (for Public Comment) ("Measures"), seeking public comment. The Measures will act to support the Cybersecurity Law of the People's Republic of China ("Cybersecurity Law") which comes into effect on June 1, 2017. As one of the important supporting documents to the Cybersecurity Law, the Measures are intended to specifically implement the personal information and important data export security assessment requirements found in Article 37. Although the current Measures are only a draft for comment, much regulatory focus has been placed on the cross-border transfer of data.
8th November 2017
Author: Han CHEN
As a prelude to the civil code of the People's Republic of China, the General Provisions of the Civil Law of the People's Republic of China (the "General Provisions") was adopted with votes at the Fifth Session of the 12th National People's Congress on March 15, 2017 and will enter into force on October 1, 2017. This marks an important first step of China on its path to compiling a civil code.
8th November 2017
Authors: Han Kun Hong Kong Associate Law Firm Yurong YE, Felix MIAO, Fredric HUANG
Recently, the Stock Exchange of Hong Kong Limited ("SEHK") has published the New Board Concept Paper for the purpose of seeking market feedback on SEHK's proposed establishment of a New Board. This newsletter is a brief introduction to the New Board Concept Paper.
8th November 2017
Authors: Andy LIAO, Alan LIN
On June 30, 2017, the Wuhan Intermediate People's Court ("Wuhan Court") issued a verdict (the "Case") ordering the recognition and enforcement of a commercial judgment rendered by the Los Angeles County Superior Court, California, USA ("LA Court"). This marks the first time for a PRC court to recognize and enforce a commercial judgment from a U.S. court, which is of landmark significance and is thus noteworthy for all law practitioners and interested parties
8th November 2017
Shanghai further optimizeslocal policies to promote the establishment of regional headquarters of multinational corporations.
David TANG | Jun LI | Serina WEI
Shanghai, as the leader of further opening up and attracting foreign investment in China, has recently promulgated the revised Regulations of Shanghai Municipality on Encouraging Multinational Corporations to Establish Regional Headquarters ("2017 Regulations") on February 14 2017, which further optimizes the investment, economic development and governmental service environments, in order to spur multinational corporations ("MNC") to consider Shanghai as their first choice for establishing regional headquarters.
8th November 2017
Authors: James Yong WANG, Shawn Xiao DING
On March 1, 2017, Asset Management Association of China (the "AMAC") promulgated the Administrative Measures for Private Investment Fund Service Business (Trial) (the "Administrative Measures") which became effective on the same day. The Administrative Measures superseded the Guidelines on Fund Outsourcing Services (Trial) issued in February 2015 (the "2015 Guidelines") and became the new guidelines for institutions that desire to provide various professional services for private fund within China.
Legal Briefings
China effectively strengthens fight against malicious trade marks

A focus for Chinese trademark law and practice in recent years has been strengthening the fight against malicious trademarks. On 1 November 2019, the amended Trademark Law of the People's Republic of China (the Trademark Law) was officially implemented, in which Article 4 primarily embodies China's determination to strengthen the fight against malicious trademarks and …