The Legal 500
Webinars
Coping with white-collar crime threats and internal investigations in Romania
18 May 2021, 4.00pm EET
← Back to Webinar homepage
Coping with white-collar crime threats and internal investigations in Romania
Overview
Investigation work is peppered with legal and practical issues for which there is not always one correct solution. In recent years, organisations of all sizes, sectors and markets have been faced with managing internal investigations in response to an increase in white-collar crime and misconduct risks.
This webinar, brought to you by The Legal 500 and Albu Legal, was designed to provide general counsel and risk & compliance professionals with guidance on the practical steps that can be taken to mitigate, manage and overcome the different stages of an investigation in Romania, from the initial complaint to the final outcome.
We discussed the expectations of governance, compliance and self reporting when it comes to an increased risk of fraud and bribery. The session also contemplated the key practical issues for employers to consider when carrying out multi-jurisdictional investigations in a remote working environment and provided tips for engagement with foreign authorities and regulators.
Discussion points included:
Internal and external investigation trigger: whistleblowing systems.
Impact on corporate liability.
Conducting investigations in Covid times.
In-house view: pre-emptive approach to Covid era internal issues and the investigational approach.
Practicalities related to the interactions with public authorities during various investigations.
To view presentation slides from the webinar click below:
---
Speakers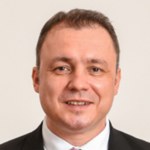 Gabriel Albu, founder, Albu Legal
Gabriel Albu is the founder of Albu Legal, with a strong professional experience acquired in multinational law firms, as well as in independent practice.
Since 2005, Gabriel has practiced criminal business law/white-collar crime. Starting in 2008, in an independent environment, Gabriel has dedicated himself to this field of activity, being one of the pioneers of this practice area in Romania – white- collar crime, practiced at the professional level of sophistication to which it is understood today.
Over the years, Gabriel Albu has been involved in a large number of high-level criminal cases in Romania. He managed complex cases, at the highest level, involving mainly accusations of tax evasion and fraud against the financial interests of the European Union, accusations of corruption, financial fraud, work-related crimes, capital market and public procurement fraud, abuse of position, professional misconduct, banking fraud, share market manipulation, insurance fraud, public procurement fraud, fraudulent bankruptcy, environmental offences and copyright infringements.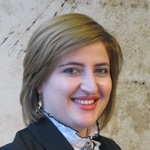 Ana Sebov, forensics leader, PwC
Ana is currently the leader of the forensic practice in Romania. In the past she had responsibilities in both Romania and SE Europe. Ana has more than 18 years of auditing and consulting experience. Since 2007, Ana has specialised in forensic services: investigations, compliance and expert reports.
Ana has substantial experience with investigations of various types of frauds and unethical behaviors and compliance type of work (ie FCPA, UKBribery, AML, etc). Examples include investigations of fraudulent purchases, assets misappropriation, fraudulent reporting, investigation of allegations of corruption, tax evasion, investigations of allegations of work discrimination and sexual harassment.
Ana's experience spans all industries:  oil and gas, manufacturing, energy, financial services, telecom, pharma, automobile, real estate, media, IT, agriculture, etc.
Adriana Georgescu, department manager, litigation, OMV Petrom
Adriana has been with OMV Petrom – the largest energy company in Southern and Eastern Europe – since 2011 and is currently leading the busy litigation department, managing an extremely diverse litigation practice. She has over 14 years experience, both as external and in-house lawyer, with a focus on high-value and complex matters, along with a wide range of official proceedings, where time is of the essence.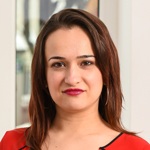 Ana Popescu, senior associate, Albu Legal
Ana specialises in fieldwork for criminal defence. Prior to becoming a senior associate at Albu Legal, Ana worked in a major national corporate law firm, gaining  a solid experience in civil and commercial law matters, as well as sophisticated business transactions.
While continuing her work, Ana worked for several years at an independent law firm specialising in white-collar crime.  Her main fields of expertise include corruption charges, public procurement fraud, tax evasion and money laundering cases. Ana has also provided legal services in cases involving allegations of financial fraud in the banking and insurance industries, property crime, crimes involving EU funds and corporate crimes.
Ana has assisted and represented, including as first chair, various national and international companies, as well as individuals, in all stages of the criminal trial and before the judicial authorities. Also, she has been involved throughout the years in multidisciplinary consultancy projects, fully understanding the needs of corporate clients.