Doing Business in...
Thailand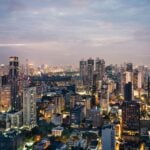 THAILAND SNAPSHOT Formal name: The Kingdom of Thailand Population: Approximately 69,310,000 (2019) Average annual population growth: 0.2% in 2018 Capital city: Bangkok Major cities and districts: Bangkok; Samut Prakan; Nonthaburi; Udon Thani; Chonburi; Nakorn Ratchasima; Chiang Mai; Hat Yai; Pak Kret; Si Racha; Pra Pradaeng; Lampang; Khon Kaen; Surat Thani; Ubon Ratchathani; Nakorn Si Thammarat …
Contributed by Kudun & Partners
Read More...
Legal Market Overview
Thailand has made incredible progress in terms of economic and social development in the last few decades. The year 2020 saw a shift in focus, whereby measures were implemented to support industry sectors and businesses severely impacted by the COVID-19 pandemic, and any legal developments were trivialised. Consecutive waves of the pandemic have disrupted the Thai economy, but the impact has been alleviated by recovering global demand, including the export of goods for agricultural products, automotive parts, electronics and machinery. Government measures to mitigate the impact of the pandemic have been indispensable to companies and businesses in Thailand. This includes reduced interest rates and low-interest loans to business operators, as well as additional fiscal support to debtors. Tourism and foreign direct investment are among the principal factors in the stimulation of the Thai market, and both of which have been heavily impacted by the pandemic and national lockdowns. Consequently, this has created multiple challenges for local businesses, as well as hospitality and retail entities, who have faced company closure, delayed payments, among other related matters. Local restructuring and insolvency matters have increased significantly, including the largest business rehabilitation in Thai history, involving Thai Airways International Public Company Limited.
The Thai government enacted the first consolidated legislation governing data privacy in Thailand in May 2019, the Personal Data Protection Act (PDPA), which will bring significant changes to the current data protection regulatory environment in the country. A further one-year postponement has been approved for the enforcement of the PDPA in June 2022, giving companies additional time to comply with the new regulations. In Southeast Asia, Thailand is one of the region's leading advocates in the development of fintech, with a range of technologies, including artificial intelligence, blockchain-based financial institutions and automated trading, entering the sector. The Eastern Economic Corridor (EEC) continues to be a substantial undertaking initiated and propelled by the government, to stimulate the economic development of Thailand's Eastern Seaboard and attract investments in the infrastructure and transportation sectors. The country's energy market is still very much active and with the government's policy to liberalise the LNG market, there continues to be a gradual shift towards renewable energy.
Regional and local firms including long-established Tilleke & Gibbins and Weerawong, Chinnavat & Partners provide full-service offerings and capabilities to act on a full range of matters for international entities looking to enter the Thai market. International firms maintain a significant presence in the country, with Baker McKenzie LLP, Linklaters and Allen & Overy (Thailand) Co, Ltd being some of the key names operating for corporate interests. These firms are well-placed to leverage their regional and global networks to handle major cross-border mandates.