Set Profile > Chambers of Simon Davenport QC and Jeffrey Golden > London , London
Chambers of Simon Davenport QC and Jeffrey Golden
Offices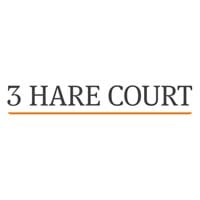 Chambers of Simon Davenport QC and Jeffrey Golden
3 Hare Court
TEMPLE
LONDON
EC4Y 7BJ
London
Chambers of Simon Davenport QC and Jeffrey Golden > The Legal 500
Rankings
3 Hare Court offers an 'impressive line-up of top-quality counsel' across a wide range of specialisms, including commercial litigation, fraud, and insolvency, amongst others, and 'never fails to impress', particularly in travel law where it is highly regarded. The set has 'maintained a balance with affordability when it comes to fees and its ability to provide a high quality of service'. Katherine Deal QC took silk in 2019, former solicitor and personal injury and travel law specialist Michael Nkrumah joined chambers, while commercial litigation junior Alexander Halban left for Littleton Chambers. All the clerks are 'realistic, proactive, and always willing to go the extra mile to ensure their clients are happy'. 'You always feel like their first priority and they respond quickly and when then say they will.' Their willingness to look at alternative funding arrangements is also well received by clients. Senior clerk James Donovan is 'very on the ball' and 'manages the delightful team brilliantly' to delivery 'unrivalled, exceptional' service. First junior Toby Eales 'does everything he can to help instructing solicitors' and is 'knowledgeable about the strengths and weaknesses of his barristers'. Senior second junior Darren Whitbread 'makes sourcing counsel easy. He is able to immediately grasp the context of a case and identify multiple counsel that would be appropriate dependent upon the seniority desired'. Offices in: London
3 Hare Court is an 'exceptional set of chambers in relation to cross-border claims'. Its members are regularly engaged on complex and high-profile claims involving accidents or illness abroad; Howard Stevens QC is involved in Whitehead & Whitehead v Co-Op Group Travel, Thomas Cook Tour Operations and Others, which involved claims by a couple who suffered severe injuries following a minibus crash in Mexico. Katherine Deal QC is acting for the claimant in ES v Groupama, which involves the death of a successful energy trader in a road accident. Here, the assessment is taking place under principles of French law.
2019 Silks
Ranked: Tier 1
Leading Silks
Ranked: Tier 1
3 Hare Court is 'an excellent set' which covers the full gamut of personal injury matters from fast track cases to the most complex disputes. Serious head and spinal injuries, fatal claims, and catastrophic accidents are among the areas of expertise for members, who are renowned for their strong track record in travel-related litigation. Katherine Deal QC is a recent silk appointment, strengthening the set's PI team.
Personal injury - 2019 Silks
Ranked: Tier 1
Personal injury - Leading Juniors
Ranked: Tier 4
Ranked: Tier 4
Personal injury - Leading Silks
Ranked: Tier 3
Chambers of Simon Davenport QC and Jeffrey Golden >
Firm Profile
Chambers works as advisers and as advocates across a range of civil and commercial areas of law. Members are recognised for the depth and breadth of their expertise, and for their persuasive advocacy and sound advice.
The set: Described as a leading civil and commercial set, Chambers has established a first-class reputation in its fields of practice, providing a wide range of advisory and advocacy services both domestically and internationally in an environment that meets modern business needs.
Types of work undertaken: Work is concentrated in the following areas (listed alphabetically):
Civil fraud;
Commercial (including International Arbitrations);
Employment;
Insolvency;
International work;
Personal injury and travel/accidents abroad;
Professional negligence;
Public, administrative and constitutional law.
Privy Council work is a notable area of expertise; the set is regularly instructed by governments, corporations and individuals in a wide range of cases. A number of cases deal with the written constitutions of Commonwealth countries, as well as commercial and general common law work. Chambers has strong links with the Caribbean, often appearing in those jurisdictions.
Insolvency and restructuring is a growing area for Chambers. Work includes liquidations, bankruptcies, director's disqualifications, administrations, and international and cross-border insolvencies. The set often acts for the main insolvency practitioners.
Chambers has particular expertise in personal injury and travel law cases, including serious head and spinal injury, industrial injury and claims relating to accidents abroad where jurisdictional issues arise. Fatal accident work and product liability cases are dealt with.
The commercial work (often acting for foreign clients, and in particular Russian/CIS clients) here also extends to international arbitrations, for and against governments, companies, institutions and individuals throughout the world and Chambers has an international reputation for effective advocacy.
The set is strong on languages, with members fluent in Dutch, French, German, Hindi, Hungarian, Italian, Malay, Punjabi, Spanish, Swahili and Urdu.
Main Contacts
| Department | Name | Email | Telephone |
| --- | --- | --- | --- |
| Joint Head of Chambers | DAVENPORT QC, Simon (1987) | | |
| Joint Head of Chambers | GOLDEN, Jeffrey ** | | |
| Members of Chambers | STRACHAN QC SC, Mark (1969) | | |
| Members of Chambers | GUTHRIE QC, James (1975) | | |
| Members of Chambers | KNOX QC, Peter (1983) | | |
| Members of Chambers | STEVENS QC, Howard (1990) | | |
| Members of Chambers | ROE QC, Thomas (1995) | | |
| Members of Chambers | CASEY QC, Aidan (1992) | | |
| Members of Chambers | GODWIN QC, William (1986) | | |
| Members of Chambers | DEAL QC, Katherine (1997) | | |
| Members of Chambers | YOUNG, Andrew (1977) | | |
| Members of Chambers | JANUSZ, Pierre (1979) | | |
| Members of Chambers | BUTLER, Rupert (1988) | | |
| Members of Chambers | JUSS, Satvinder (1989) | | |
| Members of Chambers | SAMUEL, Richard (1996) | | |
| Members of Chambers | SAXBY, Dan (2000) | | |
| Members of Chambers | POOLE, Tom (2001) | | |
| Members of Chambers | ATWAL, Navjot (2002) | | |
| Members of Chambers | LEWIS, Daniel (2003) | | |
| Members of Chambers | STRANG, Robert (2003) | | |
| Members of Chambers | HAWKINS, James (2003) | | |
| Members of Chambers | JOHNSON, Clara (2005) | | |
| Members of Chambers | IBRAHIM, Sara (2006) | | |
| Members of Chambers | PUGH, Helen (2008) | | |
| Members of Chambers | WIJEYARATNE, Asela (2008) | | |
| Members of Chambers | MASOOD, Hafsah (2006) | | |
| Members of Chambers | PENNINGTON-BENTON, Rowan (2008) | | |
| Member of Chambers | CHANNER, Benjamin (2008) | bchanner@3harecourt.com | |
| Members of Chambers | CAMPBELL, Richard (2007) | | |
| Members of Chambers | HACKETT, Stephen (2011) | | |
| Members of Chambers | LOWIS, Julia (2013) | | |
| Members of Chambers | EARLE, Rachael (2013) | | |
| Members of Chambers | WYBRANIEC, Olivia (2013) | | |
| Members of Chambers | SHUFFREY, Chloe (2014) | | |
| Members of Chambers | JACKSON, Natasha (2015) | | |
| Member of Chambers | HORTON, Thomas (2015) | | |
| Member of Chambers | MOORE, Emily (2016) | emilymoore@3harecourt.com | |
| Member of Chambers | NKRUMAH, Michael (2008) | michaelnkrumah@3harecourt.com | |
| Member of Chambers | GOLDBLATT, Daniel (2017) | danielgoldblatt@3harecourt.com | |
| Member of Chambers | JUDD, Philip (2017) | philipjudd@3harecourt.com | |
| Door Tenant | BARAGWANATH, Sir David* | | |
| Door Tenant | HOLLAND, Hon Randy J. | | |
| Door Tenant | SMALL, Hugh (1963)* | | |
| Door Tenant | ASTAPHAN SC, Anthony* | | |
| Door Tenant | McMILLEN QC, David, (1985)* | | |
| Door Tenant | ROBERTS OBE QC, Howard (1978)* | | |
| Door Tenant | McLeod, Iain (1969) | | |
| Door Tenant | COOPER-ROUSSEAU, Bertha (1993)* | | |
| Door Tenant | HAPPOLD, Prof Matthew (1995)* | | |
| Door Tenant | BUDWORTH, Martin (1999)* | | |
| Door Tenant | TIVADAR, Daniel (2005)* | | |
| | * Door tenants | | |
| | ** Arbitrator | | |
| Senior Clerk | DONOVAN, James | jamesdonovan@3harecourt.com | |
| Chambers Manager | MITCHELL, Guy | guymitchell@3harecourt.com | |
Staff Figures
:
Languages
French German Italian Spanish Dutch Punjabi Hindi Urdu Swahili Arabic
Top Tier Set Rankings
Set Rankings