Firm Profile > Joseph Hage Aaronson LLP > London, England
Joseph Hage Aaronson LLP
Offices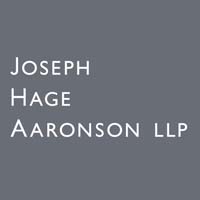 Joseph Hage Aaronson LLP
280 HIGH HOLBORN
LONDON
WC1V 7EE
England
Joseph Hage Aaronson LLP > The Legal 500
Rankings
Joseph Hage Aaronson LLP is a boutique with core expertise in tax and commercial litigation and international arbitration. It also houses forensic accountants, financial analysts and data scientists, providing clients with a full, multi-disciplinary service. The firm, which is led by Michael Anderson and founding partner Graham Aaronson QC, is instructed on complex domestic and cross-border tax disputes by a variety of multinational taxpayers and individuals across industry sectors. It has a particular niche in corporation tax group litigation orders (GLOs). Associate Shofiqur Miah is another name to note, with experience in a variety of contentious tax matters.
Practice head(s):
Graham Aaronson QC; Michael Anderson
Other key lawyers:
Simon Whitehead; Paul Farmer; Daniel Margolin QC; Ray McCann; Shofiqur Miah; Steve Bousher; Helen McGhee
Testimonials
'It is the common sense approach and ability to explain the issues which makes them stand out'
'The team is technically very able and is able to explain issues in an understandable manner'
'The team has a depth of knowledge and experience in EU law based tax litigation'
Key clients
British American Tobacco
Marks & Spencer
Prudential
Intercontinental Hotels Group
Richemont
Akzo Nobel
GKN
Fidelity
Joseph Hage Aaronson LLP >
Firm Profile
The firm: Our Clients' needs are at the heart of JHA's business; our unique structure was born out of a belief that an effective case strategy could be delivered more efficiently if lawyers, barristers, and forensic accountants worked side by side from the outset.
We combine the qualities of a traditional law firm with that of a chambers. Solicitors and barristers, with their distinctive training and experience, work closely as an integrated team to discuss and devise strategy together from the first to meet our clients' aims, whether via litigation, arbitration, mediation or settlement.
This simple precept has enabled us to attract and retain numerous clients, many of whom have come to rely on us as a trusted partner to manage and settle their complex disputes.
All clients have full and easy access to the whole legal team from the initial meeting onwards. We provide timely advice and the efficient delivery of a well-considered and effective case strategy. We build close relationships with our clients, based on mutual trust and a deep understanding of their commercial and legal objectives. We are highly sensitive to our clients' need for privacy and never seek to promote our own business based on their success.
JHA is ranked in band 1 in the Legal 500 UK for Tax Litigation and Investigations and is recognised as the only top tier firm for Contentious Tax by Chambers UK. These accomplishments have been achieved every year since the firm was founded in 2013.
Types of work undertaken:
Arbitration: Our arbitration specialists have represented large corporations, state entities and private individuals in both commercial and investment arbitration, subject to various governing laws, under all of the major institutional rules (including the ICC, LCIA and ICSID Rules) and in a number of different seats.
We can lead a case from inception, or provide support at any stage – in the strategic pre-arbitration phase, during proceedings or after proceedings at the challenge and/or enforcement stage. And our unique mix of solicitors and barristers ensures a seamless team throughout, including delivering the advocacy at hearings.
Examples of recent matters in which we have been involved include:
Investor-state disputes relating to sovereign debt restructuring
Post-mergers and acquisitions disputes
Shareholder and joint ventures disputes
Investment and commercial disputes in the extractive and construction sectors
The worldwide enforcement of an arbitral award by a Tribunal constituted under ICC rules
Analysis of investor-state claims against sovereign states 
Commercial litigation: At JHA, we have an established team of commercial litigation lawyers and QCs, which collaborate to deliver an effective case strategy, built around the clients' commercial objectives. Our extensive experience and expertise are complimented by an agile approach. We are often able to complete a conflict check in less than one hour, meaning we can start work at short notice for clients with time-sensitive needs.
Our existing clients have instructed us on their largest and most complex cases, often involving novel issues of law, jurisdiction and procedure. In all cases, we focus on protecting our clients' interests, whether through litigation, mediation or alternative dispute resolution mechanisms.
As well as acting as a primary legal adviser, we are often engaged by clients at a later stage. In this instance, we are able to review developments in live cases and offer a fresh strategic and legal perspective, or explore different routes to achieving settlement.
As part of our offering, we take time to consider the most appropriate use of various litigation technologies for the particular case, both for e-disclosure or in the presentation of cases at trial.
Tax Disputes: JHA's contentious tax practice brings together barristers, solicitors, chartered tax advisors, and accountants. Together, we deliver a cohesive, considered and effective approach to advising and representing clients through all stages of a dispute.
Our practice is ranked in Band One of Legal 500 and is the only group to be ranked in Band One in the Chambers UK guide. We have achieved this top tier recognition every year since the firm's inception.
We act on a wide range of domestic and international tax disputes, advising multinational corporations on various corporation tax disputes with HMRC. This includes acting in all but one of the Group Litigation Orders (GLOs) challenging various elements of the UK's tax legislation as being contrary to EU law.
Transfer pricing disputes is a further area of expertise; we are experienced at dealing with HMRC enquiries and investigations and have been active in the highest profile and value transfer pricing disputes of recent years, including those involving Diverted Profits tax. This is an area we have been advising on since its introduction and we are proficient at reaching settlements with HMRC, including in obtaining significant penalty reductions.
Our team also represents entrepreneurs and owner-managed businesses on sensitive or difficult tax disputes as well as high net worth individuals facing enquiries and criminal investigations. We work to resolve tax disputes through proactive cooperation and engagement with HMRC, resulting in a constructive working relationship, which enables us to deliver a high proportion of positive outcomes for clients.
Investigation: JHA's investigation team provides unrivalled strategic advice and maintain long-standing working relationships with the SFO, FCA and other foreign regulators, to achieve the best possible client outcomes.
Our practice includes experienced white-collar crime and regulatory defence lawyers, investigative lawyers, former regulators, and forensic accountants, all of whom have worked in one of the Big Four accountancy firms. All team members have strong and established working relationships, meaning our investigators have immediate access to some of the world's leading trial lawyers.
Our team is at the forefront of applying cutting-edge technology to legal investigation and strict privilege and confidentiality is maintained over all our work papers and practices.
Our approach enables us to provide both rapid and in-depth investigative services relating to regulatory enquiries, suspected or actual fraud, attempted blackmail, divorce negotiations and crisis management. We also perform background checks on current or potential employees, directors, and trading partners on behalf of clients, as part of their corporate due diligence. Our aim is always to give clear and timely advice that equips our clients to act in a considered and strategic manner.
Main Contacts
| Department | Name | Email | Telephone |
| --- | --- | --- | --- |
| | Joe Hage | JHage@JHA.com | +44 (0)20 7851 8888 |
| | Graham Aaronson QC | GA@jha.com | +44 (0)20 7851 8888 |
Diversity/Community
At Joseph Hage Aaronson our commitment to diversity and inclusion, responsible businesses, and having a positive impact on our community is entrenched in our culture. This is reflected in our firm values of commitment, inclusiveness, creativity, and integrity.
We believe a diverse and inclusive community encourages a stimulating, rewarding and inventive working environment. For these reasons, we are committed to creating a welcoming workplace in which all our people can thrive, regardless of their characteristics, beliefs, and preferences. We monitor diversity statistics to ensure that our practices are fair and non-discriminatory. This means we are best positioned to continue to provide our clients with a first-class service.
Our pro bono work, sponsorships, and charitable giving enable us to help and support individuals and organisations with limited access to resources and opportunities. It also means our people can share their experience and expertise in support of causes which can have a positive and lasting impact on our community.
The two main charities we support are Access2Justice and the children's charity Variety. Access2Justice provides legal services support to those who need it the most, particularly the ill, injured and economically disadvantaged. Variety helps to change the lives of children throughout the UK who are sick, disabled or underprivileged, through providing specialist coaching, equipment or experiences, and by supporting hospitals and youth centres.
We also encourage many of our employees to actively support their own charitable initiatives and we make financial contributions to their chosen causes.
JHA is a passionate supporter of the arts and is involved in many initiatives that support artists and nurture new talent in the art world. Education is also a key focus and we sponsor educational programmes and training.
The firm supports staff in providing pro bono support or undertaking voluntary work. All solicitors and barristers at JHA are given an allowance of 40 hours from their working year to participate in either voluntary or pro bono work. Employees in support functions can devote 20 hours of working time to voluntary work each year.
Top Tier Firm Rankings
Firm Rankings