Firm Profile > Chassany Watrelot & Associés (CWA) > Paris, France
Chassany Watrelot & Associés (CWA)
Offices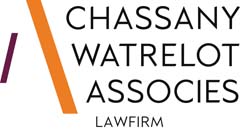 Chassany Watrelot & Associés (CWA)
8 RUE CHATEAUBRIAND
75008 PARIS
France
Chassany Watrelot & Associés (CWA) > The Legal 500
Rankings
Employment law firm Chassany Watrelot & Associés (CWA) has a stable and regularly growing team which now totals some 50 lawyers in France (Paris, Lyon, Marseille and Nice) in addition to 20 lawyers located in its four Maghreb offices. The firm is able to provide a full range of expertise to France's largest companies, as well as to many leading international corporations and investment funds. The firm is regularly entrusted to help with large-scale restructuring projects entailing important workforce reduction and site closures. It is notably assisting Carrefour Hypermarchés with the negotiation of a collective termination agreement affecting several thousand employees. The firm is also recognised for its strong M&A-related expertise and its proficiency in profit-sharing, pensions, welfare protection, social security and health and safety matters,  notably thanks to the strongly recommended Elisabeth Graujeman who advises on labour law and supplementary retirement and welfare schemes. Founding partners Philippe Chassany and Jérôme Watrelot co-head the firm. Other key names of the 19-partner practice include: Sébastien Poncet, Julien Boucaud-Maître and Juliette Pouyet as well as Hélène Guillot, Xavier de Jerphanion and Laurence Cohen.
Practice head(s):
Other key lawyers:
Testimonials
'The firm provides exceptional service, support and guidance.'
'Very strong team work. The team has strong knowledge, is very creative, always trying to find solutions which fit with the situations and concerns at hand.'
'They always offer solutions combining legal requirements with the particular situation of their clients.'
'Sébastien Poncet is available, responsive and provides good advice.'
Key clients
LCH.Clearnet SA
Carrefour
Transdev Group
Seita
Shiseido Europe
Groupe France Télévisions
Schmolz + Bickenbach
H&M
Amrest
Royal Canin
Stelia Aerospace
Panalpina
Chassany Watrelot & Associés (CWA) >
Firm Profile
The firm: Chassany Watrelot & Associés (CWA) is a law firm exclusively dedicated to employment law and other areas impacting human resources management. Over the past 30 years, the firm has experienced strong growth and is now in Lyon (since 1987), in Paris (since 1999), in Marseilles (since 2003) as well as in Casablanca and Tangiers (2011), Algiers and Tunis (2012). CWA brings together over 60 lawyers providing legal advice, accompanying and representing companies during litigations, and developing and conducting professional training.
CWA provides companies with strong support at all stages of the employment relation, be it individual or collective employment relations, either in the daily management of human resources and in the framework of large scale operations (restructurings, mergers and acquisitions, sales, outsourcing).
CWA defends its clients throughout all aspects of litigation, whether individual or collective. Given the increasing criminalisation of business law in general and labour law in particular, CWA has developed a expertise in employment criminal law to handle this type of litigation.
Because all human resources professionals need to constantly update their knowledge of employment law, CWA deploys all its knowledge and experience to provide tailor-made training sessions, bringing functional and innovative solutions.
Areas of practice: Thanks to its wide experience and multilingual skills, CWA provides legal advice to major international groups or SMEs which benefit both from the very personalised follow-up of a specifically dedicated lawyer and from the expertise of the entire firm through its highly technical expertise hubs.
Restructurings/M&A: the firm is involved in restructuring operations, such as business transfers, mergers and acquisitions or outsourcing operations. It addresses all matters: works council consultation, legal due diligence reports, impact of business transfers on employees, or elaboration and implementation of redundancy plans, negotiation of management packages.
Employment collective relations: a partner of companies and/or employer organisations, CWA brings its knowledge of legislation and case law, its responsiveness, and its analysis to help master the management of working relations, including the implementation of staff representative institutions.
Compensation and profit sharing: CWA assists its clients in remuneration strategies, including incentive plans (bonus, stock-option plans, profit-sharing, savings plans), taking into account the legal environment for social and tax optimisation, and the specific clients constraints and needs. (notably in cases of mergers or any other restructuring operations.)
Pensions and welfare protection: CWA also assists companies during the implementation or modification of retirement plans, supplementary healthcare schemes or death-incapacity-disability schemes. It has also developed a wide expertise in end-of-career plans (preretirement, proactive planning on employment and careers, etc).
Social security: CWA offers its expertise and understanding of the impact of social security regulations on the application of social security rules and the inspections of companies. It supports companies in the implementation of these rules and in the decision making process.
Health and safety at work: the firm adapts to legal developments during the development and follow-up of the occupational hazards prevention policy and in the conduct of relations with the health and safety committee. Its experience allows CWA to accompany its clients at the pre-litigation and litigation stages.
International mobility: CWA has developed expertise and assists clients in their international development with constant focus on the safety of the solutions recommended. CWA's transversal team, dedicated to international mobility, works in connection with a network of foreign lawyers able assist clients in managing their employee mobility.
Main Contacts
| Department | Name | Email | Telephone |
| --- | --- | --- | --- |
| Managing partner | Practice areas: Restructuring, employment collective relations, Litigation | Philippe Chassany | philippe.chassany@cwassocies.com | +33 (0)4 37 51 16 16 |
| Partner | Practice areas: Compensation and profit sharing, Pensions and welfare protection, Social security law | Yoan Bessonnat | yoan.bessonnat@cwassocies.com | +33 (0)1 44 34 84 84 |
| Partner | Practice areas: Restructuring, Mergers and acquisitions | Julien Boucaud-Maitre | julien.boucaudmaitre@cwassocies.com | +33 (0)1 44 34 84 84 |
| Partner | Practice areas: Employment collective relations, Social security law | Sébastien Cellier | sebastien.cellier@cwassocies.com | +33 (0)1 44 34 84 84 |
| Partner | Practice areas: Restructuring, Health and safety at work (working conditions/accidents at work and occupational diseases) | Laurence Cohen | laurence.cohen@cwassocies.com | +33 (0)4 37 51 16 16 |
| Partner | Practice areas: Litigation | Benoît Dubessay | benoit.dubessay@cwassocies.com | +33 (0)1 44 34 84 84 |
| Partner | Practice areas: Litigation and employment collective / individual relations | Jean Gérard | jean.gerard@cwassocies.com | +33 (0)1 44 34 84 84 |
| Head of the Pensions & welfare protection hub | Practice areas: Restructurings, Compensation and profit sharing, Pensions and welfare protection | Elisabeth Graujeman | elisabeth.graujeman@cwassocies.com | +33 (0)1 44 34 84 84 |
| Partner | Practice areas: Restructuring, Health and safety at work (working conditions/accidents at work and occupational diseases) | Hélène Guillot | helene.guillot@cwassocies.com | +33 (0)1 44 34 84 84 |
| Partner | Practice areas: Employment collective relations, Health and safety at work (working conditions/accidents at work and occupational diseases) | Franck Janin | franck.janin@cwassocies.com | +33 (0)4 37 51 16 16 |
| Partner | Practice areas: Employment collective relations, Vocational training | Xavier de Jerphanion | xavier.dejerphanion@cwassocies.com | +33 (0)1 44 34 84 84 |
| Partner | Practice areas: Employment collective relations, Litigation | Yves Merle | yves.merle@cwassocies.com | +33 (0)4 37 51 16 16 |
| Managing partner, head of CWA Maghreb | Practice areas: International mobility, Corporate law and finance, Business law / Contract law, Public law, Tax law | Mohamed Oulkhouir | mohamed.oulkhouir@cwassocies.com | +33 (0)1 44 34 84 84 |
| Partner | Practice areas: Employment collective relations, Health and safety at work (working conditions/accidents at work and occupational diseases) | Julia Pettex-Sabarot | julia.pettex-sabarot@cwassocies.com | +33 (0)4 37 51 16 16 |
| Partner | Practice areas: Restructuring, Mergers and acquisitions, Employment collective relations | Sébastien Poncet | sebastien.poncet@cwassocies.com | +33 (0)4 37 51 16 16 |
| Partner | Practice areas: Restructurings, Social security law | Juliette Pouyet | juliette.pouyet@cwassocies.com | +33 (0)1 44 34 84 84 |
| Partner | Practice areas: Litigation | Magali Provençal | magali.provencal@cwassocies.com | +33 (0)4 37 51 16 16 |
| Partner | Practice areas: Employment collective relations | Mathieu Raio de San Lazaro | mathieu.desanlazaro@cwassocies.com | +33 (0)1 44 34 84 84 |
| Managing partner | Practice areas: Restructurings, Mergers and acquisitions, employment collective relations | Jérôme Watrelot | jerome.watrelot@cwassocies.com | +33 (0)1 44 34 84 84 |
Staff Figures
Number of lawyers : 66 at this office : 30
Languages
Arabic English French German Spanish Italian
Memberships
IBA EELA
Other
Other offices : Algiers Other offices : Casablanca Other offices : Lyon Other offices : Marseille Other offices : Tangier Other offices : Tunis
Top Tier Firm Rankings
Firm Rankings