The Legal 500
Webinars
How CLM applications improve work for legal departments and reduce risks for organizations
April 27 2023
2:00 pm
CET - Central European Time (UTC +1:00)
← Back to Webinar homepage
How CLM applications improve work for legal departments and reduce risks for organizations
Overview
The webinar will focus on how legal departments can use CLM (Contract Lifecycle Management) to create value for their organization. The discussion will cover various ways in which CLM can be used to mitigate risks by implementing workflows within the system, reducing contractual risks, and ensuring compliance. Additionally, the webinar will highlight the benefits of having a single repository for contracts, where legal departments can create and sign contracts digitally. Attendees will learn about the key features and benefits of CLM and how it can improve the efficiency and effectiveness of legal operations
---
Speakers
Klaus Gresbrand, Director, Deloitte Legal Germany
Klaus Gresbrand is a Director at Deloitte Legal Germany and joined the firm 2012. Prior to joining us, he worked for an international law firm. He is a qualified German lawyer (Rechtsanwalt) with 10 years of professional experience in the areas of corporate reorganization and M&A projects.
Drawing from this professional background, Klaus provides Legal Management Consulting services to client's legal departments on all areas of legal operations and legal technology topics with a focus on Contract Lifecycle Management (CLM) and Target Operating Model design.
Zacharias Zawierucha, Manager, Risk Advisory Group, Deloitte Legal Germany
Zacharias Zawierucha is a manager in Deloitte's Risk Advisory Group. There he is part of the Extended Enterprise team in Berlin. Zacharias' main focus lies on project management and optimizing processes for clients and improving their digital transformation.
At Deloitte he is mainly involved in the requirement engineering and implementation of Contract Lifecycle Management solutions. He has more than seven years experience in consulting, project management and business development in several industries.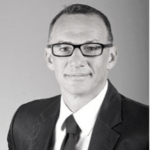 Heiko Jahn, Regional Vice President, Enterprise Sales DACH, DocuSign
Heiko Jahn is the responsible RVP (Regional Vice President) for Enterprise Sales in the DACH and part of the German leadership team. His main focus is to support customer and prospects with added value of the DocSign Portfolio offering to optimize the automation of agreement process end-to-end. Jahn has over 25 years of enterprise sales experience, while the last 10 years his main focus has been on SaaS /  Value Sales approach. He has also played volleyball for thirty-five years and recently bought a house in Italy.
---