The Legal 500
Webinars
Arbitration in the DACH region – successfully resolving cross-border disputes
February 14 2023
10:00 am
CET - Central European Time (UTC +1:00)
← Back to Webinar homepage
Arbitration in the DACH region – successfully resolving cross-border disputes
Overview
Together with DLA Piper, The Legal 500 are pleased to invite you to our upcoming webinar on 14 February 2023.
The DACH area is an economic powerhouse and global hub for inbound and outbound investment and international trade. Arbitration is a key method to settle any cross-border disputes that might arise.
Join our panel of experts as they provide an overview of the ins and outs of international arbitration in Germany, Austria and Switzerland and explain why DACH has become a worldwide hub for arbitration. Learn effective risk mitigation, early crisis management and (pre-)dispute strategy. How do you choose between arbitration or litigation, and between ad hoc or institutional arbitration? Which seat should you select for an arbitration between parties from DACH and other regions? What pitfalls are there when drafting dispute resolution clauses? How do you pick the right arbitrator(s)?
Based on real-world experience, our webinar will equip you with best practices and guide you through local particularities and cross-cultural aspects of arbitration in the DACH area, a neutral region with well-developed modern and arbitration-friendly legal systems for players from different parts of the world.
We encourage you to submit questions in advance to shape the discussion. Please email DLA Piper Event
---
Speakers
Dr Marc Jacob, LLM partner, Frankfurt
Marc Jacob is an advocate and adviser in our leading international arbitration and litigation practice.
He acts for companies and states worldwide in investment treaty, commercial and infrastructure disputes. Marc has handled matters under almost all the major arbitral rules. He also has significant experience in cross-border court proceedings.
Marc often assists at the intersection of multiple jurisdictions, legal traditions and cultural backgrounds. He recently helped a client in a high-value and politically significant investment treaty arbitration. This involved domestic proceedings across several countries. He was also involved in one of the largest commercial arbitrations in Germany in recent years.
Marc also advises on and argues public international law issues and regularly assists international organisations and other clients on a pro bono basis.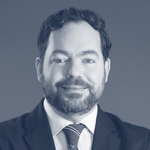 Ricardo Gardini de Andrade, partner, Vienna
Ricardo Gardini is a lawyer qualified in Brazil, Portugal and Italy and is registered as European lawyer with the Austrian Bar Association. He specializes in cross-border M&A / corporate matters and international arbitration and litigation, with a particular focus on providing assistance to Brazilian clients globally and international clients involved in Brazil.
Ricardo has a longstanding experience in handling matters for clients in different sectors, including consumer goods, financial services, telecoms, infrastructure and transport, energy and natural resources.
During the last 17 years, Ricardo has been assisting the largest Brazilian multinational companies and financial institutions in their most complex transactions and disputes abroad, particularly in Europe. He has built up a powerful network with leading Brazilian and European chambers of arbitration, associations, governmental bodies and agencies.
Ricardo is a multilingual and multicultural lawyer with unparallel experience as lead counsel on Brazil-related matters involving multi-jurisdictional teams from different practice areas.
---
In Association With