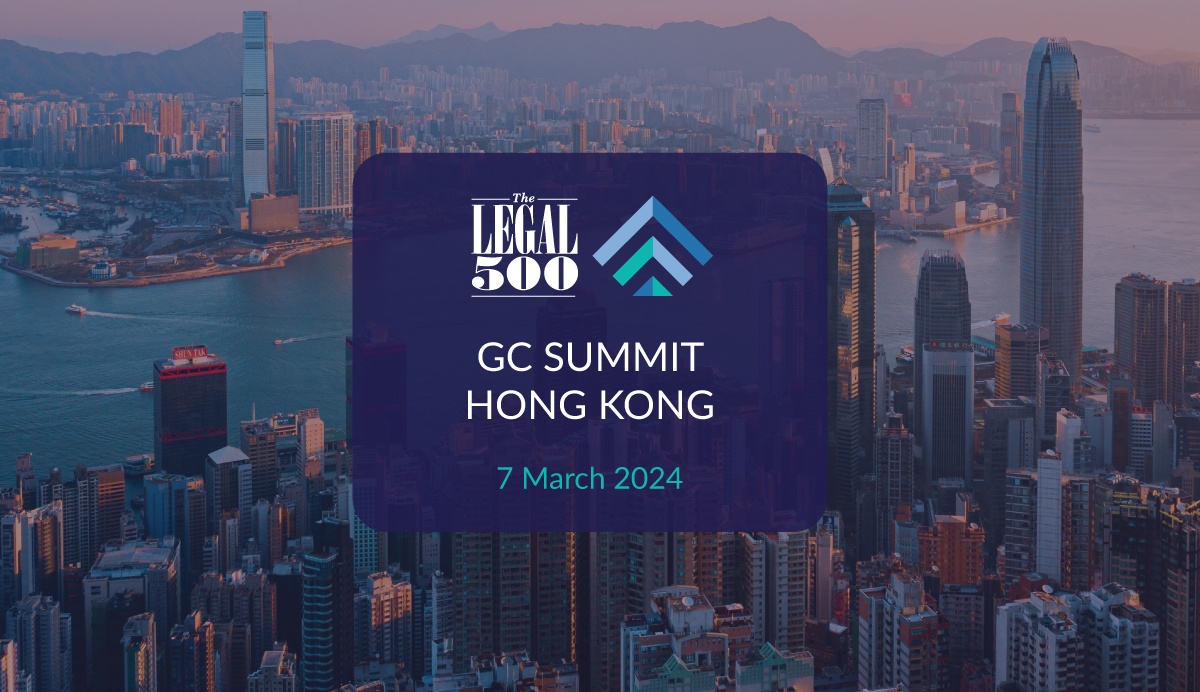 Event information
Date: Thu 7 Mar 2024 Time: 8.15am-1.30pm Venue: TBC
The Legal 500 is delighted to formally announce its inaugural GC Summit Hong Kong event, taking place on 7th March 2024.
The Legal 500's GC Summit Hong Kong 2024 invites the most esteemed in-house counsel from the region's most prolific companies, and leading practitioners to discuss their changing roles as in-house leaders and the challenges, issues and opportunities they are set to face in 2024 and beyond.
This includes understanding and overcoming data privacy challenges, managing international disputes, navigating internal investigations, adapting to a changing M&A landscape, the rise of legal tech, the growing importance of ESG, and overcoming labour and employment issues.
Between comprehensive panel discussions, presentations and the opportunity to meet and engage with fellow in-house counsel, GC Summit Hong Kong promises to be a practical, forward-looking event bringing together the region's top legal minds.
In association with...

Founded in Philadelphia in 1875, Dechert has built a global platform across 26 locations with a singular focus – delivering the highest-quality advice that is actionable, commercial and delivered efficiently. Dechert has some of the world's leading lawyers advising on both domestic and cross-border matters. The firm is frequently retained to work on the most challenging transactions and disputes, and prides itself on its ability to deliver premium legal services and sound business judgment to its clients. Dechert undertakes work for 40 of the "Fortune 100" companies and represents more than 200 private equity and investment firms in some capacity. The firm also advises 24 of the top 25 global asset management firms, and 41 of the top 50 global private debt firms (as identified by Private Debt Investor).
Dechert lawyers in Hong Kong provide results-oriented legal and business solutions to corporations and funds investing in Asia. Clients rely on our deep understanding of both local and global business and regulatory practices to structure and devise solutions that bridge East and West. Whether we are representing the Asian company or the foreign investor, knowledge of both the commercial and legal frameworks that govern transactions in Asia allow us to meet the needs of our clients. Our lawyers in Hong Kong are regularly recognized by legal directories such as The Legal 500 and Chambers. This drive for excellence also applies when assisting our Asian clients on outbound transactions.