BAR WINNERS: COMMENTS AND PHOTOS
To download a PDF of the complete UK awards commentary text, please click HERE.
COMMERCIAL LITIGATION
SET OF THE YEAR
4 Stone Buildings
This Chancery set is going from strength to strength in the commercial context, and has been involved in some of the biggest cases of the past few years, including JSC BTA Bank v Ablyazov, Deutsche Bank AG & ors v Unitech Global Ltd, and Constantin Medien v Ecclestone & ors. (Pictured: George Bompas QC)
SILK OF THE YEAR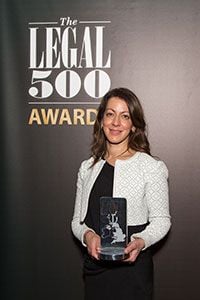 Sonia Tolaney QC – 3 Verulam Buildings
Tolaney climbed the commercial litigation rankings in The Legal 500 UK 2014 edition and also maintains a strong reputation in banking and finance and civil fraud. She successfully defended in Deutsche Bank v Sebastian Holdings, one of the largest claims in Commercial Court history.
CRIME
SET OF THE YEAR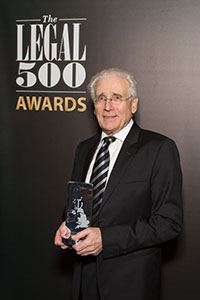 25 Bedford Row
Defence specialist 25 Bedford Row has had an exceptional year in terms of the cases members have been involved in, and it also moved up to tier one in The Legal 500 UK 2014 criminal fraud set rankings. This modern, progressive chambers has some heavyweight silks defending in the most serious and complex of cases and a strong junior arm too. (Pictured: Paul Mendelle QC)
SILK OF THE YEAR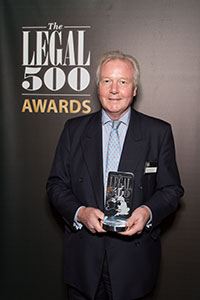 David Perry QC – 6KBW College Hill
Perry consistently receives outstanding feedback, with many saying he is the best criminal advocate at the Bar. He has been particularly active in Hong Kong recently, and is currently prosecuting Rafael Hui, the former Chief Secretary of Hong Kong, and two of the most prominent land developers in the territory over high-profile bribery allegations. (Pictured: David Fisher QC collecting on behalf of David Perry QC)
EMPLOYMENT
SET OF THE YEAR
Littleton Chambers
Long seen as one of the leading employment sets, Littleton Chambers remains very much in the spotlight. It has acquired two highly regarded barristers from Devereux in recent years (Suzanne McKie QC and Mohinderpal Sethi), and the set is also handling a good range of commercial employment work. (Pictured: Naomi Ellenbogen QC)
SILK OF THE YEAR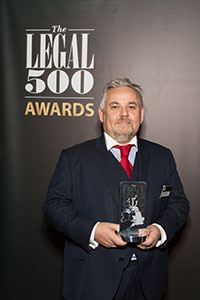 Thomas Linden QC – Matrix Chambers
Linden receives positive market feedback year after year. However, 2014 has been a standout year for this top-tier employment silk, thanks in part to the fact he won a three-year battle in the Supreme Court determining that members of LLPs do have the protection of whistleblowing legislation. (Pictured: Cliff Holland, Practice Manager, collecting on behalf of Thomas Linden QC.)
EU AND COMPETITION
SET OF THE YEAR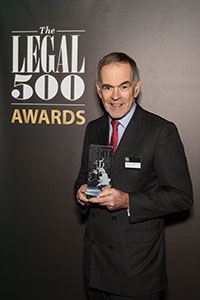 Brick Court Chambers
Members of this Magic Circle set have had a fantastic year, and have been involved in the major cases of recent times including Sainsbury's v MasterCard and Visa, and BMI Healthcare v Competition Commission. In the EU context, the set continues to handle headline cases relating to high-profile, politically charged international events (Iranian sanctions and the Spanish authorities' hostility to Gibraltar being but two). (Pictured: Charles Hollander QC)
SILK OF THE YEAR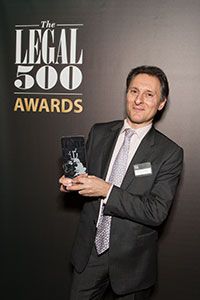 Jon Turner QC – Monckton Chambers
In 2014, Jon Turner QC received outstanding market feedback. He was also involved in one of the most of the high-profile cartel cases of 2013 and in one of the leading competition damages claims in the Competition Appeal Tribunal.
FAMILY AND CHILDREN
SET OF THE YEAR
4 Paper Buildings
This set has been regarded as the leading children set in London for some time, but it never rests on its laurels and has had a great year in both family finance and children law. Multiple members of chambers represented parties involved in the three major children law decisions in the Supreme Court, including the first appeal to the Supreme Court in a Hague Convention case.
SILK OF THE YEAR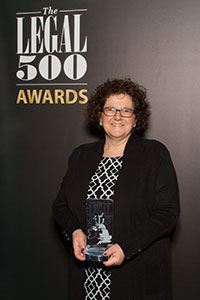 Lucy Stone QC – Queen Elizabeth Building (QEB)
Stone maintains a strong international family finance practice, and continues to act in disputes of the utmost complexity. Her 2013 workload included a case in the Hong Kong Court of Appeal.
INSOLVENCY
SET OF THE YEAR
South Square
This insolvency behemoth includes a huge array of talent both at a silk and junior level and is the first port of call for instructing solicitors on the headline cases in the market; as was evidenced by its involvement in four major restructuring and insolvency disputes in the Supreme Court in 2013 (including Eurosail).
SILK OF THE YEAR
Richard Snowden QC – Erskine Chambers
Snowden is a fixture in many of the highest- profile cases and since his market-leading work in issues surrounding the Lehman Brothers collapse, he has handled a raft of matters in relation to MF Global – another of the City's largest and most highly publicised insolvencies.
INTERNATIONAL ARBITRATION
SET OF THE YEAR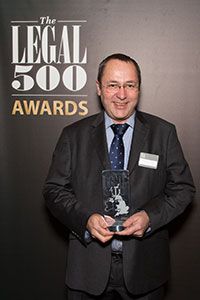 Thirty Nine Essex Street
Building an increasingly strong presence in this area, Thirty Nine Essex Street's offering was bolstered by the high-profile recruitment of Peter Rees QC (the former legal director of Royal Dutch Shell). The set's links with Asia also garner strong praise and its recently opened offices in Singapore and Kuala Lumpur have further strengthened this chambers' commitment to international arbitration. (Pictured: Alastair Davidson)
SILK OF THE YEAR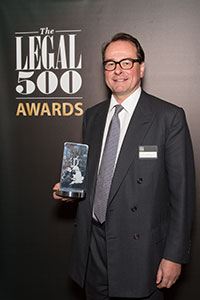 Duncan Matthews QC – 20 Essex Street
Combining a top-notch litigation practice with a superb and highly versatile arbitration practice, Duncan Matthews QC has recently been involved in several major arbitrations across a range of sectors and regions.
IP, IT AND MEDIA
SET OF THE YEAR
Blackstone Chambers
This set has a long-established leading media and sport practice, but is also strong in telecoms regulatory cases and in recent years the IP practice has also been gaining momentum. It is best known for soft IP work, and its presence in this area was boosted by the recent arrival of Michael Bloch QC from Wilberforce Chambers. (Pictured: Julia Horner)
SILK OF THE YEAR
Desmond Browne QC – 5RB
A leader in defamation and privacy related work, Desmond Browne QC recently represented Peter Cruddas in his case against The Times, and obtained a damages award of £180,000 against an offshore website for a Saudi businessman, which was the highest award of libel damages since 2002.
PERSONAL INJURY AND CLINICAL NEGLIGENCE
SET OF THE YEAR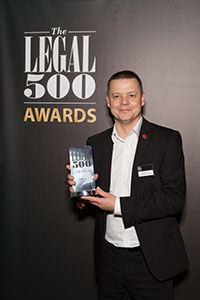 Crown Office Chambers
This set receives exceptional feedback from solicitors for the personal injury and industrial disease cases members undertake, and is often a first port of call for this type of work. In addition, chambers' clinical negligence practice has also had a very strong year and its presence in the market here continues to grow. (Pictured: Paul Hurst)
SILK OF THE YEAR
Andrew Ritchie QC – 9 Gough Square
Ritchie has recently become head of chambers at 9 Gough Square, which has been received extremely positively by solicitors who say his appointment has 'energised' chambers. This, combined with his impressive caseload, was reflected in a promotion to tier one in personal injury in The Legal 500 UK 2014 edition.
PRIVATE CLIENT: TRUSTS AND PROBATE
SET OF THE YEAR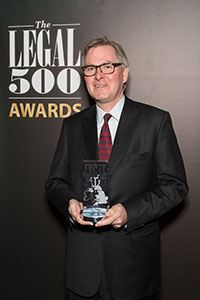 Serle Court
With increasing strength both at silk and junior level, it is not surprising to find Serle Court active on truly major work such as Alan Boyle QC's continued advice on matters relating to the Madoff fraud. (Pictured: Dominic Dowley QC)
SILK OF THE YEAR
Francis Barlow QC – Ten Old Square
Head of chambers Francis Barlow QC has built a supreme reputation for handling matters of great complexity and is regularly to be found acting for high-net-worth families both off and onshore. He has recently been particularly active advising families on chattels settlements and intricate variations.
PROJECTS AND ENERGY
SET OF THE YEAR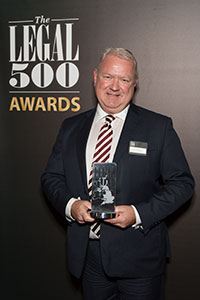 Keating Chambers
The market-leading construction practice at Keating Chambers is the set's core area, however the energy practice also continues to go from strength to strength, evidenced by an elevation in The Legal 500 UK 2014 energy set rankings. The set recently gained CEO and director of clerking Declan Redmond from Wilberforce Chambers. (Pictured: Declan Redmond)
SILK OF THE YEAR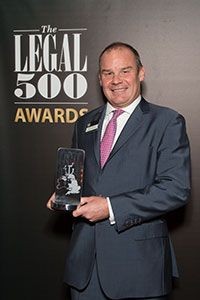 Lionel Persey QC – Quadrant Chambers
Persey is particularly strong in energy sector litigation, and was elevated to tier one in The Legal 500 UK 2014 energy rankings following another year of truly exceptional solicitor and peer feedback. (Pictured: Simon Slattery collecting on behalf of Lionel Persey QC)
PUBLIC LAW
SET OF THE YEAR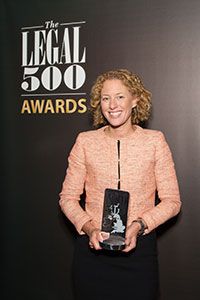 Landmark Chambers
Strong at both the silk and junior end, Landmark Chambers' members continue to handle high-profile cases both for claimants and the government. The set's immigration practice is also gaining momentum, evidenced by a promotion in The Legal 500 UK 2014 immigration set rankings. (Pictured: Holly Gavaghan)
SILK OF THE YEAR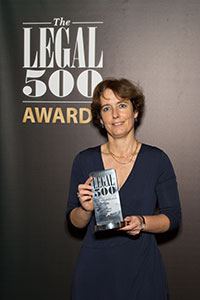 Nathalie Lieven QC – Landmark Chambers
With a strong and varied public law practice, Nathalie Lieven QC's recent workload includes a number of Supreme Court cases, such as the challenge brought by local authorities to the decision to proceed with HS2.
REAL ESTATE, ENVIRONMENT AND PLANNING
SET OF THE YEAR
FTB
Although FTB is lesser known on the real estate side, the set's environment and planning practices have had an exceptional year, benefiting from a number of recent recruits including Simon Bird QC and Morag Ellis QC from Cornerstone Barristers. (Pictured: Gerald Gouriet QC)
SILK OF THE YEAR
Nicholas Dowding QC – Falcon Chambers
Dowding has established himself as the leading property litigator in the country, and is quite literally in a league of his own. Not only did he maintain his tier one property litigation ranking in The Legal 500 UK 2014 edition, but he now appears in this tier alone.
TAX
SET OF THE YEAR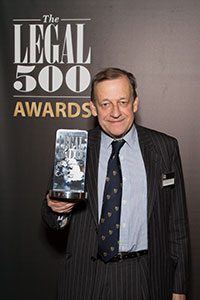 Temple Tax Chambers
Members of this specialist tax set continue to handle high-profile cases in the corporate tax and VAT context, and the clerking team also reaps outstanding feedback. The set was bolstered at senior level when David Southern QC was promoted to silk in 2014. (Pictured: David Southern QC)
SILK OF THE YEAR
Kevin Prosser QC – Pump Court Tax Chambers
Often a first port of call for complex tax cases, Prosser recently represented Bristol & West in the FTT, securing an important win for the taxpayer against HMRC. He also successfully represented HMRC in its case against Vaccine Research concerning an alleged tax avoidance scheme involving LLP structures, a particularly relevant subject matter in the current climate.
REGIONAL/SCOTTISH
SET OF THE YEAR
No5 Chambers
As winner of the regional set award for the second year running, No5 Chambers has continued to grow and develop its reputation as one of the leading national chambers. It has also led the way in public access work through setting up NoVate Direct Legal Solutions, a not-for-profit standalone company that sources instructions. The set's offices outside its roots in Birmingham (Bristol, Leicester and London) are also going from strength to strength.
SILK OF THE YEAR
Pete Weatherby QC – Garden Court North Chambers
Winning plaudits for his expertise in public law, Pete Weatherby QC is recognised for his involvement in headline matters such as the Hillsborough inquest and the Vinter & ors v UK case, where the European Court of Human Rights Grand Chamber considered the legality of whole-life sentences without review.
CLERKING/PRACTICE MANAGEMENT – UK WIDE
TEAM OF THE YEAR
9 Gough Square
Receiving consistently outstanding feedback for the service it provides, 9 Gough Square is noted by many for its modern approach and some say it has 'the best clerking team in the business'. Director of business development Michael Goodridge reaps particular praise, but also singled out are chief executive Fiona Robb, senior family clerk Gary Farrow and criminal clerk David Landa. (Pictured: Michael Goodridge)
SENIOR CLERK/CHIEF EXECUTIVE OF THE YEAR
John White – Henderson Chambers
Chief clerk John White has been at Henderson Chambers for 40 years this year, and garners exceptional feedback from solicitors who describe him as 'unfailingly helpful and courteous'. He successfully runs a 'very approachable, friendly and flexible' clerks' room, which is continually singled out as being among the most down to earth and pleasant to deal with in London.