Mr Saifullah Khan > S.U.Khan Associates > Islamabad, Pakistan > Lawyer Profile
S.U.Khan Associates
Offices

S.U.Khan Associates
First Floor, 92 – Razia Sharif Plaza, Fazal-ul-Haq Road
Blue Area
Islamabad 44000
Pakistan
Mr Saifullah Khan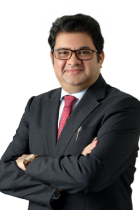 Work Department
Trade Defense Laws, Competition Laws, Ecommerce, Data Protection, Dispute Resolution
Position
Managing Partner
Career
Mr. Khan, an international trade, I.T and policy lawyer, has more than twenty years of practical experience in the areas of international trade policy and law advisory. He carries expertise in WTO Laws, which includes Agreement on Antidumping, Agreement on Subsidies & Countervailing Measures, Agreement on Safeguards, General Agreement on Trade in Services (GATS) and TRIPS. He also practices Anti-Trust and Competition Law, Data Protection & Cyber Security, IT & E-Commerce, Trade Agreements, issues relating to Customs, Para-tariff & non-tariff barriers and Alternate Dispute Resolution mechanisms like Mediation & Arbitration etc.
He has closely worked with the Pakistan's National Tax Administration (Federal Board of Revenue) as head of Working Group on "Laws & Regulations" concerning implementation of Single Window Trade Facilitation platform for synchronization of Import/Export processes and systems. Mr. Khan has also been engaged with the International Trade Centre, Geneva, Switzerland in various projects. Mr. Khan has also worked as member of Ministry of Commerce team for the revision of Trade Defence Laws in Pakistan in the Year 2014, which were revamped after critical review keeping in view issues faced in implementation of these laws during more than 10 years of their promulgation. Mr. Khan has been awarded with the prestigious "Top 100-Lex Falcon Awards" at the Lex Talk Global Hybrid Conference in Dubai, April 2021.
Mr. Khan has extensive experience of dealing with trade defense laws and procedures in Pakistan and abroad. He has been engaged in more than 90% of the antidumping investigations initiated by the Pakistani Antidumping Authority (National Tariff Commission, Ministry of Commerce) till date. He has been providing trade remedial consultancy services to the domestic industry in Pakistan as well as to large number of foreign producers / exporters in various countries in several antidumping investigations initiated by Pakistan, in compliance with the provisions of WTO Agreement on Antidumping and Domestic Legislation. He has also defended antidumping cases of several Pakistani exporting companies, which were facing antidumping allegations from foreign antidumping authorities. Furthermore, Mr. Khan has been advising clients/ trade associations in Pakistan and abroad on customs tariff related issues, including but not limited to, tariff setting, removal of tariff anomalies and tariff protection for their specific products and seeking concessional tariffs as well. Mr. Khan has been representing clients before the Appellate forum under different laws.
Mr. Khan has developed expertise and engaged in the advisory activities in the legal, policy and regulatory framework for e-commerce. He is assisting Ministry of Commerce, Government of Pakistan on devising policy framework for e-commerce in Pakistan in line with the guidelines and model laws framed/adopted by UNCITRAL. Mr. Khanparticipated in the 50th session of UNCITRAL held at Vienna in July 2017 as "Alternate Pakistan's Representative" and attended several interactive sessions. He also assists online businesses to maintain a compliant online business by offering legal services concerning contract drafting, developing privacy statements, privacy and data protection compliance, consumer protection, intellectual property and advertising etc.
Mr. Khan attended 4th E-Commerce Week (April 2018) at Geneva organized by United Nations Conference on Trade and Development (UNCTAD). The Firm co-organized a session with UNCTAD in 4th E-Commerce Week with the title "Public-Private dialogue to drive ecommerce". Mr. Khan moderated this session with high profile panelists from public and private sectors of various countries who brought with them their success stories of public-private dialogue for the promotion of ecommerce and offering solutions to ecommerce problems. He also had the opportunity to speak as panelist in three other sessions wherein he highlighted the upcoming trends of ecommerce relating to online platforms, women's empowerment through digitalization, finding common ways to promote financial inclusion via e-commerce in different cultures around the world.
Mr. Khan participated in the task force meetings in Istanbul, Turkey held in connection with the establishment of Organization of the Islamic Cooperation (OIC) Arbitration Center at Istanbul, Turkey. He is a Member of the International Chamber of Commerce (ICC) Pakistan Commission on Alternate Dispute Resolution & Mediation.
International Trade Center, Geneva, Switzerland has engaged Mr. Khan, as a subject matter specialist, to deliver training lectures to mid-career officers of Commerce and Trade Group (Ministry of Commerce, Government of Pakistan). These lectures, delivered at Pakistan Institute of Trade and Development, an attached department of Ministry of Commerce, Government of Pakistan, are on antidumping, subsidies and countervailing and safeguard measures.
Mr. Khan has authored number of articles on professional subjects/topics, published in renowned publications in the areas of international trade laws including Trade Defence Laws of WTO, Competition law, Dispute Settlement, Preferential Trade Agreements, E-Commerce, Privacy & Data Protection Anti-Money Laundering etc. His authored articles are published by International Comparative Legal Guide (ICLG), Mondaq, Lexology, OneTrust, Thomson Reuters and the Law Reviews.
He has also been pleading and defending his clients in cases of appeals/suites/petitions before the superior courts (High Courts) of Pakistan.
Mr. Khan is a practicing lawyer (Advocate High Court) and Member of Islamabad Bar Council, Member of the Chartered Institute of Arbitrators (CIArb), United Kingdom, Member International Association of Privacy Professionals USA, Management Accountant and Fellow Member of the Institute of Cost & Management Accountants of Pakistan (ICMAP), Certified Internal Auditor (CIA) from the Institute of Internal Auditors – USA, Fellow Member of the Pakistan Institute of Public Finance Accountants (PIPFA) and Member Rawalpindi-Islamabad Tax Bar Association (RITBA). Mr. Khan has participated in an Executive Education Program on Negotiation (PON) at Harvard Law School, hosted by the Global Business School in Dubai. Mr. Khan did an Executive Education program on "Mastering Trade Policy" from Harvard Kennedy School, Boston, USA. Mr. Khan has done a course from London School of Economics and Political Science (LSE) on "Data: Law, Policy and Regulation".
Languages
English, Urdu
Memberships
Islamabad Bar Council
Rawalpindi-Islamabad Tax Bar Association
Chartered Institute of Arbitrators
International Association of Privacy Professionals (IAPP)
Education
LLB
Leisure
Travelling
Top Tier Firm Rankings
Firm Rankings