FACTORHY > Paris, France > Firm Profile
FACTORHY
Offices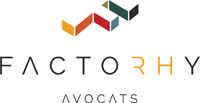 FACTORHY
61 rue de Bercy
75012 Paris
France
FACTORHY > The Legal 500
Rankings
At employment law boutique
FACTORHY
clients find some of France's most respected names in the profession in
Grégory Chastagnol
, 
Benjamin Desaint
 and
Leslie Nicolai
. The firm acts for a prominent client base and is recommended for high-profile work.
FACTORHY >
Firm Profile
FACTORHY Avocats, which specializes in labor and employment law, was created on October 16, 2019. The six founders, Leslie Nicolaï, Benjamin Desaint, Grégory Chastagnol, Alexandre Roumieu, Uriel Sansy and Laurent Gamet, previously partners of leading law firms, share a common vision acquired after decades of experience: to push back the boundaries of employment law to offer a range of innovative legal services and rethink human capital.
50 lawyers with complementary expertise advise and support major CAC 40/SBF 120 groups, investment funds, as well as developing SMEs & ETIs. They interact on a daily basis with company managers, human resources departments, legal departments and financial departments in the private, public, semi-public and non-profit sectors.
After only three and a half months of existence, the firm has already experienced significant growth in its workforce (+20%). It is also currently developing numerous peripheral activities in order to respond to all the legal and HR issues of companies and offer them a 360° support. An approach that breaks with traditional codes, for greater responsiveness and results. Its vocation is to be a lawyer-facilitator: to offer solutions, to rethink projects, to make the lawyer-client and company-employee relationships more fluid.
FACTORHY is a "niche" firm, expert in all areas of employment law. The firm's partners are particularly recognized for their expertise and agility in handling cases involving

Structuring and restructuring: FACTORHY assists its clients in choosing the best structuring and restructuring options: mergers, spin-offs, collective performance agreements, PSE, collective bargaining agreements, sui generis arrangements, etc.  At each stage of the project, FACTORHY distinguishes itself by providing operational, responsive and agile support. The firm handles all aspects of the project at the highest level of expertise, particularly legal and economic, but also in terms of communication and relations with the administration and employee representatives.

International mobility: social and tax optimization, contractualization, relocation, work and residence permits, FACTORHY assists its clients at every stage.

Supplementary social protection: implementation, modification, transformation, termination of schemes. FACTORHY can help you implement appropriate solutions.

Social dialogue and collective bargaining: securing and optimizing relations with the CSE and the trade unions, FACTORHY positions itself as a "lawyer-coach" facilitating projects in a context where the social partners can nowadays shape the rules governing the company to measure.

Working hours: global support strategy to implement optimal and secure tools with a view to increasing productivity, reducing risk or cutting costs.
URSSAF: FACTORHY offers permanent support before, during and after control operations in order to limit adjustments.

Compensation: FACTORHY assists its clients in identifying the appropriate employee savings and shareholding schemes and then in drafting the deeds and agreements required to set up these mechanisms.
Health, safety and working conditions: FACTORHY provides its clients with a team of legal and technical experts, as well as digital tools, allowing them to understand the business risk, the machine risk, the industrial risk, all from a productive and ergonomic point of view, but also from the point of view of social and criminal risk, in order to minimize them.

Management of high-risk litigation: FACTORHY handles all litigation related to labor law and is recognized in particular for its high degree of technicality, its pugnacity and its high success rate.
News: 2 new partners, a digital platform for the management of occupational injuries, litigation, multi-site DUERs and health and safety prevention; national and international recognitions, doctrinal works.
Staff Figures
Number of associates : 9 Number of attorneys : 65
Languages
Spanish English Italian French
Memberships
International Bar Association
Other
Palmarès du Droit : Niche Firm of the Year Palmarès du Droit : Golden trophy in collective labour relations Palmarès du Droit : Golden trophy in individual labour relations Palmarès du Droit : Golden trophy in labour law Palmarès du Droit : Silver trophy in social security law Sommet du Droit : Golden trophy : Entrepreneurial company of the year Sommet du Droit : Special mention : Health and safety at work Sommet du Droit : Silver trophy : Collective negotiations and social relations
Client testimonials
CLIENT: Muriel ROHR, Western Europe HR Director
COMPANY/FIRM: MONDELEZ INTERNATIONAL
TESTIMONIAL: Alexandre Roumieu and Factorhy are of great help when it comes to managing complicated situations. He distinguishes himself particularly by his capacity of foreseeing risk and practical ways of avoiding it so that we can make the best decisions.
---
CLIENT: Renaud BOUET, GROUP RH DIRECTOR
COMPANY/FIRM: ID LOGISTICS GROUP
TESTIMONIAL: We have been working with Benjamin DESAINT for many years.
He supports ID LOGISTICS on all matters related to labor law, whether it is advice, training or litigation.
Benjamin DESAINT and FACTORHY accompanie us perfectly with regard to our imperatives
He brings us a triple expertise:
He has a global vision of the company, which allows them to provide advice that is not only HR-oriented, but connected to the general imperatives of the company
He has a practical approach to law and HR matters, and not theoretical or dogmatic
He has a prospective and anticipatory approach to subjects.
---
CLIENT: Nicolas COSTES, Social Affairs Director
COMPANY/FIRM: UES DITEX (ZARA, ZARA HOME, BERSHKA, PULL&BEAR, STRADIVARIUS, MASSIMO DUTTI, OYSHO)
TESTIMONIAL: We have been working with Maître Leslie Nicolaï and her team for more than three years now. They show a huge rigor in the analysis of files and very quickly acquired a very good knowledge of the functioning of our companies. They also demonstrate unparalleled responsiveness to help us manage complex and urgent situations. They also do not hesitate to innovate in their approach to the law when new situations arise. Working with the Factorhy team is very reassuring for our companies, especially since the whole team is, in addition to being very professional, warm and accessible.
---
CLIENT: Marion AZUELOS, Group RH Director
COMPANY/FIRM: BNP Paribas Asset Management
TESTIMONIAL: BNP Paribas Asset Management has worked with prof. Laurent Gamet, partner of Factorhy Avocats, for almost 20 years. We appreciate his consistently rigorous legal analysis, his 360 degrees view of the issues, his pragmatic approach, his availability and reactivity, his capacity to reassure the client, and, before in front of the courts, his ability to make a difference.
---
CLIENT: Laure BEVIERRE, Group Senior Vice President, Human Resources
COMPANY/FIRM: TREVES GROUP – https://www.treves-group.com/en
TESTIMONIAL: I met Grégory Chastagnol in the early 2000s when I was working as Social Relations Manager. When I took up the position of Human Resources Director in my two subsequent companies, I renewed my collaboration with Grégory each time by signing an annual consulting partnership and entrusting him with the management of litigation. In addition to his responsiveness, what I appreciate most about him (which is a differentiating factor from other lawyers I have worked with) is his ability to find inventive solutions by having a pragmatic approach that allows me to manage employment law issues in a secured manner.
---
CLIENT: Matthieu WAQUET, VP Operations HR Europe
COMPANY/FIRM: IDEMIA – https://www.idemia.com/
TESTIMONIAL: Dear Grégory, Thank you for your unceasing availability and responsiveness, as well as for the operational relevance of your notes, which respond concretely to our needs in a way that is clear, intelligible for non-lawyers and practical for solving even our most complex problems.
---
CLIENT: Eric LABRUNE, General Manager
COMPANY/FIRM: EXTIME FOOD &BEVERAGE (Groupe ADP) – https://www.parisaeroport.fr/en/group/strategy/extime
TESTIMONIAL: Grégory Chastagnol allows us to manage our business in complete serenity in the long term. As a manager, he enlightens me in complex situations in order to avoid making mistakes and, above all, to make informed decisions. In litigation, he has defended our interests with great ability, while providing us with the best reflexes for the future to avoid repeating our mistakes. His accompaniment in the three phases (before, during and after any choice), is precious for any manager, because it frees us from the weight of the decision, without which there would be no initiative, no company.
International capabilities
Factorhy Avocats, specializing in Labor and Employment law, perpetually prioritizes providing high-level legal and practical assistance to its clients. The firm has specific expertise in international labor and employment matters including immigration and tax aspects of cross boarder issues such as international restructuring, expatriation, inpatriation and secondment of employees.
The firm's attorneys established its strong international practice in part with fluency in a variety of languages including English, Portuguese, Spanish, Italian, Arabic, Persian and French. Many of its attorneys graduated top universities with international law degrees and received practical training or legal education in Europe and the US.
Factorhy clients benefit from a combination of technical and business approaches which lead to appropriate and innovative solutions.
Additionally, combined with Factorhy Avocats' impressive network and partnerships with leading employment law firms across the world, clients receive an unparalleled level of assistance on all aspects of global inquiries.
Diversity
We know that our differences make us a better law firm.
Our diversity enables us to attract the best talent, drive and provide the best possible experience to anyone who contacts us. That's why being a leader in Diversity & Inclusion is an integral part of our firm's vision and strategy. It makes us stronger and more open minded.
It is important to us, as a responsible business, that Factorhy Avocats represents the diversity of our clients and our communities.
We are actively creating an inclusive workplace where each person feels comfortable to be and express their authentic self by addressing unconscious bias and actively creating opportunities for our colleagues and supporting them.
Our commitment to diversity and inclusion makes us a better law firm and helps us deliver the best experience for our clients. It allows us to attract the best talent and drive innovation.