Firm Profile > Bahas, Gramatidis & Partners > Athens, Greece
Bahas, Gramatidis & Partners
Offices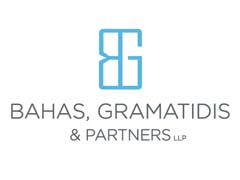 Bahas, Gramatidis & Partners
26 FILELLINON STREET
10558 ATHENS
Greece
Bahas, Gramatidis & Partners > The Legal 500
Rankings
Bahas, Gramatidis & Partners handles a variety of financial matters, including project finance, due diligence on Athens Exchange listings, commercial loans, bond issues and NPL securitisations. Marios Bahas and Dimitris Emvalomenos jointly lead the department, which has a particular emphasis on aviation-related finance, advising both leasing companies and banking institutions on relevant transactions.
Practice head(s):
Marios Bahas; Dimitris Emvalomenos
Testimonials
'Betty Smyrniou has a strong knowledge of aviation law in Greece and delivers an efficient service. She understands when a matter is urgent and where possible pushes it along. She also facilitates a good relationship with the airline, which is always helpful for the lessor.'
'Betty Smyrniou's manner and efficient practice is what draws us to the firm above the competitors on the market. She has a can-do approach and makes deals happen, even during difficult times such as Covid.'
Key clients
Attica Bank
Aercap
SMBC
Wings Capital Partners
Aero Capital Solutions
Dubai Aerospace
Macquarie
Thea Artemis Financial Solutions
'Reliability reigns supreme' at Bahas, Gramatidis & Partners, where core pillars of the practice range from commercial contacts such as agency, distribution and franchise agreements to corporate regulatory compliance, M&A, joint ventures, private equity investments and takeover bids. Clients praise managing partner Dimitris Emvalomenos for his 'superb administrative skills'; he helms the department with franchising specialist Yanos Gramatidis and Nassos Felonis.
Practice head(s):
Dimitris Emvalomenos; Yanos Gramatidis; Nassos Felonis
Other key lawyers:
Betty Smyrniou; Popi Papantoniou; Eirini Economou
Testimonials
'Excellent commercial knowledge and application. They are able to translate complex local legal requirements to actionable points.'
'Reliability reigns supreme. Things are orderly and happen on time. Issues and cases are dealt with on time and professionally. Information and advice is given with clarity and proficiency. The success rate is quite satisfactory.'
'Dimitris Emvalomenos has deep perspicacity in identifying legal parameters in the cases he handles, the ability to focus on the decisive ones and superb administrative skills.'
'Irini Economou has remarkable willpower, application and a great ambition for thoroughness and unbeatable evidence.'
'The team has various experts who can readily provide accurate and dependable advice.'
'Yanos Gramatidis, Popi Papantoniou and Betty Smyrniou are all recommended.'
Key clients
International Gold Companies
DNV GL Hellas SA
JNL+ Group of Companies
Bigblu Broadband
Demium Startups SL
Elixir Clinic
Trainose SA
Bahas, Gramatidis & Partners >
Firm Profile
Bahas, Gramatidis & Partners is a leading Greek law firm. Headquartered in the city of Athens, the firm has associated law firms in 105 countries in total, as an exclusive member firm of the World Law Group for Greece and also as an active member of major legal guides and groups.
Bahas, Gramatidis & Partners is governed by a board of five partners, namely: Mr Marios Bahas (managing partner), Mr Yanos Gramatidis (partner), Mr Nassos Felonis (partner), Mr Dimitris Emvalomenos (deputy managing partner) and Mr.Spyros G. Alexandris (partner).
The scientific operational potential of Bahas, Gramatidis & Partners also includes twelve senior associates and five junior associates, assisted by five trainee lawyers, a skilled administrative personnel and a well-organized financial, accounting and tax consultancy department.
The team is equipped with an advanced communications system and fully updated software applications to support its scientific and administrative operations. At the core of the firms practice is the representation of corporations, government agencies, financial institutions, investment banks, non-profit entities and individuals in complex financial and corporate transactions and litigation. The firm's corporate and commercial team advises companies and businesses on a daily basis on all aspects of carrying on business in Greece.
Bahas, Gramatidis & Partners is specialised in financial and corporate practices (including data protection, whistleblowing, product liability, employment, commercial contracts), land acquisitions (45% of market), licensing, aircraft leasing and securitization (95% of market).
Moreover, the firm is heavily involved in the following practices:
Commercial: The firm helps clients build their growth and business future through sophisticated commercial arrangements both domestically and internationally. We are particularly concerned about our clients' business assets as intellectual property, IT, data and codified commercial practices and recommend and implement privacy and safety protection measures. We apply our longstanding experience in contract, e-commerce, IP, IT and competition law to provide solutions to our clients' needs.
We have a dominant position in aircraft transactions and particular and sound expertise in relation to banking and finance, but also to agency, distribution and franchise agreements, where the response of the business community in Greece and abroad has been impressive, thus making us a leading practice in this field.
Corporate: Bahas, Gramatidis & Partners' corporate team advises companies and businesses on a daily basis on all aspects of carrying business in Greece from corporate regulatory matters to regulatory compliance. The firm has many year's experience in mergers and acquisitions transactions having represented a long list of Greek and international clients. We advise on joint ventures between Greek and non-Greek parties, takeover bids and private equity investments.
Competition:  BGP has specialized in this field for many years, with an experienced team handling a variety of relevant issues. Our long-term practice includes the consulting of known clients before contracting, numerous legal due diligence cases related to M&As or the listing of companies shares into stock exchange, court disputes, dawn-raid schemes of corporate groups and support during the same, legal opinions on a variety of relevant matters, etc.
Credit financial and banking:  BGP is considered as one of the leading law firms in Greece. Our senior partner, Marios Bahas, has been the legal advisor of major Greek financial institutions and is considered as one of the most reputable and expertized attorneys in the field. Over the last 35 years, the firm has been assisting high profile companies and financial institutions in many complex and demanding cases, such as due diligence relating to the Athens Stock Exchange, financing of large projects with loans of various types, syndicated loans, various bond issues and advising banks and NPLs' managing companies on securitization projects.
Data protection and privacy/IT technology: Bahas, Gramatidis & Partners has extensive experience in advising companies, organizations and individuals on data privacy matters, such as the development of new products and services, the review/negotiation of data processor agreements, GDPR compliance, international data transfers, data subject access requests, privacy policies and safety measures, regulatory enforcement actions, use of cookies and online tracking , data breach incidents and litigations before Data Protection Authority/Courts.
BGP frequently involves counseling clients on various aspects of technology law, including e-commerce and online marketing, focusing particularly on issues arising from the use of new technologies and business models, general terms of e-commerce agreements, legal formalities regarding e-transactions and online marketing such as the e-signature, liability exclusion clauses, opt-in and opt-out mechanisms, consumer's right of cancellation/withdrawal in e-commerce transaction etc.
Human resources: Over the years we have consolidated our position as a leading employment law practice, gaining considerable profile on the international stage and acting for many notable clients in Greece and abroad.
Immigration / golden visa: Bahas, Gramatidis & Partners provides the highest quality legal services, including solutions for all legal, financial, tax and technical issues regarding immigration and especially acquisition of residence permit in the frame of the "Greek Golden Visa" project. Since 2014, we have helped approx. 4.500 third country citizens to obtain their residence permits and to enjoy the Golden Visa's benefits throughout Europe.
Industry sector: Bahas, Gramatidis & Partners enjoys a unique reputation in industry sectors such as tourism, travel and leisure, local government, sports and entertainment, banking, energy and privatizations. The firm represented the Athens 2004 Olympic Games Organizing Committee in negotiating and drafting the hotel contracts with all the Athens area hotels for the needs of the members of the Olympic Family.
Litigation and ADR / dispute management: The firm has a sound reputation worldwide for its dispute management performance. We are proud of the results we achieved for clients over the years and of the skills deployed by our dispute management team in producing those results. We have been capable of offering to clients a full litigation service, court representation and ADR management. Especially regarding mediation, we fully provide relevant services as a recommended out of court dispute resolution procedure after the important law change of 2019. Our firm's partner Dimitris Emvalomenos, after long term expertise in claims' negotiation and out of court settlements, has also become an accredited mediator in Greece and the UK, ready to provide his expertise to our clients.
Product liability / safety: The firm has a long term history and great expertise in the field. BGP has successfully dealt with highly demanding cases involving product liability claims especially in the aviation and automotive industries. BGP assists on regular basis world known legal groups in product recalls and regulatory issues and opines on a variety of relevant legal matters. Also, BGP has participated in periodical EU studies on the status of the P/L Directive. This specialization of BGP falls within its general knowhow on consumer law matters.
Public sector: Bahas, Gramatidis & Partners has been busy for many years in the public sector. Among other work, we represented significant Greek and international clients on public procurement matters and we drafted the Code and the official Greek franchise terminology for the franchise association of Greece. We have also represented HRADF (Hellenic Republic Asset Development Fund) in the state lottery privatization and in the privatization of public real estate. Bahas, Gramatidis & Partners offers a team of preeminent lawyers for privatization projects and for the representation of corporations, business associations and public entities, before the Greek courts and the State Administrative Authorities.
Real estate: Bahas, Gramatidis & Partners is a leader in the Greek real estate market practice. The firm represents a diverse client base including opportunity and investment funds, international and Greek developers, management companies, hotels and resorts, casinos and private individuals. Our services include structuring, negotiating and implementing real estate developments, acquisitions, sales, financing and regulatory compliance and registrations. The firm has a particular expertise in hotel leasing, licensing and franchise transactions.
Visit our website to find out more
www.bahagram.com
Follow us on social media to keep up with our news
LinkedIn: http://linkedin.com/company/bahagram
Twitter: http://twitter.com/bahagram
Facebook: http://facebook.com/BahasGramatidisAndPartners
Staff Figures
Lawyers : 30 Accounting Department : 8 Administration/Others : 14
Languages
Greek English German French Italian Spanish
Memberships
World Law Group (WLG) EALA - European Aviation Law Association EELA (European Employment Lawyer Association) Primerus DRI International Association of Defense Counsel (iADC)
Top Tier Firm Rankings
Firm Rankings