The Legal 500
Webinars
A guide to cyber security, privacy and data protection in Pakistan
4 March 2021, 3.00pm Pakistan
In association with...
← Back to Webinar homepage
A guide to cyber security, privacy and data protection in Pakistan
Overview
In recent years, organisations of all sizes operating in all sectors and markets have been targets of cybersecurity attacks. For their general counsel, knowing how to respond to these threats goes beyond knowledge of black-letter law. Knowing who to communicate with in the organisation, aligning legal with other functions, and finding practical and timely external advice are now more important than ever. And with the trend toward remote working, the risks businesses in all countries face are set to grow.
This webinar, brought to you by The Legal 500 and S.U.Khan Associates, was designed to provide GCs and business heads with the essential knowledge on the practical steps that can be taken to mitigate, manage and overcome cyber incidents whilst also delivering relevant and practical insights on the future regulatory landscape.
Speakers

Saifullah Khan, Managing Partner, S. U. Khan Associates Corporate & Legal Consultants
Saifullah Khan is an international trade, IT and policy lawyer, with 20 years' experience in international trade policy and law advice, serving foreign and Pakistani clients. His practice areas include international trade advice related to WTO laws, competition law, privacy and personal data protection, e-commerce regulation, arbitration and investment advice.
He was part of the working group established by the Government of Pakistan on the amendment of trade defence laws and rules, and for drafting of the law on the Pakistan Single Window.  He attended 50th session of the UNCITRAL as the 'Alternate Pakistan Representative' in Vienna, Austria in 2017. He has also attended and participated in events organised by various international organisations like UNCTAD, ITC, UN/CEFACT, WEF, WTO, SAARC and BRICS & SCO. He regularly contributes professional writings in various publications like International Trade Centre, Global Legal Group United Kingdom, One Trust United Kingdom, Mondaq United Kingdom, Corporate Livewire United Kingdom, EVOLVE Magazine etc. His professional publications include topics on trade remedy laws, personal data protection, arbitration, e-commerce and competition law etc.

Saeed Hasan Khan, Partner, S. U. Khan Associates Corporate & Legal Consultants
Saeed Hasan Khan has vast experience of advising clients on various issues such as taxation, corporate, regulatory compliance, contractual obligations and representing them before the authorities. Over the past 20 years, his direct and indirect taxes practice has encompassed all three practice tiers: advisory – execution – litigation. He advises on cross-border transactions, international tax treaties and matters related to tax due diligence, corporate structures, shareholder agreements and contractual stipulations between companies. He has developed a keen professional interest in emerging laws about personal data protection and has gained understanding of underlying concepts and principles governing the global data protection laws, including General Data Protection Regulation of the European Union. He carried out great deal of research on personal data protection laws in various jurisdictions to have comparison of core legal principles.

Syed Junaid Imam, Member IT, Ministry of Information Technology & Telecommunication (MOIT&T), Government of Pakistan
Syed Junaid Imam in his capacity as Member IT in MOIT&T is responsible for planning digital transformation, e-governance and other initiatives for socio-economic growth in Pakistan. He leads different policy initiatives such as personal data protection, cyber security, cloud first, AI, DLT/blockchain etc. Enhancing IT exports, broadening local IT industry and fostering freelancers are also on his agenda. He also looks after the digital collaboration initiative among federal/provincial Governments and other stakeholders for digital inclusion.  Previously, as Chief Executive Officer of IGNITE, he was responsible for building a robust innovation eco system in Pakistan.
Academically, he is an electronics engineer with over 23 years of professional experience in the fields of IT and telecoms. His work experience includes software development, embedded system design, optical network design, innovation management, system modelling and complex system integration. Strategic planning, change management, process re-engineering and program management are also his core areas of expertise. He has done some pioneering work in Pakistan such as the design of Pakistan's first active broadband optical network, E2E IP Network, IPv6 ready network, DSP/FPGA hybrid design etc. He was also involved in developing feasibility for Pakistan's first OFC-only plant and the business plan of Pakistan's first LDI operator.

Hadi Hosn, CEO and co-founder, Axon Technologies
Hadi is the CEO and co-founder of Axon Technologies. He has been working in cybersecurity and data privacy for over 17 years delivering strategic projects in the UK and leading teams across Dell SecureWorks and Deloitte. Hadi's background is primarily in security transformation, strategy development, CISO & DPO advisory and risk management initiatives. Hadi also has a Masters' in information security from Royal Holloway University of London. Hadi holds the following certifications: CISSP, CISM, ISO27001 Lead Auditor, ISO27001 Lead Implementer and GDPR Certified Practitioner.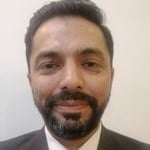 Dr Rafi us Shan, Senior Director (Government Policy and Research), Pakistan Software Houses Association for IT & ITES
Dr Rafi us Shan has served as Chief of Cyber Security for three years at Khyber Pakhtunkhwa Cyber Emergency Response Center (KP-CERC); an initiative of KPITB to complement the digital ecosystem of Khyber Pakhtunkhwa. He was responsible for setting up provincial CERT; standardisation of ICT based services, risk and vulnerability assessment and penetration testing of digital assets of the Government of Khyber Pakhtunkhwa. Working as provincial CISO his role was to design, lead and drive the information security framework and contribute to various digital initiatives, complementing the digital ecosystem and promoting e-governance solutions in Khyber Pakhtunkhwa and providing services to various provincial and national bodies in relation to information and communication technologies in general and information security in particular.
He is a member of the President of Pakistan's committee on information security, a member of the evaluation board National Center for Cybersecurity (NCCS) and various other national and international forums/bodies. He has served at COMSATS University Islamabad for over 13 years and has promoted innovation, product development and technology based start-ups. After completing his PhD from the University of Lancaster, UK, he worked for a UK-based company for over three years.
---