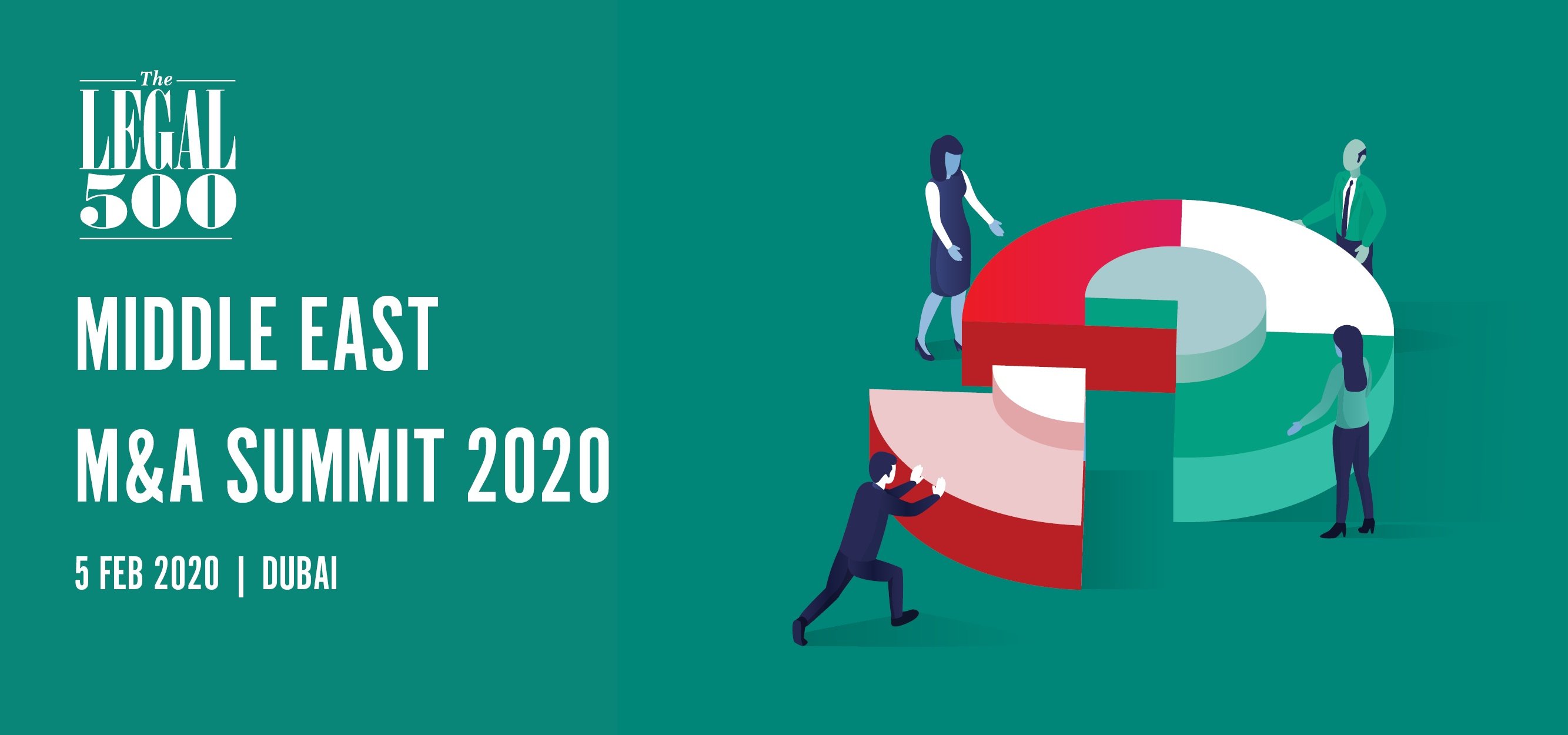 Event information
Start Date: Wed 5 Feb 2020
Timings: 8.15am - 3.00pm
The Legal 500 Middle East M&A Summit brings together over 100 of the region's leading in-house counsel to discuss the latest developments facing the in-house profession, from disruptive technology to recent advances in due diligence, risk mitigation and the trends facing in-house counsel across the Middle East.
Middle East M&A Summit 2020
8.15am
Registration and breakfast
9.00am
Opening remarks
9.15am
Investing in human capital: Healthcare & Education: drivers for investment, current trends and future prospects

With education and healthcare booming in the Middle East, we look at how investments in these fast-changing sectors are playing out, and what lessons they hold for GCs in other industries.

10.10am
Recent advances in the process of M&A, including due diligence, risk mitigation, insureance cover and the latest trends from around the region

Our panel of seasoned M&A counsel explore the latest developments in the process of M&A, including due diligence, risk mitigation, and other relevant trends in the Middle East and wider EMEA region.

11.00am
Coffee break
11.15am
Risk mitigation strategies for M&A transactions in the Middle East

Often in M&A it's the things you pay least attention to that trip you up. In this session we outline why cybersecurity and warranty and indemnity insurance should be at the forefront when GCs are negotiating a deal.

12.05pm
The psychology of deal making

Understanding the motives and interests of counterparties is key to a successful M&A. We draw on the experiences of leading GCs to outline how corporate counsel should approach negotiations.

12.55pm
Disruptive innovation, technological convergence and the changing role of in-house counsel.

These days, it seems, every business is tech business. What does the growing significance of new technologies, and disruptive innovation more generally, mean for the GC when approaching a deal?

1.45pm
Closing remarks
1.55pm
Lunch and networking
Speakers include

Adjou Ait Ben Idir, corporate finance lawyer, Norton Rose Fulbright
Adjou Ait Ben Idir is a corporate finance lawyer based in the Dubai office of Norton Rose Fulbright whose practice covers Middle East and Africa (in particular North Africa and OHADA countries in West and Central Africa). She is recognised for her experience in advising on mergers and acquisitions, privatisations, private placement and international joint ventures in various sectors. She was previously based in Norton Rose Fulbright's Paris and Casablanca offices and is fluent in French, English, Arabic and Berber.
---

Dean Sheehan, vice president and general counsel the Middle East and Africa, PepsiCo
Dean Sheehan joined PepsiCo in 2012 as senior legal director and assumed his current position as vice president and general counsel for the Middle East and Africa in 2015. He proudly leads a diverse legal team of 20 lawyers from eleven countries, 70% of whom are women. Formerly an M&A and corporate finance partner at a major UK law firm, Sheehan has worked on a number of major transactions since moving in-house, acting as project leader on both legal and non-legal aspects of M&A transactions with a combined value of more than $1bn.
---

Mohammad Tbaishat, partner, Pinsent Masons LLP
Mohammad specialises in public and private M&A, joint ventures and UAE regulatory work. He has acted for a range of clients including banks, financial institutions, corporates and private equity firms. Mohammad is fluent in Arabic and English. Prior to joining the firm in October 2016, Mohammad spent the last 10 years at a magic circle firm in Dubai. He holds a B.A. degree in Law from the University of Jordan and a Master in Law degree from Harvard Law School.
---

Nadim El Haj, head of legal, Abu Dhabi National Hotels
Nadim El Haj joined Abu Dhabi National Hotels Company (ADNH) in October 2016 and is currently head of legal and a member of the executive management committee. During his time at ADNH he has been involved in the negotiation and closing of the AED2.2bn acquisition of five Emaar Hotels in Dubai, one of the largest ever M&A transactions in the UAE hospitality sector, as well as multiple projects that have helped ADNH in its strategic shift from a management to a franchise business model. Before joining ADNH he was general counsel and senior advisor in the United Arab Emirates Ministry of Interior's Social Security Fund.
---

Nimer Basbous, general counsel, First Abu Dhabi Bank
Nimer Basbous is group general counsel at First Abu Dhabi Bank (FAB), a financial giant born out of the merger of National Bank of Abu Dhabi (NBAD) and First Gulf Bank (FGB), of which he was formerly general counsel. Basbous worked closely on the merger and subsequent integration of NBAD and FGB, one of the largest M&A deals in the Gulf banking sector to date. He began his career in the legal department of the Central Bank of Jordan.
---

Ritvik Lukose, Vahura
Ritvik Lukose is a corporate lawyer turned entrepreneur. He is a graduate of the National Law School of India University, Bangalore. After practicing in Mumbai with a leading corporate law firm, he began his entrepreneurial journey in 2007, to co-found ventures in the talent management, online learning and the consulting domains. He has since exited his other ventures and gone on to lead Vahura as CEO and Co-Founder. An acknowledged market leader of legal recruitment in South Asia, Vahura also excels in bringing international legal talent to opportunities in the Middle East.
---

Zahid Kamal, managing director, Fajr Capital
Zahid Kamal is a managing director at Fajr Capital. He is actively involved in various aspects of Fajr Capital's transactions (including origination, execution and portfolio management) and strategic initiatives. He is also a board and executive committee member of several Fajr Capital portfolio companies, including Cravia Group, and is a member of Emerging Markets Private Equity Association's Middle East Council. Prior to Fajr Capital, Zahid was a senior lawyer at Ashurst in London and Dubai, where he advised Fajr Capital and other corporate clients. He has over fourteen years' experience in UK and MENA public and private company transactions, including private equity, M&A, public takeovers, IPOs, investment funds, secondary offerings, restructurings and joint ventures.
---