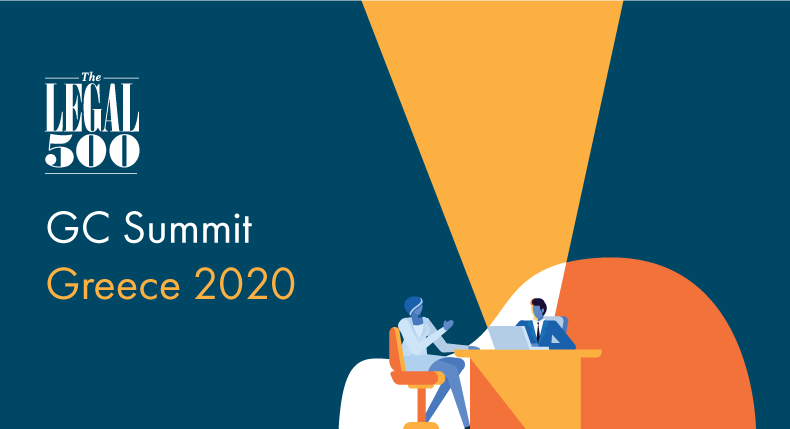 Event information
Date: Tue 21 Jan 2020 Time: 2.00pm - 7.00pm Venue: King George Hotel, 3 Vasileos Georgiou A' str., Syntagma Square, Athens, 105 64 Greece
Venue
King George Hotel, 3 Vasileos Georgiou A' str., Syntagma Square, Athens, 105 64 Greece
Event overview
The role of the general counsel and senior in-house advisors is in a constant state of change and expansion. Increasingly, counsel are being tasked with defending against cyber threats, tax issues, owning disputes and ensuring compliance with an ever-growing array of regulations – all the while taking ownership of the day-to-day legal challenges which directly affect the bottom line of the business.
The Legal 500's GC Summit Greece invites the most esteemed in-house counsel from the country's most prolific companies to discuss their changing roles as in-house leaders and the challenges, issues and opportunities they are facing in 2020 and beyond. Between comprehensive panel discussions and the opportunity to meet and engage with fellow in-house counsel, GC Summit Greece promises to be a practical, forward-looking event bringing together the country's top legal minds.
Agenda
2.00pm Registration
---
2.45pm Opening remarks
---
2.55pm Greece as an energy hub: opportunities and challenges
Greece has been striving in recent years to become a regional energy hub in an effort to attract inbound investment, mainly in electricity and gas infrastructure and renewable energy projects. At the same time, the Greek energy market is undergoing structural changes and regulatory reforms on the way to full liberalisation and unbundling. It is an era of opportunities and challenges for market players and other stakeholders, including legal practitioners. The role of general counsel and senior in-house legal advisors is critical in guiding energy businesses in such a demanding business and legal environment.
Moderated by Dr Panagiotis Tzioumas, Managing Partner, KLC Law
---
3.45pm The evolution of challenges and demands for in-house legal and compliance teams
In-line with a common trend across the world, the demands placed on in-house counsel in Greece are constantly changing and adapting in-line with new economic, business and regulatory developments. Indeed, challenges that lie ahead for in-house legal and compliance teams due to the rapidly evolving changing of the needs of the businesses they support are crucial to the best performance of the role. This panel will acknowledge the nature of the evolving role of the in-house counsel in Greece, commenting on specific challenges that not only currently exist for in-house counsel, but those that are still emerging and will be present into the future. The panel will also raise the subject of what must be done to protect company directors and officers at times of expanding personal accountability.
Moderated by Chara Daouti, Partner, Lambadarios Law Firm
---
4.35pm Coffee break
---
4.50pm Corporate Governance: reducing the risks and challenges in the strategic decisions and everyday corporate operations
The importance of effective corporate governance codes for organisations around the world is clear, and what this means for stakeholders in the context of the Greek market provides a range of topics to discuss. This panel will highlight perspectives from both in-house and private practice legal spheres as to the most effective approaches to corporate governance, providing judgements and insights as to what can be done in terms of risk reduction and ensuring competent and effective strategic planning and organising.
Moderated by Eirinikos Platis, Managing partner, Platis-Anastassiadis & Associates, EY Law and Lia Vitzilaiou, Head of corporate commercial and competition, Platis-Anastassiadis & Associates, EY Law
---
5.40pm Reinventing employment relations in Greece – a potential tool for corporate growth
In the dawn of the post-crisis Greek reality, some argue that further deregulation of employment relations can accelerate corporate growth, whilst others believe that a heavily regulated employment market does not stand as an obstacle to growth and development. This panel will attempt to identify an equilibrium, highlight the current challenges of the employment market and propose some ideas of promoting corporate growth through modernising the existing labour legislation.
Moderated by Nectarios Notis, Founder, Notice Content & Services
---
6.30pm Closing remarks
---
6.35pm Networking drinks and canapés
Speakers
Dimitra Chatziarseniou, Legal counsel, Terna Energy 
Dimitra Chatziarseniou is a lawyer and member of the Athens Bar Association since 1998. She holds the position of general counsel at Terna Energy, and is corporate secretary at GEK Terna and Terna Energy. She first joined the wider GEK Terna Group in 2000. During her in-house career, she has organised the legal department of the Group and now manages a team of three in-house lawyers. She has successfully handled big real estate transactions, M&As, IPOs, PPP projects and EPC agreements and has gained extensive experience in project development and financing for renewable energy projects in Greece, Southeastern Europe and the US. She is a graduate of the Faculty of Law of the University of Athens and holds an LLM in Commercial Law from the same University. She is fluent in Greek, English and French.
---
Christos Kontogeorgos, Deputy adviser lending operations in Greece and Cyprus, European Investment Bank
Christos Kontogeorgos joined the European Investment Bank in 2000. In 2004, he became head of the Athens office and was later seconded to the Ministry of Economy. In 2009, he acted as head of Central and Southeast Europe for Jessica and Investment Funds. After a short term with the European Commission, he is currently assigned as Deputy Adviser to Lending Operations for Greece & Cyprus focusing on public sector operations, banks and financial instruments. Prior to EIB, Kontogeorgos has worked among others for the European Commission, Pricewaterhousecoopers (PWC) and STET Hellas. Kontogeorgos is a graduate of the University of Athens, Law School (1991) and holds an LLM degree from the University of London, QMC (1993).
---
Alexandros Panagiotakis, Senior director, structured finance, Piraeus Bank
Alexandros Panagiotakis is senior director, head of structured finance at Piraeus Bank, responsible for the project finance lending businesses.Having worked for financial institutions responsible for activities both in Greece as well as abroad, he has extensive experience in various areas of banking including corporate and project finance, as well as restructuring.Over the last four years with Piraeus Bank, Panagiotakis has served in project finance and is currently responsible for the project finance unit which is managing an aggregate portfolio of €2.3bn of credit limits consisting of 128 customer groups. The project finance portfolio covers an extensive range of infrastructure (motorways and airports, where Piraeus Bank is a leading lender), power generation, both for CCGT plants, as well as renewable projects (solar, wind & biogas, where the Bank has active credit limits of around 1.4 GigaWatt). Prior to the this, he was a director in Task Force in Piraeus Bank, where he was responsible for large corporate restructuring projects.
---
Panagiotis Koureleas, Partner, Ioannis Giannidis Law Firm
Panagiotis Koureleas is a partner at Ioannis Giannidis Law Firm and a member of the board of the Hellenic Criminal Bar association. Koureleas handles exclusively financial and corporate criminal cases and has acted as defence lawyer in important criminal cases (fraud, embezzlement, breach of trust, money laundering, corruption in the public sector). He has defended executives of foreign and Greek companies in criminal cases related to their activities in Greece (environmental offences, health and safety, intellectual property, competition criminal law, corruption in the private sector).
---
Andriani Ferti, Senior legal counsel, Beat
Andriani Ferti started her career as a qualified lawyer at the international law firm Clifford Chance in Brussels, Belgium, where she advised clients on EU regulatory and competition matters with special focus on the information and communications technology sector. She has represented some household names in the IT sector such as Oracle, Deutsche Telekom, Νokia, Naspers and Mozilla before the European Commission in some of the most prominent competition cases related to the sector such as the antitrust investigations of the European Commission against Microsoft, and the Oracle/Sun Microsystems merger. Andriani had an active role in the European Commission's antitrust investigations against Google in relation to Google Search and its Android operating system representing numerous complainants such as Deutsche Telekom and trade association FairSearch. Andriani has been recognised amongst the 30 in their 30s Notable Women Competition Professionals in Private Practice by media company PaRR and W@ association. Andriani has also served as a rapporteur of the Digital Greece 2020 working group on interoperability and open standards, and has regularly spoken in the past at public hearings of the European Parliament as an expert in interoperability matters.
---
Katerina Vracha, Chief legal and compliance officer, Dixons South East Europe (Kotsovolos)
Katerina Vracha joined Dixons South East Europe in March 1994, and became chief legal and compliance Officer in January 2002. She is a member of the executive and risk committee team of the company. Vracha graduated from the Law School of the University of Athens and specialised in banking and tax law. She has received certification from CEDR and the Ministry of Justice in Mediation as an associated mediator, and has a governance, risk and compliance diploma from the International Compliance Association. She is a member of the Association of Commercial Law Lawyers.
---
Dr Panagiotis Tzioumas, Managing partner, KLC Law Firm 
Panagiotis Tzioumas is Managing Partner at KLC Law Firm and a practicing lawyer and member of the Athens Bar Association since 1996. He has been instructed by international financial institutions, foreign states, domestic and foreign credit institutions, multinational and domestic groups on a wide spectrum of contentious and non-contentious matters. He has extensive expertise in banking and financial law matters as well as a significant experience in capital markets transactions. On the contentious matters front, he regularly handles international, cross-border commercial disputes and enforcement proceedings as well as international commercial arbitrations relating to public procurements.
---
Dr Panos Tsakiris, Asset management director, Total EREN Group
Panagiotis Koureleas is a partner at Ioannis Giannidis Law Firm and Member of the Board of the Hellenic Criminal Bar association. Koureleas handles exclusively financial and corporate criminal cases and has acted as defence lawyer in important criminal cases (fraud, embezzlement, breach of trust, money laundering, corruption in the public sector). He has defended executives of foreign and Greek companies in criminal cases related to their activities in Greece (environmental offences, health and safety, intellectual property, competition criminal law, corruption in the private sector).
---
Harry Karampelis , Counsel, Lambadarios Law Firm
Harry Karampelis is a senior professional with extensive experience in diverse areas in the field of dispute resolution. He is representing clients in a wide variety of commercial and civil disputes, including unfair competition, agency and distribution agreements, product liability, intellectual property and tort and debt collection cases, as well as copyright and trademark disputes, insolvency and special liquidation procedures, collective redundancies and general labor disputes. His corporate and national clients come from several different industries. He also handles criminal law cases related to tax and customs fraud, financial fraud, medical malpractice, product criminal liability, environmental liability, intellectual property crime, counterfeiting, money laundering, corruption, anti-competitive practices and cartel offences, insider dealing and market abuse, corporate criminal liability and compliance, international and European criminal law and extradition and mutual assistance. Karampelis is admitted before the Supreme Court and is a member of the Athens and International Bar Associations, of the Greek National Committee of International Chamber of Commerce (ICC Hellas), as well as all Greek Associations for Criminal Law and Criminal Defense Lawyers and the Hellenic Cambridge Alumni Association.
---
Marta Staccioli, Senior regional counsel, Google
Marta Staccioli is a tech-law attorney qualified in Italy, working as senior regional counsel in the legal department of Google in Italy, in charge of litigation for Italy and Greece. In such a role, she manages the proceedings brought against any company of the Google Group before Italian and Greek Courts, regulators and independent authorities, as well as out-of-court requests from users, regulators and regulatory compliance. Her professional practice focuses on intermediary liability and e-commerce directive, privacy law and data protection, defamation and free speech, IP law, online contracts and consumer protection, regulatory product compliance, but often exceeds such boundaries towards other aspects of civil and commercial law, including competition and corporate matters. After practicing for five years with the Roman boutique law firm Gallavotti Honorati & Partners, she moved to the international law firm Hogan Lovells, where she worked as Senior Associate in the Rome TMT practice from 2009 until 2015. In October 2015, she joined Google where she currently handles the Italian and Greek litigation practice.
---
Eirinikos Platis, Managing partner, Platis-Anastassiadis & Associates, EY Law
Eirinikos Platis is a founding Partner in Platis – Anastassiadis & Associates, the associated law firm of Ernst & Young in Greece and in EY Law Romania, the associated law firm of Ernst Young in Romania. Prior to joining EY associated law firms, Eirinikos was a member of a London law firm. He has been the partner in charge in a wide range of projects in the following industries: Global financial services, energy, retail, real estate, hospitality and construction.
In 2007 he was entrusted by a team of high profile businessmen with the incorporation of the Hellenic Romanian Chamber of Commerce and for ten years served as the latter's legal counsel.
Platis has published both in academic journals as well as in the daily press on a variety of subjects and is the editor of the book Personal Date, GDPR protection. Eirinikos holds M. Juris. degree from the University of Oxford; an LLB degree from National and Capodistrian University of Athens; and is a member of Piraeus Bar Association and of Bucharest Bar Association.
---
Lia Vitzilaiou, Head of corporate commercial and competition, Platis-Anastassiadis & Associates, EY Law 
Lia Vitzliaiou is a corporate and commercial lawyer with a competition law background. She is experienced in M&A transactions, antitrust litigation and compliance, commercial arbitration, project finance and PPPs. She joined the firm in 2017 and she is a member of the Athens Bar Association since 2007. Prior to joining Platis – Anastassiadis and Associates Law Partnership, she worked in major law firms in London, Madrid and Athens, where she provided legal advice on a wide range of corporate, commercial and antitrust issues, including negotiation, drafting and execution of complex commercial transactions and merger filings. She has also wide experience in commercial litigation and has represented clients in domestic and international ICC arbitrations as well as before the Hellenic Competition Commission. She holds a degree in law from the National and Kapodistrian University of Athens and an LLM in International Business Law from the University College London (UCL).
---
Dimitris Bourantas, Professor of management and executive director of the Executive MBA and the MSc. in Human Resources Management, author, Athens University of Economics and Business
Dimitris Bourantas is professor of human resources management and director of the Executive MBA and co-director of the Msc in human resources management at the Athens University of Economics and Business. He has published several articles for the most prestigious international scientific journals. He is also a well-known author of books, many of which have become best sellers.
---
Nectarios Notis, Founder – CEO, Notice Content & Services
Nectarios Notis is a journalist and communication advisor. He studied communication and media at Panteion University, and followed this with a doctorate on the legal framework of tobacco advertisement ban. He is the host of Athens Business Daily, a daily business radio show at Athina 984FM (the radio station of municipality of Athens). Notis is the founder of Notice Content and Services, a firm issuing FnB Daily, a daily B2B digital newsletter on the food and beverage sector – BnB Daily, a daily B2B digital newsletter on business news – So Posh!, a digital trendletter and Office Weekly, a weekly digital newsletter on professional and business spaces. He has been working as a financial commentator for Capital.gr, Mega Channel, ANT1 TV, ERT, ERT Digital, news.gr, Kefalaio magazine and Kefalaio newspaper. Notis has ran media training and crisis management for prominent firms and is the communication advisor of the IAPR (Independent Authority for Public Revenue) Governor.
---
Anastasios Triantafyllos, Managing partner, Andersen Legal
Anastasios Triantafyllos is managing partner at Andersen Legal in Greece, leading one of the most formidable employment groups in Greece, and has been ranked by The Legal 500. He has favourably resolved claims and won cases for some of the largest companies operating in Greece. Not limited to contentious work, his numerous high-level mandates include acting as employment compliance counsel to one of the largest life sciences companies in the world.
---
Dr Christos Ioannou, Director, Hellenic Federation of Enterprises (SEV)
Christos A. Ioannou, an economist (Ph.D), is the director for employment and labour market affairs at SEV – the Hellenic Federation of Enterprises. He has acted as advisor, consultant and director for a variety of both private sector and government organisations, national and international. He has served as Deputy Greek Ombudsman in charge of social affairs, health and welfare issues between 2013-2017, and as mediator and arbitrator with the Organisation for Mediation and Arbitration (OMED) in Greece between 1991-2017. He has research work in the areas of labour markets, human resources, collective bargaining, wage and employment policies.
---
Gian Pierro Cigna, Chief counsel, financial law unit, EBRD
Gian Piero Cigna is an Italian qualified attorney, and is acting director, chief counsel, in the EBRD's financial law unit, leading activities on corporate governance, access to finance, fintech, insolvency and restructuring. Prior to joining the EBRD, he practiced law in Italy, the Netherlands, Albania and Romania and worked on company law, corporate governance and capital markets related issues at the European Commission and at the Italian Ministry of Economy. In Albania, he was advisor of the World Bank and Albanian Ministry of Economy for the privatisation of state owned enterprises in strategic sectors. In the Czech Republic, he worked as "Pre Accession Advisor" at the Ministry of Justice and at the Securities Commission for the approximation of the Czech legislation with the Acquis Communautaire. Since 2004, he has been responsible for corporate governance legal reform projects at the EBRD on company law reform, state owned enterprises restructuring, banking supervision and corporate governance code development and implementation as well as a number of research and standard-setting projects. He also leads the corporate governance due diligence work over EBRD investee companies. Since 2019, he is leading the Financial Law Unit, within the EBRD's Office of the General Counsel. Gian Piero is Visiting Lecturer at the School of Law, Centre for Commercial Law Studies, Queen Mary University of London and occasionally lecturing corporate governance in transition countries at ESCP Europe Business School and King's College in London. Publications include several essays on corporate governance, capital markets and banking law with a focus on Eastern Europe and central Asia. He graduated in law in Italy and attended postgraduate studies in the Netherlands and US focusing on European and International business law.