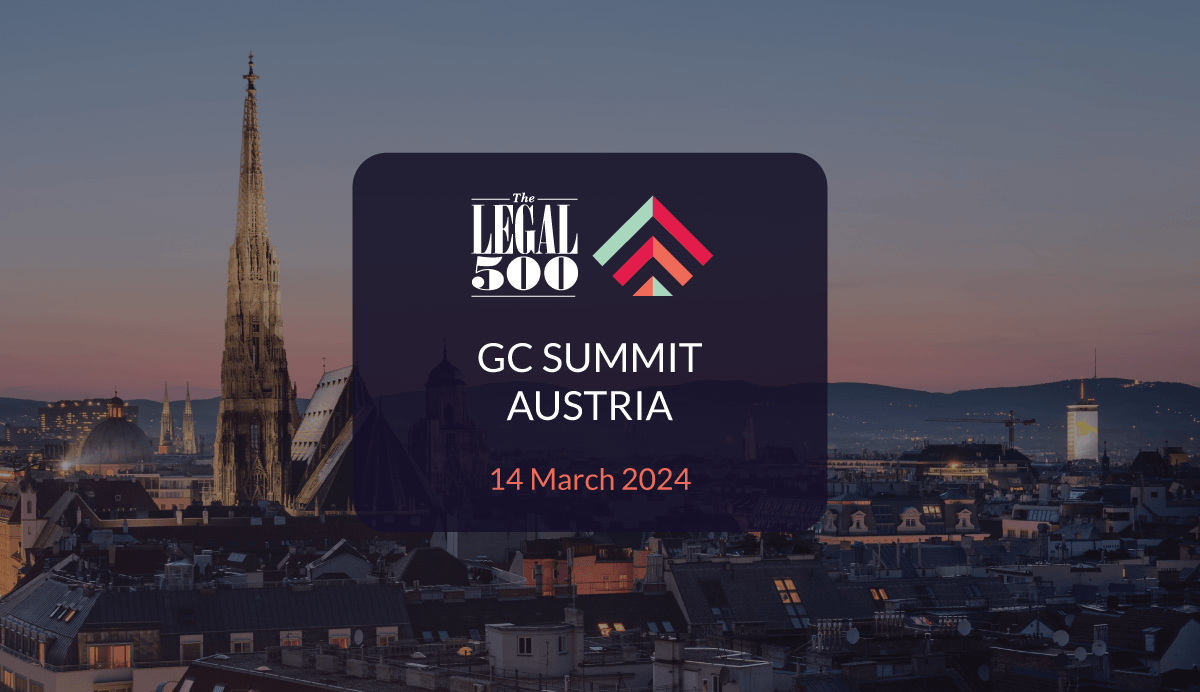 Event information
Date: Thu 14 Mar 2024 Time: 12.00pm-7.00pm Venue: TBC
The role of general counsel and senior in-house legal advisors is constantly evolving to meet the rapidly changing demands of organisations in today's business world. In addition to overseeing the day-to-day legal challenges affecting the business and managing legal staff, in-house lawyers are expected to diversify their service offering in order to overcome a growing list of commercial challenges. Whether it is managing internal investigations, defending their company in cross-border disputes, handling complex data or adapting to the shifting trends in M&A, the required skillset of the profession is developing at an exponential rate.
The Legal 500's GC Summit Austria 2024 invites the most esteemed in-house counsel from the country's most prolific companies, and leading practitioners to discuss their changing roles as in-house leaders and the challenges, issues and opportunities they are set to face in 2024 and beyond.
Between comprehensive panel discussions, presentations and the opportunity to meet and engage with fellow in-house counsel, GC Summit Austria promises to be a practical, forward-looking event bringing together the region's top legal minds.
Agenda
12.30pm – 1.00pm Registration
1.00pm – 1.10pm Welcome Address and Introductory Remarks
1.10pm – 1.30pm Opening Presentation
1.35pm – 2.25pm Panel One
2.25pm – 3.15pm Panel Two
3.15pm – 3.30pm Coffee Break
3.30pm – 4.20pm Panel Three
4.20pm – 5.30pm Panel Four
5.30pm – 6.00pm Closing Fireside Chat
6.00pm – 7.00pm Networking Drinks