Survey Results - Trainee feedback on
Covington & Burling
The lowdown - Trainees (in their own words) on Covington & Burling
Why did you choose this firm over any others? 'The high calibre of the work and clients, as well as the friendly atmosphere at the firm', 'because of the strong regulatory practice areas that the firm has', 'small intake, top work, public policy involvement', 'regulatory expertise, plus genuinely great colleagues', 'level of responsibility, smaller intake, interesting work', 'the work culture and the availability of practice areas that interest me'
Best thing about the firm? 'My colleagues and the very good balance between work hours and remuneration compared to other US firms', 'the lawyers', 'the very smart people who work here', 'intellectual people and niche expertise areas', 'the people', 'the culture and the interesting work', 'that we are treated more like associates than trainees', 'the people that work here – they are truly enjoyable to work with', 'colleagues are friendly, relaxed, and genuine'
Worst thing about the firm? 'Lack of formal training and professional development support', 'the social life', 'periods where there is too much work to complete in a set amount of time', 'lack of communication when it comes to seat rotations', 'compulsory attendance Tuesday-Thursday', 'we have outdated software systems'
Best moment? 'Gaining a mentor in my first seat', 'an important client complimenting my food choices for lunch during a hearing. Jokes aside, managing a (small) workstream directly with a client', 'my first time attending a hearing', 'seeing my contributions reflected in work presented to the client', 'I did a presentation during my third seat on a new tax issue – after the presentation my supervisor received several comments on how well I broke down and explained a complex issue in an easy-to-understand, digestible way'
Worst moment? 'Feeling overwhelmed by a large pro bono project', 'working long hours one week', 'working an all-nighter, even though the whole team from associates to the partner stayed in the office and made it as fun as it possibly could have been', 'feeling overwhelmed by competing deadlines', ' an IT failure late at night when under time pressure'
The Legal 500 Future Lawyers verdict on Covington & Burling
Trainees at Covington & Burling were drawn to the firm's 'regulatory expertise', 'the quality and scope of work in the life sciences sector' and 'well-known clients'. The US-headquartered firm offers 'big-ticket work, but with less of an emphasis on corporate and finance matters' which makes it stand out from competitors. 'Good remuneration' and an impressively 'international scope of work' have earned Covington Future Lawyers Winner trophies for salary and international secondments. The firm is also a winner for confidence of being kept on after qualification. Thanks to being part of a small intake, trainees 'seem to have closer ties to each other and to other lawyers at the firm'. Supervisors are 'hands-on', but training is more 'on-the-job', which 'works well for Covington trainees' who 'tend to be the type of people who thrive on this kind of learning'. This approach to training 'produces practical, experienced NQs'. Colleagues are 'very smart and intellectual whilst also being 'friendly, relaxed and genuine' and 'truly enjoyable to work with'. One perceived downside of working in the London office of Covington & Burling is 'being subject to corporate American law firm culture and expectations'. Trainees felt stressed after experiencing 'an IT failure late at night when under time pressure' and when 'overwhelmed by a large pro bono project'. Another area in which trainees would like to see improvement is social life, which is described as 'lacking' at present. On the plus side, 'being involved in an arbitration of current, geopolitical significance' and 'finding case-winning evidence during discovery' were very memorable work highlights. To work with 'great people' in an ambitious firm which is 'very experienced in regulatory work', research Covington & Burling.
A day in the life of... Alessandro Angelico , trainee, Covington & Burling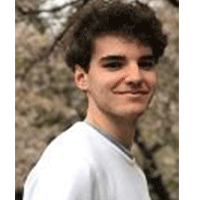 Departments to date: Dispute resolution; Competition; Secondment to Brussels office
University: BPP Law School (Holborn) The Paris Institute of Political Studies
Degree: Economic Major and LLB
9.00am: My first task every morning is to grab a coffee, check my emails
and update my to-do list. Working at an international firm means I receive emails at any time of the day and night from colleagues, clients and local counsel from all over the world.
9.15am: After dealing with the urgent emails, I turn to my first task of the
day. We are working with a client who closed a multibillion-dollar acquisition in the media sector a few years ago. Despite clearing competition regulations in dozens of jurisdictions, a few are still outstanding. I spend time reviewing board minutes to source evidence to help support our argument.
10.00am: European competition law is currently in a state of flux. The EU is
legislating on everything from digital markets to foreign subsidies and the energy market infrastructure. This is an exciting period to be a competition lawyer as clients turn to us to make sense of the evolving antitrust landscape.
On this occasion, an of counsel asks me to check the status of a proposed EU regulation that will allow certain state subsidies into the renewable energy sector. I research the current political discussions, the proposed amendments from member states, and the potential impact on the client. I then help to draft an article on the proposed EU regulation that will be used as part of an upcoming client development trip to Dubai and New York.
11.00am: Each Tuesday, we have a weekly competition team meeting. Every intern, trainee, associate and partner takes to the floor to discuss what they are working on. It is interesting to learn what the wider team are focusing on and discuss opportunities to gain exposure into areas I may be interested in working on later in my seat.
12.00pm: After the meeting, I grab some lunch with the other trainees and associates; we eat together in the communal kitchen in the Brussels office and it is always a pleasure to catch up with colleagues on everything from work to holiday plans.
1.00pm: I prepare questions ahead of a call with a pro bono client. We are applying for a visa on their behalf, as they are currently in hiding from the Taliban, following time as a public servant in Afghanistan.
2.00pm: I dial in for a call relating to our Afghani client, alongside colleagues from our London and Brussels offices, an interpreter based in New York and our client. We receive clarity on our questions, which will help us complete the visa applications.
3.00pm: I turn to a document review task ahead of a client call later today. As part of a competition class action against our client, I check original documents in French and Italian that were produced during the regulatory investigations. As a fluent French and Italian speaker, this is a great opportunity to take responsibility as the team will rely on the translations I prepare.
4.00pm: We have an internal meeting with partners and associates working on the matter, ahead of the client call. I discuss the findings from the document review, and suggest whether I believe these documents should be disclosed to the other side based on the court order's language. As the trainee on the call, I also take minutes of the meeting to keep an accurate record of our discussions.
5.00pm: I dial in for the client call. Among other agenda items, we discuss the disclosure of the French and Italian documents, and I am available to answer any questions the client may have on these.
6.00pm: Every quarter, the social committee organises an evening of regional food and drink for all the lawyers and staff in the office. This month we have a South American theme and the trainees have prepared a pub quiz. It is always nice to see colleagues from other departments; we chat while having some drinks and looking at the Brussels skyline.
About the firm
The firm: In an increasingly regulated world, we have an exceptional ability to help clients navigate their most complex business problems, deals and disputes. From our 14 international offices we practise as one firm, holding closely to core values that start with a deep commitment to our clients and the quality of our work.
What sets us apart is our ability to combine the tremendous strength in our litigation, investigations and corporate practices with deep knowledge of policy and policymakers, and one of the world's leading regulatory practices.
Our trainees tell us that they were attracted to Covington because we provide the responsibility and opportunity of a close-knit office, combined with the resources and prestige of a leading international firm. Above all, though, we recognise the importance of a great firm culture. At Covington you will find a firm with values of collegiality, high standards of lawyering, respect for others, a dedication to public service and a commitment to diversity, equality and inclusion. We have some of the best lawyers in the world because we understand that excellence in legal practice involves effective teamwork, clear and shared values and generosity to colleagues and clients, as well as preeminent legal skills.
The clients:  Our clients include technology giants Microsoft and Meta, and we represent leaders in life sciences including AstraZeneca and Oxford Biomedica. We have advised pharmaceutical manufacturers in relation to the manufacture and supply of Covid-19 vaccines, acted for ACWA Power on the world's most ambitious regenerative tourism project in Saudi Arabia, and we engage in cutting-edge pro bono matters, such as representing Ukraine against the Russian Federation at the ICJ.
London office managing partner: James Halstead
Management committee chair: Doug Gibson
Other offices: Boston, Los Angeles, New York, Palo Alto, San Francisco, Washington, Brussels, Frankfurt, Dubai, Johannesburg, Beijing, Seoul, Shanghai.
Who we are: From our offices in Beijing, Boston, Brussels, Dubai, Frankfurt, Johannesburg, London, Los Angeles, New York, Palo Alto, San Francisco, Seoul, Shanghai and Washington, we practise as one firm, holding closely to core values that start with a deep commitment to our clients and the quality of our work on their behalf, and that include an emphasis on teamwork among our lawyers and other professionals and a belief in the obligation of lawyers to make legal services available to all who need them.
What we do: Covington has a unusual combination of strengths in regulatory policy combined with high-end litigation and corporate practices. This breadth of capabilities offers unique opportunities to trainees to become involved in multi-dimensional matters across several practice areas.
What we're looking for: There is no set mould for a Covington trainee; our trainees are enthusiastic about the law, hardworking and keen to be part of our collaborative culture.
The candidates we choose are sharp, articulate and quick thinking. They have confidence and composure, but also honesty and humour. We look for candidates to be on track for a 2.1 degree with a strong academic record.
We also like to see: energy and enthusiasm; team spirit; a range of interests outside of the law (extra-curricular activities, voluntary or paid work); independent thought; communication and influencing skills; commercial awareness; resolve and judgement; a creative approach to problem solving; resilience under pressure; and a good sense of humour.
What you'll do: As a trainee at Covington you will have early responsibility and exposure. Working within small teams and playing a significant role in complex substantive work, our trainees work closely with senior lawyers and partners, and have a chance to make a real impact.
During your two years as a trainee solicitor you will spend time in a variety of practice areas (seats).
To ensure you get the best experience from your time our professional development team will work closely with you to design a training programme which best suits your preferences (and the business needs).
All trainees complete a transactional and contentious seat. Trainees are able to choose two seats, within the following specialist areas: employment; life sciences regulatory; technology regulatory; project development and finance; life sciences transactional; and secondments.
As a trainee you will also have the chance to apply for an international or client secondment, which is an excellent opportunity to develop an understanding of the global nature of our work and to experience working in a different cultural environment.
Perks: Private medical insurance, fertility benefits, dental insurance, employee assistance programme, mental wellbeing platform, eye tests, flu vaccine, group income protection and life assurance schemes, season ticket loan.
Sponsorship: Comprehensive financial support
for tuition fees for the Postgraduate Diploma in Law (PGDL) and SQE, and maintenance grant of up to £15,000 for the PGDL and up to £17,000 for the SQE.
Diversity and Inclusion
Percentage of female associates: 59% (London)
Percentage of female partners: 34% (London)
Percentage of BAME associates: 21% (London)
Percentage of BAME partners: 16% (London)