Survey Results - Trainee feedback on
Blaser Mills Law
The lowdown - Trainees (in their own words) on Blaser Mills Law
Why did you choose this firm over any others? 'Previous Legal 500 Future Lawyers reviews', 'location, reputation, practice areas', 'opportunities to progress and work/life balance', 'it offered a great variety of seats and I thought that given the size of the firm I would benefit from more one-on-one contact with partners', 'the small trainee intake, wide service offering, location of offices (close to home)', 'I previously interacted with the firm in a paralegal job and was impressed with its work', 'the family feel'
Best thing about the firm? 'The training. I have had so much hands-on experience and client contact. I feel as though I can ask my team any questions, no matter how silly, to improve my understanding', 'client contact, work/life balance', 'everyone is so friendly and helpful', 'the approachability of everyone within the firm', 'the people and the offering of high-quality training in personal law', 'staff are friendly and welcoming', 'there is inclusion and progression, and every voice is recognised and respected'
Worst thing about the firm? 'Few perks/benefits and rarely any social activities', 'financial remuneration',  'some of the IT systems/case management systems are archaic/outdated', 'the lack of transparency around pay and pay scales and around changes within the firm generally', 'poor communication (and therefore lack of cohesion) between different offices/teams and from management', 'remuneration is good for the area, but probably the lack of perks', 'lack of consistency in the implementation of the work-from-home policy''
Best moment? 'Advocacy for a client in the Employment Tribunal as part of my pro bono work. My team supported me throughout this and celebrated my success', 'achieving a great result for the client on a case which I predominantly worked on, and receiving an email from the client thanking me for my help', 'drafting an advice note for a client looking to terminate a contract which required very few amendments from my supervisor', 'running a case under my supervisor and winning it'
Worst moment? 'Asking for assistance from a few people but they were too busy to help', 'feeling like I wasn't listened to by the training team and HR during a seat I did not enjoy', 'assisting with the completion of a corporate matter which was poorly organised'
The Legal 500 Future Lawyers verdict on Blaser Mills Law
Blaser Mills survey respondents 'wanted to work for a regional rather than a city firm because the training is more on the job'. This has proven to be true on the ground, as trainees find themselves 'involved in very interesting work and given a lot of independence and responsibility'. Recruits find that they are 'usually the only trainee in a team and get hands-on training from keen supervisors' and are treated 'almost like fee-earners'. Indeed, there is a 'lot of importance placed on trainee learning and development' at the Buckinghamshire firm. Blaser Mills is a Future Lawyers Winner for client contact. Culture wise, there is a 'family feel', supervisors 'actually care about us and our work' and 'people at the firm genuinely like each other'. One downside of the firm is the limited benefits offering; trainees would like to see better options for things like bonuses, health insurance and parental leave packages. Another limitation is that there is 'little scope for trainees to work from home or have work flexibility', at least in certain teams. Among the worst moments were 'supervisors being too busy to help me during a busy and stressful period', and 'getting put in a department I really didn't want to do a seat in'. Elaborating, another respondent said that 'you may be put in up to two seats you haven't chosen based on business need. On a more positive note, 'helping a mother who was at risk of having her son removed from her care, and achieving a positive result in that case' and 'playing an integral part in helping clients get transactions over the line' gave trainees great satisfaction. If you're looking for a 'regional multi-service firm offering a range of personal law areas, high-quality training and good reviews from past and present trainees', take a closer look at Blaser Mills.
A day in the life of... Doreen Nimfour, trainee solicitor, Blaser Mills Law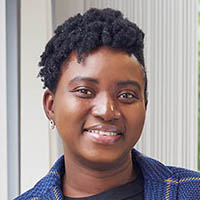 Departments to date: Wills, trusts and probate; Residential property
On arrival: I say hello to most of my colleagues as I walk over to my desk, due to the open-plan nature of our office; I then log in and run for a cup of coffee before checking my emails. I'm currently approaching the end of my seat in the residential property department and even though the work seems very procedural, there is never a dull moment in the team with the phones constantly ringing and emails trickling in.
9.30am-12.30pm: This time slot tends to be my 'focus hours', however it can differ from day to day. I deal with urgent tasks (both emails and task lists) as quickly as I can, working in time and date order which keeps our workload organised. My tasks usually involve drafting title reports, mortgage reports, search reports, reports on enquiries, drafting stamp duty and land tax forms, preparing and sending documents to clients for signing, dealing with incoming enquiries, contract packs which include obtaining title documents from the Land Registry, and drafting the contract and transfer for the property.
10.25am-12.00pm: I receive a phone call from my supervisor who is working from another office today to exchange contracts on one of her files. This part of the transaction is where both the seller and buyer swap their signed contracts and the buyer is asked to put down a deposit. The completion date is also set on exchange. Once contracts are exchanged, the buyer is now legally bound to buy the property as failure may result in the buyer losing their deposit and facing legal proceedings.
I call the seller (our client) for authority to exchange and then call the buyer's solicitors to exchange. Once exchanged, I call back our client to inform them that exchange has been successful and that formal confirmation will follow shortly. I also call the estate agents to let them know we've exchanged and then ask for their invoice so I can show the actual figure on my draft completion statement to the client. I record the memorandum of exchange onto our case management system.
I then draft letters confirming the exchange and the agreed completion date to the buyer's solicitors with our copy of the contract and enclosures and provide them with our bank details as they will need to send funds on completion. I also draft an exchange confirmation letter to the client with a draft completion statement showing how much will be payable to him on completion.
Another confirmation is sent to the estate's agent and I then request a final redemption statement from our client's mortgage provider as a completion date has now been set.
I send all my drafts for my supervisor to review before sending them out.
12.15pm: We have been instructed in an urgent sale and the buyers are cash buyers, so I need to issue an urgent contract pack to their solicitors. This is the first stage in any conveyancing transaction. It includes the sale contract, copies of the legal title of the property and questionnaires completed by the seller. The contract pack will enable the buyer's solicitors to order searches, investigate the legal title of the property and raise any relevant enquiries.
1.00pm: Lunch time is usually time to catch up with my husband on the phone if I don't have any planned meals with my friends and colleagues. This is a cherished moment as we can catch up without any interference from the children (PS: we do love our children). I also like to explore foods from new places (and High Wycombe has a lot to offer). I usually come back from lunch with something delicious to tuck into.
2.00pm: It's our departmental 'Friday Pulse' meeting which usually happens every other Tuesday. Friday Pulse is an anonymous weekly survey to track the happiness of our team but also the firm as a whole. We are put together in smaller groups with team members from various offices to discuss our results. The results provide invaluable and up-to-date data on overall happiness and morale. Our discussion contributes to bettering our overall happiness; it also allows us to celebrate any successes but also freely raise any concerns we may have.
2.30pm: I return any calls I may have missed and deal with urgent emails in my inbox.
3.00pm: Another fee-earner needs some help with a research task regarding an unregistered enduring power of attorney (EPA) where she has been instructed to act in the sale. An EPA is a document appointing a person known as the 'attorney' to manage the property and financial affairs of another person known as the 'donor'. From my research, an unregistered EPA can be used provided that the donor still has mental capacity. I report back to the fee-earner with my findings.
3.30pm: Most of my drafts have now been reviewed, so I make any final amendments where needed and send them out. Our daily post must be ready for collection by 4.00pm.
4.00pm: A long-awaited mortgage offer on one of my supervisor's files has just come in, so I quickly report this to our client. This is a formal report discussing the product selected by our client for financing their purchase. The report usually covers the mortgage term, mortgage terms and conditions, the expiration date of the mortgage offer, adherence to repayment schedules, and applicable interest rates. I send it over for review, which is approved swiftly, and then send it on to the client.
4.30pm: I receive a call from a client who wants to come into the office tomorrow to go through some enquiries. I check availability and book her in with one of our lawyers.
4.40pm: I go back to checking my emails before the working day ends; I also deal with most of the internal queries which require a regular check in.
5.00-5.30pm: At this point, work has officially finished but I always like to stay and write out my personal to-do list for the next day. This is usually the best time to update my training diary as the tasks carried out are fresh in my memory. I then head home for some well-deserved family time.
About the firm
The firm: Multi-disciplinary firm Blaser Mills Law is based in the South East with offices in High Wycombe, Marlow, Amersham, Silverstone and London. The firm acts for organisations as well as individuals and has a strong corporate and commercial offering.
The firm has a rich history and a strong reputation for high-quality legal advice from lawyers who are experts in their fields. At the same time, its modern and innovative approach means that it delivers practical and cost-effective solutions.
The deals: Advising on over £350m of corporate deals; successfully acting on the sale of UKGlobal to Aston Lark; successfully acting on the sale of Collision Management Systems Ltd to SambaSafety; corporate team successfully acted on the sale of Ansible Motion to AB Dynamics; corporate team successfully acted on the sale of Audiologic to EAV Group.
Senior partner: Jonathan Lilley
CEO: Dave Matthews
Offices: High Wycombe, Marlow, Amersham, Silverstone, London.
Who we are: Blaser Mills Law is a leading law firm based in south-east England with 19 partners and over 48 lawyers. It is a full-service firm, offering a comprehensive range of legal services to businesses and private individuals.
What we do: Our highly regarded firm has a strong business services offering, including corporate and commercial, construction and engineering, data protection, employment, dispute resolution, property development, and real estate and infrastructure. We also have experienced private client and family lawyers, and specialist lawyers in residential property, family & divorce, wills, trusts and probate, private litigation, personal injury and child care.
What we're looking for: As well as a strong academic background, excellent communication skills and analytical ability, we look for talented individuals who have a strong team ethic, ambition and who embrace responsibility.
Trainees are right at the heart of the firm and nothing demonstrates this more clearly than the fact that the majority of our trainees choose Blaser Mills Law as their career firm, often going on to become partners within the firm. Progression to partnership is strictly on merit and excellence is continuously rewarded throughout your career at Blaser Mills Law. We are proud of the diversity of our teams of lawyers, in terms of experience, background and approach. We therefore look for diversity in our trainees too.
What you'll do: Training generally starts in September with a full induction day. Trainees will have varied seats in both non-contentious and contentious practice areas, allowing them to gain experience across a broad range of legal disciplines in a variety of locations. From day one, trainees are given plenty of responsibility with ongoing support from experienced training supervisors. In addition, we operate a mentor scheme that gives trainees confidential access to recently qualified lawyers who can offer first-hand advice. Throughout the training contract, trainees will develop their technical skills, department knowledge and direct client care. Business development is a further skill that we look to develop, so when it comes to qualifying, trainees are confident to approach prospective clients and build their own client list – achieved through article writing, presenting at seminars or attending networking events.
Perks: Trainees are enrolled into our pension scheme and are given life cover from day one. As part of the mentor scheme, trainees will get together multiple times a year for social events. Generous company sick pay; flexible working culture; group life assurance; commitment to development and progression; quality exposure to matters.
We also offer a supportive working environment, employee assistance programme including counselling, legal advice, wellbeing initiatives and financial planning for colleagues.
AIG Smart Health: This tool helps our employees to manage their wellbeing and health at any time. Smart Health offers services such as: 24/7 GP, second medical opinion, health check, mental health support, nutrition consultation, fitness programme.
Wellbeing: Employee wellbeing is important to us! Some of our available initiatives include: inclusion, wellbeing and environment forum, Friday Pulse (weekly team happiness tracker), weekly badminton sessions and tennis.
BML Rewards: An incentive introduced in 2022. BML Rewards is a chance to reward and recognise the hard work and commitment of our employees. Through BML Rewards you can nominate your colleagues for star of the month, cross refer and earn points, be recognised for your long service in the firm and stay in touch with your peers by sending them an e-card for various occasions.
Internal book club: The firm runs a bi-monthly internal book club for fans of reading who want to join in on our free-flowing discussions. Treats included!
Responsible business: Blaser Mills Law is committed to being a responsible business and is an active member of Business in the Community, a business network dedicated to building a fairer and greener world together. BITC define a responsible business as one that 'delivers long-term value for stakeholders by minimising any negative impact and maximising their positive impact on society and the environment', and we refer to this definition constantly when considering our responsible business initiatives.
We have a dedicated employee-led Responsible Business Strategy Team who consult with our stakeholders (including clients and staff) as to what responsible business issues they would like us to act on. To date, these consultations have aided the creation of our Inclusion Forum, Wellness at Work Group, Environment Group and Community Group.
Diversity and inclusion
Blaser Mills Law is a firm where we don't just talk the talk on diversity and inclusion; the diversity of our workforce speaks for itself.
We are immensely proud of our record on diversity and inclusion. By employing great people with different backgrounds and characteristics, we have a firm full of brilliant creative minds: people, each making their own unique contribution to the life and business of Blaser Mills Law.
Our employee-led Inclusion Forum is central to the development of an inclusive culture. The forum assists with reviewing firm policies and leads the way in awareness raising. Recent awareness raising events have included LGBTQ+ training from Stonewall, a menopause clinic with a talk from a specialist doctor, a neurodiversity quiz and an anxiety cafe. These events open up valuable conversations between colleagues, creating an environment where staff feel included, valued and able to seek support should they need it.
The Inclusion Forum works closely with our Wellness at Work Group and together they provide a wealth of employee resources, including group champions who are always on call to offer support to colleagues.
We regularly hold in-person diversity and inclusion training, and every new employee is supplied with a copy of our inclusion charter and details of the inclusion forum, which they are invited to join.
Find out the full details at www.blasermills.co.uk/our-culture/diversity-inclusion-and-social-mobility.
Percentage of female lawyers: 83%
Percentage of female partners: 52%
Percentage of BAME associates: 34%
Percentage of BAME partners: 38%