James Onalaja > 187 Chambers > London, England > Lawyer Profile
187 Chambers
Offices
187 Chambers
4th Floor, Queen Elizabeth Building
London
EC4Y 9BS
England
James Onalaja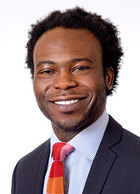 Position
James Onalaja has nurtured a diverse common law practice with particular emphasis on:
Serious and complex frauds;
Violent and organised crime;
Military justice and armed forces law;
Regulatory law;
Civil actions against government departments and bodies exercising executive powers, especially matters involving allegations of violations of human rights and civil liberties;
Actions against corporations including contract, negligence and IP disputes; and
Large scale tax disputes including those involving allegations of Missing Trader Intra-Community (MTIC) fraud.
He is adept at acting for either side in dispute matters within the stated practice areas. As direct access accredited, he may be instructed directly by members of the public and corporate entities. He has been appointed to the B Panel of the Serious Fraud Office (SFO) Prosecution Counsels List. He is experienced at acting as Independent Counsel and has been instructed on a number of HMRC operations and investigations, advising the investigators, suspects and defendants. He is a confident and passionate advocate with a great eye for detail. He has developed particular expertise in dealing with vulnerable clients and witnesses on sensitive cases, and on human rights matters including those with an international dimension.
Notable cases:
R v MS [2016]
Alleged attempted armed robbery of financial institution.
CH v HMRC [2016] UKFTT 316 (TC)
Challenges to HMRC's enquiries into tax returns and rights to request information and impose penalties for failure to comply.
R v TC [2016]
Sexual assault of vulnerable complainant with mental health issues.
JB v Commissioner for Police of Metropolis & Chief Constable of West Midlands Police [2016] High Court
Civil action re repeated acts by numerous police officers of: wrongful arrests, unlawful detention; negligence, breaches of Data Protection Act '98 and actions under the Human Rights Act '98 for infringements of Article 5 and 8 ECHR.
Gold Nuts Ltd et al v HMRC [2016] Lloyds Rep. F.C. 249
Legal arguments re the limits of the privilege against self-incrimination excisable by company directors and corporations during HMRC enquiries into corporation and self-assessment tax returns.
R v EM & Other [2016]
Alleged violent multi-handed armed robbery of alleged local 'drug dealer' by defendant with mental health issues.
QP v HMRC [2016] UKFTT 100 (TC)
HMRC powers to request information and documentation as part of enquires allegedly opened for an improper motive and the nature and extent of statutory records for the purpose of schedule 36 information notice requests.
R v TJ [2015]
Allegation of possession of firearms with intent to endanger life following 'gangland' shooting allegedly over a drug dispute.
Operation Galvez [2015]
Independent Counsel on LPP dispute issues arising from cross border investigation and prosecution into alleged large scale and wide ranging tax fraud.
R v HR [2015]
Allegation of gross dishonesty against serving RAF personnel.
Operation Amazon [2014]
Independent Counsel on LPP dispute issues arising from wide ranging HMRC prosecution for alleged large scale carbon tax credit fraud.
Colchester Borough Council v NC [2014]
Civil action to prevent local authority from obtaining injunction which restricts a vulnerable defendant from accessing mental health services and seeks to restrain him from displaying symptoms of his disorder.
JB v Chief Constable for Sussex Police [2014]
Civil action re repeated: wrongful arrests, unlawful detention; negligence, and actions under the Human Rights Act '98 for infringements of Article 5 and 8 ECHR by numerous police officers.
Annova Ltd v HMRC [2014] UKUT 0028 (TCC)
Multi-million pounds VAT dispute leading to appeal of findings of FTT to the Upper Tier Tribunal (Tax and Chancery Chamber) (Junior Counsel).
RS v Sec of State for Home Department [2014]
Civil claim for unlawful detention, harassment, and under the Human Rights Act '98 for violations of Articles 5 and 8 ECHR.
Synectiv Ltd v HMRC [2013] UKFTT 677 (TC)
£1.4 million VAT dispute matter arising from allegation of MTIC fraud (Junior Counsel).
AG v Direct Line Insurance [2013]
Negligence and breach of contract claim re wrongful cancellation of car insurance.
R v AW [2013]
Attempted murder and section 18 GBH by soldier re 2 separate complainants.
R v JL [2013]
Allegation of gang violence against publican arsing from alleged protection racket.
Base Interactive Ltd v HMRC [2013]
Tax dispute worth over £13million, involving a network of companies across Europe.
R v AS & Other [2013]
Alleged Hampstead Heath gang armed robbery involving vulnerable defendant.
R v L (Court of Appeal) [2012] EWCA Crim 830
Limits to the impact of joint enterprise in sentencing, and the relevance of actual roles played by defendants in a violent gang armed robbery and 'carjacking'.
Rawlinson & Hunter Trustees and Vincent and Robert Tchenguiz v SFO [2012]
Independent Counsel advising parties on LPP issues arising out of proposed SFO prosecution for alleged multi-million pounds' fraud following collapse of Kaupting Bank.
Softhouse Ltd v HMRC [2012] LON/2008/01903
£2.9 million tax dispute (Junior Counsel).
Tosdevine v Cooperative Group Ltd. [2012]
Medical negligence final cost dispute.
ASNWA Ltd v VA & Others [2012]
Advice re intellectual property, constitution of unincorporated organisation and rights of members.
Annova Ltd v HMRC [2011] UKFTT 742 (TC)
Multi-million pounds VAT dispute.
R v D (Court of Appeal) [2010] EWCA Crim 1998
Appeal against conviction re multi-handed gang assault with intent to rob.
Air Trooper W [2009] Military Courts Martial Appeal
Allegations of AWOL by military personnel with severe mental health issues.
Guardsman H & Others [2008] Military Courts Martial, Germany
Alleged multi-handed violent assault and allegations of fundamentalist terrorism.
R v M [2007]
Five deaths by dangerous driving by military personnel.
Career
Called 2004, Lincoln's Inn. James delivers Continuing Professional Development (CPD) lectures to professional clients and corporate entities. He is an advocacy tutor to Bar students on the Lincoln's Inn advocacy training programmes.
Languages
Native fluency in Yoruba (Nigeria), French (basic).
Memberships
Criminal Bar Association; Association of Military Courts Advocates; Commonwealth Lawyers Association; South Eastern Circuit; Honourable Society of Lincoln's Inn.
Education
LLB (Hons), College of St Hild & St Bede, Durham University; PG Dip. Law, Inns of Court School of Law, City University, London. Scholarships: Keble Scholar, Lincoln's Inn; Hardwicke Scholar, Lincoln's Inn.
Leisure
Photography, travel journalism, creative arts, motorcycling and volunteering.
Lawyer Rankings
(Leading Juniors)
Ranked: Tier 3
Top Tier Firm Rankings
Firm Rankings