Firm Profile > Labaton Sucharow LLP > New York, United States
Labaton Sucharow LLP
Offices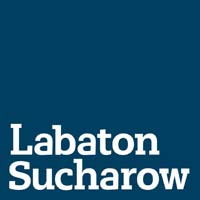 Labaton Sucharow LLP
140 BROADWAY
NEW YORK, NY 10005
United States
Labaton Sucharow LLP > The Legal 500
Rankings
'The individuals at the firm are outstanding and the work they do and the expertise they display is exceptional,' says a client of Labaton Sucharow LLP. Another notes the firm's 'deep and experienced team with expertise that gives us a high degree of confidence in the successful litigation of our class action cases'. It has a strong track record, having been lead or co-lead counsel in 14 of the top 100 largest securities class action recoveries in history, and it continues to be a key player in whistleblower cases, opt-out ligitation, Section 11 and state court matters, and securities cases brought outside the US. The practice is led from New York by firm chair Christopher Keller and head of litigation Jonathan Gardner, but the best-known practitioner in securities litigation is Thomas Dubbs, who has served as lead or co-lead counsel in some of the most high-profile federal securities class actions during his 35-year career. Also in New York, clients recommend up-and-coming partner Carol Villegas.
Practice head(s):
Christopher Keller; Jonathan Gardner
Other key lawyers:
Testimonials
'The individuals at Labaton Sucharow are outstanding and the work they do and expertise they display is exceptional.'
'Mark Willis, Carol Villegas, and Jonathan Gardner all bring excellent advocacy skills for the benefit of their clients. They understand the unique nature of complex securities litigation and strive for practical yet results-driven outcomes on behalf of their clients.'
'The practice of securities litigation is not unique but Labaton's relationship with its clients is what makes it stand out from its competitors. They reach out to clients on potential securities actions but they are not pushy about it like other firms. If you decide not to be lead plaintiff, Labaton lawyers accept that decision quickly and professionally. Other firms will make you feel like you've disappointed them, that they've wasted their time on you, or that you've potentially made a bad decision.'
'Marisa DeMato is our main contact at Labaton and she is professional, friendly and very personable. It is because of Marisa that Labaton stands out from its competitors: she keeps us informed of the latest cases, follows up with us, and we never feel like she's disappointed if we don't move forward with being a lead plaintiff. Her commitment to her clients never wavers and she is always available.'
'The Board of Trustees, similar to other pension plans, consists volunteers yet with an overarching responsibility for a pension fund with hundreds of retirees relying on their monthly payments and whether there will be major losses while fulfilling our fiduciary responsibilities.  There are some losses we cannot avoid but Labaton Sucharow took away our fears for those losses that can be recovered.'
'What make the firm unique is its efficacy. They are usually at the forefront and provide us information before the Board of Trustees is aware.  The in-house team is professional, with great attention to detail, and they seem to work well with diverse individuals. '
'We have had the pleasure of working with Marisa DeMato who is the ultimate professional. She provides excellent service to our fund and our Board of Trustees alike. She keep us abreast of any activity as it relates to our various funds on a timely basis and will work to provide assistance in recouping if necessary. On one occasion we were working together we needed some assistance  While she was out of the country, she reached out to us and to someone from her firm to provide us with the assistance we needed. That is true dedication.'
'Labaton Sucharow has a deep and experienced team in the securities litigation space. The expertise they display gives us a high degree of confidence in the successful litigation of our class action cases. They are open and transparent about what they are working on and never overstep their authority when making filings on our behalf.'
'The open and honest line of communication helps us not only when we are pursing a case with them as our lead counsel, but they will even go the extra mile to inform us as to what they see with a case that we may be interested in, even if we do not plan to use them as counsel. Labaton is highly regarded by our board, general counsel and me when it comes to securities class action cases and we have had a great deal of success in recovering pension dollars on behalf of our members of this pension system and all shareholders in the class.'
'Marisa DeMato is a partner and our day-to-day contact regarding securities litigation. While we have 12 securities litigation firms that monitor our portfolio, Marisa stands out as the most effective communicator in regards to our portfolio. She will always keep us informed as to what cases are out there, how solid the merits of the case are, and our potential success as a lead plaintiff.  She is not afraid to tell us if we don't have a chance to win lead plaintiff, if the case will likely not succeed, or how high our chances are. She is always open and honest with us, always well informed on any issue that may arise, and truly values us as a client.  This is a breath of fresh air as many individuals and firms are more about their bottom line than us as a client. I truly have the utmost respect for Marisa and her work with Labaton.'
'Michael Rogers is a partner with Labaton and I have had the honor of working beside him on a few cases in the setting of mediations and depositions. Mike was the counsel sitting beside me in one of my most difficult depositions and he defended me flawlessly. I felt so prepared walking into the room and was able to deliver my responses confidently knowing that he was by my side. I have also sat beside Mike in a mediation and his work to get the best result for the class was impeccable.'
'The firm has a strong team that acts in a fiduciary capacity and as an extension of staff.'
Key clients
Boston Retirement System
Arkansas Teacher Retirement System
Employees' Retirement System of the State of Hawaii
West Virginia Investment Management Board
Oklahoma Firefighters Pension and Retirement System
Utah Retirement Systems
Public Employees' Retirement Association of New Mexico
Public School Retirement System of the School District of Kansas City
The entirely New York-based Labaton Sucharow LLP fields impressive know-how of antitrust issues related to financial instruments and commodities manipulation in addition to industry expertise in pharmaceuticals and healthcare. A wide array of plaintiffs ranging from small family businesses to investors and corporations count on the 'professional and respectful' firm to pursue price-fixing, monopolization and bid-rigging violations. Co-team heads are Gregory Asciolla and Jay Himes; Asciolla shines in representing both business and public pensions funds in antitrust as well as commodities class actions, and Himes focuses on price-fixing class actions. Life sciences cases such as claims against pharmaceutical, biotechnology or medical device companies are a strong suit of Christopher McDonald. Karin Garvey, who was promoted to partner in January 2019, has experience with multi-jurisdictional cases and often acts as co-lead or lead counsel in pharmaceutical class actions. In this area, key support comes from of counsel Matthew Perez, who is equally active in financial services cases.
Practice head(s):
Gregory Asciolla; Jay Himes
Testimonials
'Labaton is a leader in handling class action litigation which will benefit members of the class.'
'Chris McDonald as the lead litigator and Gregory Asciolla partner have demonstrated command of the aspects to lead a class action litigation in process, details and follow-through.'
'The Labaton antitrust team is composed of antitrust litigation experts. All have a deep knowledge of antitrust law, and are well versed in key procedural and substantive strategies to litigate toward resolution.'
'Labaton attorneys are always professional and respectful, even as opposing counsel in hotly litigated cases.'
'Greg Asciolla and Robin van der Meulen are a formidable team to litigate against. Both are persistent, persuasive, and well-respected by peers and opponents alike.'
'Karin Garvey and Matthew Perez are also excellent.' 
'In my opinion what separates Labaton Sucharow from other practices are the people: both Greg Asciolla and Nico Minerva are always there for us and have never failed to get us an honest answer and describe all the parameters and/or pitfalls of each and every case.'
'They always bring us the right cases for us, as opposed to bombarding us with volume just to satisfy their own internal agendas. Additionally, they are very respectful of our privacy rules and always work with us to find an appropriate workaround if something makes us uncomfortable.'
'This is one of the strongest antitrust teams in the country, with top-notch performers and former antitrust enforcers.'
'The team is well-versed in antitrust jurisprudence and has the highest standards for their work product.'
Key clients
Boston Retirement System
Genesee County Employees' Retirement System
UFCW Local 1500 Welfare Fund
Massachusetts Bricklayers and Masons Health & Welfare Fund
Ionsouth-Mobile LLC
'They prepare their cases and choose their cases more effectively than many other comparable firms', says a client of Labaton Sucharow LLP. The firm has a track record in corporate governance and other shareholder actions, including prosecuting claims relating to unfair related-party transactions, and interference with shareholding voting rights, that goes back more than 50 years. Since opening its Delaware office in 2009, it has become a regular player in high-value matters before the Delaware Chancery Court. Among its successes was the second largest derivative settlement, $153m, in Court of Chancery history. Ned Weinberger in the Wilmington office, who is 'one of the best plaintiffs' lawyers in Delaware', leads the eight-lawyer team, which includes two partners. Star associate Thomas Curry is also recommended for his representation of investors in stockholder litigation, with a particular focus on litigation in the Delaware Court of Chancery, where he recently achieved success in two appraisal cases.
Other key lawyers:
Testimonials
'The team is able to put together complex facts and innovative legal theories together to make compelling cases. They prepare their cases and choose their cases more effectively than many other comparable firms.'
'Ned Weinberger is one of the best plaintiffs' lawyers in Delaware. He is the engine that drives the team, and even from the perspective of an adversary, he commands respect and generates productive discussion where it is needed.'
Key clients
Steamfitters Local 449 Pension Plan
Cambridge Retirement System
Norfolk Retirement System
Massachusetts Laborers' Pension Fund
Plumbers and Steamfitters Local 60 Pension Trust
Labaton Sucharow LLP >
Firm Profile
With more than 50 years of experience, Labaton Sucharow is a tenacious advocate for investors and consumers. The firm offers complex litigation services in the areas of securities, antitrust, consumer protection, corporate governance and shareholder rights law, as well as whistleblower representation. Labaton Sucharow represents many of the largest institutional investors worldwide and has secured billions of dollars in landmark recoveries. The firm's successful reputation is built not only on its team of more than 60 attorneys, but also on its industry-leading in-house investigators, financial analysts and forensic accountants.
Main areas of practice
Securities and financial services litigation: the firm continues to secure precedent-setting decisions and significant monetary recoveries on behalf of investors. After achieving historic settlements in cases stemming from the financial crisis, the team has maintained its momentum in prosecuting high-profile and cutting-edge actions against corporate behemoths like Facebook, BP, Goldman Sachs and Petrobras. The team also played an authoritative role in shaping securities litigation laws through a landmark victory in the Supreme Court with Amgen Inc. v. Connecticut Retirement Plans and Trust Fund. The firm also evaluates the viability of claims that may be pursued through opt-out or direct actions. Cases include: In re American International Group Securities Litigation – more than $1bn total recovery and one of the top 15 securities class action recoveries; In re Countrywide Financial Corp. Securities Litigation – achieving a $624m settlement; In re HealthSouth Corp. Securities Litigation – recovering $671m; In re Schering-Plough/Enhance Securities Litigation – securing a $473m settlement; Arkansas Teacher Retirement System v. State Street Corp. – obtaining a $300m recovery.
Antitrust and competition litigation: the firm has been appointed to leadership roles in cases involving collusion in the financial markets, manipulation of financial benchmarks and pharmaceutical-related anticompetitive 'pay-for-delay' agreements. The mission of the antitrust and competition litigation practice is to promote the private enforcement of antitrust laws to preserve free competition in the marketplace. The firm has recovered billions on behalf of clients in major antitrust class actions around the country. Cases include: In re Air Cargo Shipping Services Antitrust Litigation – more than $1.2bn in settlements from numerous international airlines; In re Aftermarket Automotive Lighting Products Antitrust Litigation – aggregate settlement of more than $50m with major manufacturer of automotive lights.
Corporate governance and shareholder rights litigation: as corporate leaders continue to engage in fraudulent conduct and other mechanisms to unjustly enrich themselves, the firm initiates numerous derivative and M&A-related suits to protect shareholders. Cases include: In re Freeport-McMoRan Copper & Gold Inc. Derivative Litigation – achieving the second largest derivative settlement in the Delaware Court of Chancery history, a combined $153.75m recovery with an unprecedented provision of direct payments to stockholders by means of a special dividend; In re El Paso Corporation Shareholder Litigation – $110m recovery for shareholders, with a stipulation in the settlement also preventing Goldman Sachs from collecting a $20m fee for its work on the merger, a condition pursued adamantly by the firm to encourage banks in future deals to take proper steps to reduce conflicts of interest.
Whistleblower representation: the firm established the first national practice focused exclusively on protecting and advocating for whistleblowers who report violations of the federal securities laws. The practice plays a critical role in exposing securities fraud and creating necessary corporate reforms. Cases include: securing a substantial monetary award for a whistleblower client who reported significant wrongdoing in the financial services industry-leading to second largest award given by the SEC Whistleblower program; and representing a whistleblower who reported violations against Merrill Lynch resulting in settlements totaling $415m.
Non-US securities litigation: Labaton Sucharow is positioned to advise and represent international shareholders in complex investment-related litigation taking place in Canada, Europe, Asia, Australia and other jurisdictions. The team develops a comprehensive view of the potential upsides and risks of participation in each action – resulting in timely advice, encompassing all financial and legal concerns of individual clients. The firm serves, or has served, as liaison counsel for several clients in 20 non-US actions.
Main Contacts
| Department | Name | Email | Telephone |
| --- | --- | --- | --- |
| https://www.labaton.com/ourpeople/gregory-asciolla | Gregory Asciolla | | |
| https://www.labaton.com/ourpeople/eric-belfi | Eric Belfi | | |
| https://www.labaton.com/ourpeople/michael-p-canty | Michael Canty | | |
| https://www.labaton.com/ourpeople/thomas-dubbs | Thomas Dubbs | | |
| https://www.labaton.com/ourpeople/james-johnson | James Johnson | | |
| https://www.labaton.com/ourpeople/christopher-keller | Christopher Keller | | |
| https://www.labaton.com/ourpeople/edward-labaton | Edward Labaton | | |
| https://www.labaton.com/ourpeople/ray-politano | Ray Politano | | |
| https://www.labaton.com/ourpeople/lawrence-sucharow | Lawrence Sucharow | | |
| https://www.labaton.com/ourpeople/carol-villegas | Carol Villegas | | |
Staff Figures
Number of Partners : 31 Number of Lawyers : 67
Other
Chairman Emeritus : Lawrence A Sucharow Chairman : Christopher J Keller
Top Tier Firm Rankings
Firm Rankings