Firm Profile > Labaton Sucharow LLP > New York, United States
Labaton Sucharow LLP
Offices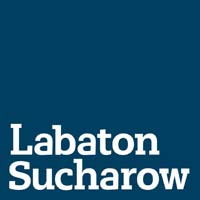 Labaton Sucharow LLP
140 BROADWAY
NEW YORK, NY 10005
United States
Labaton Sucharow LLP > The Legal 500
Rankings
'The individuals at the firm are outstanding and the work they do and the expertise they display is exceptional,' says a client of Labaton Sucharow LLP. Another notes the firm's 'deep and experienced team with expertise that gives us a high degree of confidence in the successful litigation of our class action cases'. It has a strong track record, having been lead or co-lead counsel in 14 of the top 100 largest securities class action recoveries in history, and it continues to be a key player in whistleblower cases, opt-out ligitation, Section 11 and state court matters, and securities cases brought outside the US. The practice is led from New York by firm chair Christopher Keller and head of litigation Jonathan Gardner, but the best-known practitioner in securities litigation is Thomas Dubbs, who has served as lead or co-lead counsel in some of the most high-profile federal securities class actions during his 35-year career. Also in New York, clients recommend up-and-coming partner Carol Villegas.
The entirely New York-based Labaton Sucharow LLP fields impressive know-how of antitrust issues related to financial instruments and commodities manipulation in addition to industry expertise in pharmaceuticals and healthcare. A wide array of plaintiffs ranging from small family businesses to investors and corporations count on the 'professional and respectful' firm to pursue price-fixing, monopolization and bid-rigging violations. Co-team heads are Gregory Asciolla and Jay Himes; Asciolla shines in representing both business and public pensions funds in antitrust as well as commodities class actions, and Himes focuses on price-fixing class actions. Life sciences cases such as claims against pharmaceutical, biotechnology or medical device companies are a strong suit of Christopher McDonald. Karin Garvey, who was promoted to partner in January 2019, has experience with multi-jurisdictional cases and often acts as co-lead or lead counsel in pharmaceutical class actions. In this area, key support comes from of counsel Matthew Perez, who is equally active in financial services cases.
'They prepare their cases and choose their cases more effectively than many other comparable firms', says a client of Labaton Sucharow LLP. The firm has a track record in corporate governance and other shareholder actions, including prosecuting claims relating to unfair related-party transactions, and interference with shareholding voting rights, that goes back more than 50 years. Since opening its Delaware office in 2009, it has become a regular player in high-value matters before the Delaware Chancery Court. Among its successes was the second largest derivative settlement, $153m, in Court of Chancery history. Ned Weinberger in the Wilmington office, who is 'one of the best plaintiffs' lawyers in Delaware', leads the eight-lawyer team, which includes two partners. Star associate Thomas Curry is also recommended for his representation of investors in stockholder litigation, with a particular focus on litigation in the Delaware Court of Chancery, where he recently achieved success in two appraisal cases.
Labaton Sucharow LLP >
Firm Profile
With more than 50 years of experience, Labaton Sucharow is a tenacious advocate for investors and consumers. The firm offers complex litigation services in the areas of securities, antitrust, consumer protection, corporate governance and shareholder rights law, as well as whistleblower representation. Labaton Sucharow represents many of the largest institutional investors worldwide and has secured billions of dollars in landmark recoveries. The firm's successful reputation is built not only on its team of more than 60 attorneys, but also on its industry-leading in-house investigators, financial analysts and forensic accountants.
Main areas of practice
Securities and financial services litigation: the firm continues to secure precedent-setting decisions and significant monetary recoveries on behalf of investors. After achieving historic settlements in cases stemming from the financial crisis, the team has maintained its momentum in prosecuting high-profile and cutting-edge actions against corporate behemoths like Facebook, BP, Goldman Sachs and Petrobras. The team also played an authoritative role in shaping securities litigation laws through a landmark victory in the Supreme Court with Amgen Inc. v. Connecticut Retirement Plans and Trust Fund. The firm also evaluates the viability of claims that may be pursued through opt-out or direct actions. Cases include: In re American International Group Securities Litigation – more than $1bn total recovery and one of the top 15 securities class action recoveries; In re Countrywide Financial Corp. Securities Litigation – achieving a $624m settlement; In re HealthSouth Corp. Securities Litigation – recovering $671m; In re Schering-Plough/Enhance Securities Litigation – securing a $473m settlement; Arkansas Teacher Retirement System v. State Street Corp. – obtaining a $300m recovery.
Antitrust and competition litigation: the firm has been appointed to leadership roles in cases involving collusion in the financial markets, manipulation of financial benchmarks and pharmaceutical-related anticompetitive 'pay-for-delay' agreements. The mission of the antitrust and competition litigation practice is to promote the private enforcement of antitrust laws to preserve free competition in the marketplace. The firm has recovered billions on behalf of clients in major antitrust class actions around the country. Cases include: In re Air Cargo Shipping Services Antitrust Litigation – more than $1.2bn in settlements from numerous international airlines; In re Aftermarket Automotive Lighting Products Antitrust Litigation – aggregate settlement of more than $50m with major manufacturer of automotive lights.
Corporate governance and shareholder rights litigation: as corporate leaders continue to engage in fraudulent conduct and other mechanisms to unjustly enrich themselves, the firm initiates numerous derivative and M&A-related suits to protect shareholders. Cases include: In re Freeport-McMoRan Copper & Gold Inc. Derivative Litigation – achieving the second largest derivative settlement in the Delaware Court of Chancery history, a combined $153.75m recovery with an unprecedented provision of direct payments to stockholders by means of a special dividend; In re El Paso Corporation Shareholder Litigation – $110m recovery for shareholders, with a stipulation in the settlement also preventing Goldman Sachs from collecting a $20m fee for its work on the merger, a condition pursued adamantly by the firm to encourage banks in future deals to take proper steps to reduce conflicts of interest.
Whistleblower representation: the firm established the first national practice focused exclusively on protecting and advocating for whistleblowers who report violations of the federal securities laws. The practice plays a critical role in exposing securities fraud and creating necessary corporate reforms. Cases include: securing a substantial monetary award for a whistleblower client who reported significant wrongdoing in the financial services industry-leading to second largest award given by the SEC Whistleblower program; and representing a whistleblower who reported violations against Merrill Lynch resulting in settlements totaling $415m.
Non-US securities litigation: Labaton Sucharow is positioned to advise and represent international shareholders in complex investment-related litigation taking place in Canada, Europe, Asia, Australia and other jurisdictions. The team develops a comprehensive view of the potential upsides and risks of participation in each action – resulting in timely advice, encompassing all financial and legal concerns of individual clients. The firm serves, or has served, as liaison counsel for several clients in 20 non-US actions.
Main Contacts
| Department | Name | Email | Telephone |
| --- | --- | --- | --- |
| https://www.labaton.com/ourpeople/gregory-asciolla | Gregory Asciolla | | |
| https://www.labaton.com/ourpeople/eric-belfi | Eric Belfi | | |
| https://www.labaton.com/ourpeople/michael-p-canty | Michael Canty | | |
| https://www.labaton.com/ourpeople/thomas-dubbs | Thomas Dubbs | | |
| https://www.labaton.com/ourpeople/james-johnson | James Johnson | | |
| https://www.labaton.com/ourpeople/christopher-keller | Christopher Keller | | |
| https://www.labaton.com/ourpeople/edward-labaton | Edward Labaton | | |
| https://www.labaton.com/ourpeople/ray-politano | Ray Politano | | |
| https://www.labaton.com/ourpeople/lawrence-sucharow | Lawrence Sucharow | | |
| https://www.labaton.com/ourpeople/carol-villegas | Carol Villegas | | |
Staff Figures
Number of Partners : 31 Number of Lawyers : 67
Other
Chairman Emeritus : Lawrence A Sucharow Chairman : Christopher J Keller
Top Tier Firm Rankings
Firm Rankings