Firm Profile > Kondracki Celej > Warsaw, Poland
Kondracki Celej
Offices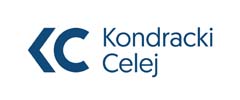 Kondracki Celej
ul.Kopernika 32 lok. 5
Warsaw
00-336
Poland
Kondracki Celej > The Legal 500
Rankings
White-collar criminal litigation is a core competency for Kondracki Celej Adwokaci sp.p., which predominantly represents individuals in a range of criminal cases, although it is also instructed by corporate clients as victims of crime, assisting them to recover losses. It is also able to advise on criminal compliance matters and the implementation of risk management procedures. Experienced advocate and co-founding partner Marcin Kondracki leads the team.
Kondracki Celej >
Firm Profile
About the Firm:
Kondracki Celej is a boutique law firm specializing in transactional, venture capital and start-up advisory, commercial and criminal litigation, as well as compiance and real estate.
Kondracki Celej advises domestic and international entities, including private equity and venture capital funds and start-ups, on a wide range of areas of expertise such as investment, corporate, mergers and acquisitions, commercial, labor, consumer protection, intellectual property and data protection, as well as represents its clients in civil and business litigation.
In addition, Kondracki Celej offers services in the areas of criminal law, white collar crimes, and penal tax law. The Firm advises on the development of procedures aimed at reducing the risk of economic crimes, and represents clients in pre-trials and in court, acting on behalf of disadvantaged parties, their owners, and board members.
The Firm is an active member of the Polish Private Equity Association, and in 2018 and 2019, Kondracki Celej was the only boutique law firm to be nominated to the "Legal advisor of the year" award organized by the Association.
Kondracki Celej is widely recognised as a leading venture capital and business criminal litigation legal advisory firm in Warsaw.
PRACTICE AREAS:
Business Criminal Litigation:
The business criminal litigation team of Kondracki Celej law firm consists of highly trained and dedicated professionals with years of experience, who have handled a wide variety of criminal law cases.
The team is led by Marcin Kondracki, an advocate with over 13 years of experience in the fields of criminal law, white collar and fiscal crimes and business criminal litigation.
The Firm works for private and corporate clients such as financial institutions, investment entities, real estate developers, industry associations and companies in the pharmecutical, distribution, FMCG, chemical and building sector, as well as for public institutions and (international) non-governmental organizations.
Kondracki Celej advises its clients on all aspects of criminal law provisions relevant to their companies. We represent corporate entities that become victims of criminal acts in criminal proceedings before governmental agencies (including Prosecutors Offices, Police, Central Anticorruption Bureau, etc.) and courts. The Firm's lawyers represent managers, borad members and employees summoned as witnesses in criminal proceedings, andagainst business related criminal charges.
The Firm assists victims of crime to recover their losses and defends those who are subject to criminal prosecution, as well as advises clients on compliance matters, such as introduction of the efficient risk management procedures and mechanisms, preventing liability which may arise in relation to criminal offences committed inside organizations.
Kondracki Celej offers creative solutions to best address the resulting losses and to prevent future occurrence.
Venture Capital / Private Equity
The experience in private equity and venture capital transactions is a competitive advantage to Kondracki Celej.
The Firm has extensive experience advising domestic and international clients, including venture capital funds and emerging technology companies, on a wide range of domestic and cross-border venture capital and commercial transactions.
Our impressive yearly deal volume, our unique experience in advising on one of the most talked-about and largest Venture Capital rounds in Poland, and our deep knowledge of the Venture Capital market, gives us our deeper understanding of current market trends and standards,  and at the same time – an unparalleled competitive edge.  Kondracki Celej lawyers have an in-depth understanding of the commercial objectives of venture capital funds, as well as of the priorities, objectives and needs of their founders.
The VC/PE team at Kondracki Celej is a young and engaged one, demonstrating extreme dedication and engagement to each transaction, and boasting of in-debt knowledge of the venture capital market in Poland – thus ensuring a unique added value to every individual issue of our clients.
The VC/PE practice is led by Rafał Celej who has over 14 years of professional experience serving leading Polish and international companies, including Warsaw Stock Exchange listed companies, startups, international financial institutions and venture capital and private equity funds.
Staff Figures
Partners : 3 Associates : 7
Languages
Polish English (fluent) French German
Memberships
Polish Private Equity Association
Top Tier Firm Rankings
Firm Rankings