KPMG Law Firm > Riga, Latvia > Firm Profile
KPMG Law Firm
Offices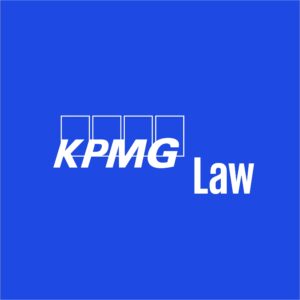 KPMG Law Firm
VESETAS IELA 7
RIGA, LV-1013
Latvia
KPMG Law Firm > The Legal 500
Rankings
KPMG Law Firm
 is highly skilled in M&A, restructurings and regulatory matters, and has the added advantage of being tied to an international consultancy. The team is overseen by 
Ieva Tillere-Tilnere
and
Uģis Ludiņš
, with Tillere-Tilnere focusing on the corporate side and Ludiņš specialising in commercial work.
Practice head(s):
Ieva Tillere-Tilnere; Uģis Ludiņš
Testimonials
'Appreciated the professional and wide enough expertise available (legal, tax, audit) in our M&A and liquidation process. Excellent knowledge of local legislation. Persistently providing alternatives and delivering solutions. Professional yet pleasant co-operation.'
'KPMG team consists of experienced legal professionals with business oriented mindset and ability to understand client needs. The team is ready to innovate and adjust the service offering to new types of business models which for us as client was a valuable experience.'
'Very professional, very quick and professional service. Effective and professional collaboration.'
Key clients
AVA CLINIC SIA
Sabiedrība ar ierobežotu atbildību
Sabiedrība ar ierobežotu atbildību
SIA "DO IT"
AS "Augstspriegumu tīkls"
BPW Kraatz Finance Oy
Klasmann deilmann GmBH
Sabiedrība ar ierobežotu atbildību"CrossChem"
lndra Sistemas, S.A.
TSG Solutions Holding
Cramo Oy
Accord Healthcare AB filiāle Latvijā
Sabiedrība ar ierobežotu atbildību"DANONE"
SIA PAF Latvija
Pepco Latvia SIA (Pepkor Europe)
T-systems International
Sabiedrība ar ierobežotu atbildību "The Pier"
Sabiedrība ar ierobežotu atbildību "LATERLTD"
Sabiedrība ar ierobežotu atbildību "RUUKKILATVIJA"
Work highlights
Advised state owned AS Augstsprieguma tīkls on acquisition of shares of gas transmission andstorage operator – AS Conexus Baltic Grid from PAS Gazprom.
Assisted OÜ Baltic Sea Bunkering with the sale of its subsidiary in Latvia, an entity operating a terminal facility inthe territory of Free Port of Riga.
Advised King Coffee Service SIA on its restructuring and share option scheme.
KPMG Law Firm
 acts for operational banks and banks subject to liquidation/insolvency in debt recovery cases. It is also noted for its involvement in investigations into alleged white-collar crimes, such as fraud and money laundering.
Andis Pauniņš
 is the head of the practice.
KPMG Law Firm >
Firm Profile
KPMG Law –  a full service law firm
Our competent and experienced team provides exact and innovative legal solutions in a wide range of fields of practice integrated with audit, financial and tax advisory, digitalization, ESG and other services in cooperation with KPMG global network.
First-class experts
Our attorneys are experienced in advising some of the toughest and biggest deals of our region. We never make concessions when it comes to quality or ethics. KPMG Law Firm is experienced in dealing with complex, cross-jurisdictional business issues, so we know the value of acting quickly and decisively.
Integrated services you can rely on
We are dedicated to delivering high quality strategic advice in the Baltics, Nordic and across the globe. When you need deep insight and business support that is specifically relevant to your sector, we will not only point out the current legal risks but help to make sure that you can avoid possible hardships also in the future.
Smart people powered by smart technology
Legal counsel is not a matter of articulating the law. That is just a part of it. The other part is understanding what it means for your business, in every single step of the way. From knowledge management systems to secure project collaboration platforms, KPMG Law Firm is the game changer when it comes to utilising IT tools for optimising the work process. We use the newest technology to fully meet the needs of our clients in the modern age.
A world that revolves around you
Most of our attorneys and lawyers have post-graduate law degrees from law schools, and many of us have long-time big law firm backgrounds. We are ready to provide you with the exact support when you need it the most. KPMG Law has a network of 2750+ legal professionals in 81 jurisdictions around the world. In turn, they are all supported by our global network of over 236,000 colleagues in the audit, advisory and tax practices. Whichever issue you are faced with, we will find that solution.
Staff Figures
Attorneys at Law : 8
Languages
Latvian English Russian German
Memberships
Bar Association of Latvia Mediation and ADR association
Diversity
KPMG Latvia's main value is its team members, so it is important that they feel good not only in the work environment, but also outside of it.
We believe in a future where everyone feels included regardless of their age, race, belief, sexual orientation or gender – it is part of KPMG values. We are among the first companies in Latvia to join and sign the Latvian Diversity Charter. It is a voluntary agreement aimed to promote respect and inclusion in the workplace.
In March 2021, KPMG in Latvia organized "Inclusion & Diversity Week" – a series of 3 online events targeted at promoting the discussion about an environment that allows everyone to feel included, regardless of their age, skin
colour, belief, sexual orientation or gender. During the events, guest lecturers and KPMG representatives shared valuable presentations and experience stories on several aspects of diversity: gender equality and its balance in
organizations, intergenerational cooperation and the LGBTQ perspective.
In order to continue this discussion, the team of KPMG in Latvia met in an online event called "Inclusion & Diversity Workshop", which sought to raise awareness of unconscious biases. During the meeting, discussions took place about various everyday situations when we face unconscious biases. Together we analysed and shared opinions and experiences.
KPMG in Latvia also held similar events in summer 2022 called "Inclusion, Diversity & Equity week 2022" focusing on these topics: gender equality, foreigners in labour market, LGBTQ.
Interviews
Una Petrauska, Managing Partner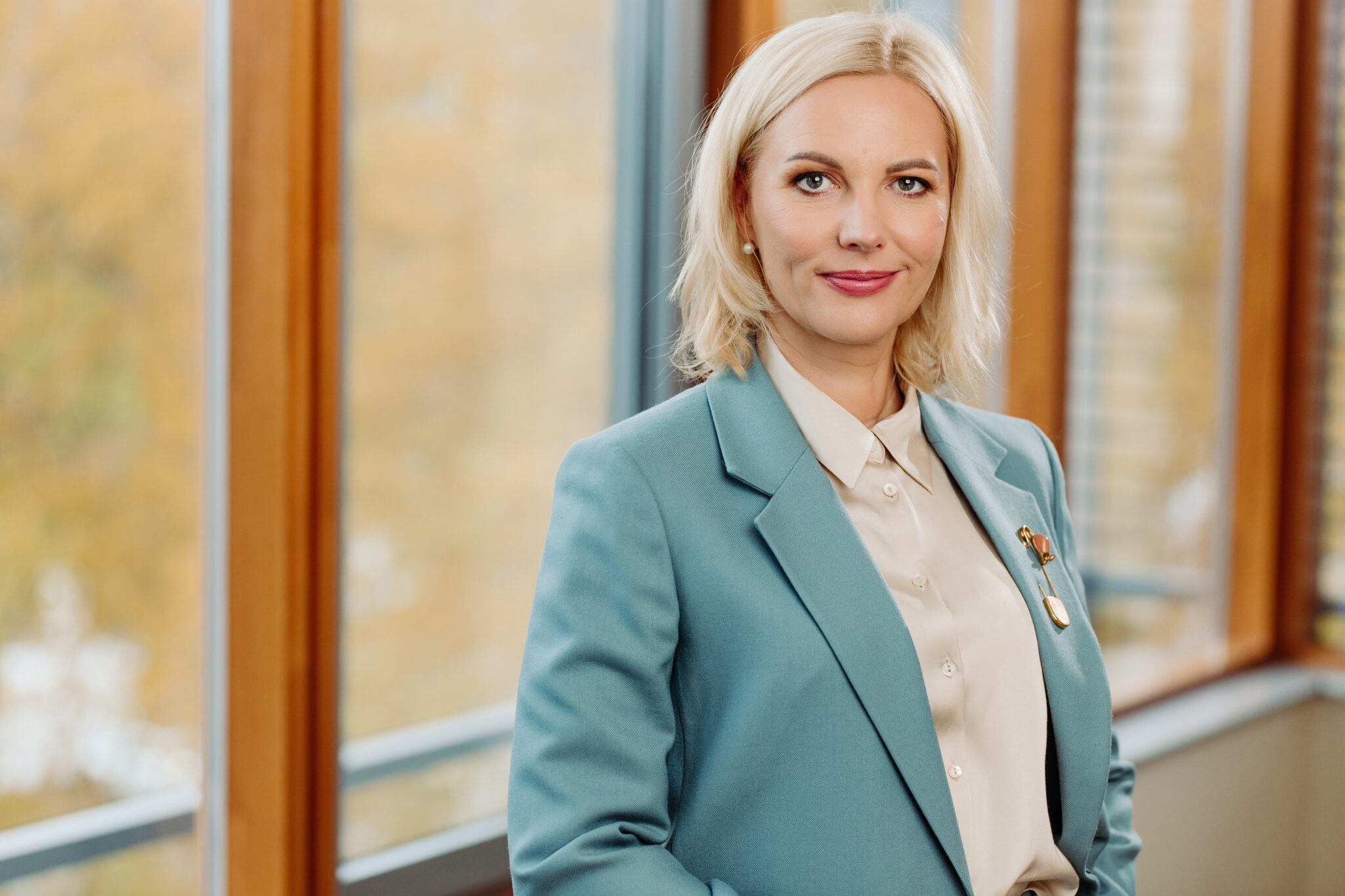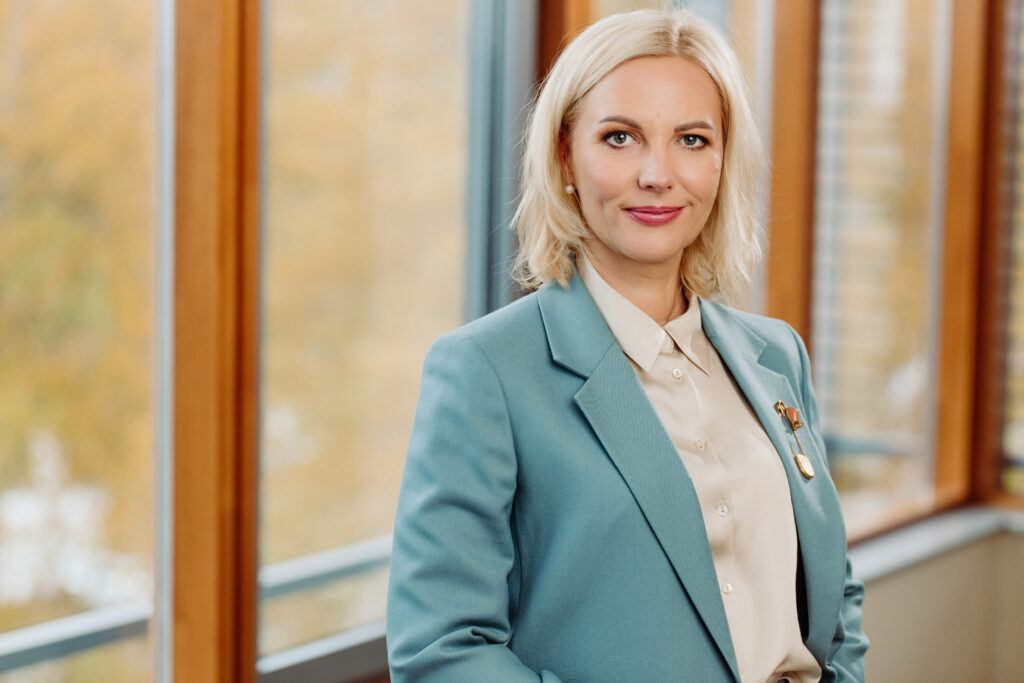 Managing Partner of KPMG Law in Latvia Una Petrauska explains how KPMG Law in Latvia has grown as well as provides insight into how the firm is adapting to the changing business environment.
What do you see as the main points that differentiate KPMG Law in Latvia from your competitors?
In addition to KPMG Law being a classic full-service law firm, we are also a part of BIG4 law firms. We are considered alternative legal services provider, often associated with NewLaw concept. We differentiate with combined services (e.g. Tax, Deal advisory, IPO, Digitalization) and geographical coverage (more than 80 jurisdictions). Our competent and experienced team provides legal solutions integrated with other expert services of KPMG. In cooperation with KPMG global network, we are used to work side by side with lawyers from various jurisdictions providing legal services not only in M&A, classic regulatory and compliance areas but also offering legal assistance in cybersecurity, digitalization, ESG, data privacy, financial and fintech sector, dispute resolution, and other matters involving transformation and changes. KPMG Law is experienced in dealing with complex, cross-jurisdictional business and dispute issues, so we know the value of acting quickly and decisively.
Which practices do you see growing in the next 12 months? What are the drivers behind that?
The financial sector (covering IPO and Fintech) and compliance area will experience significant growth in the coming year due to the expending regulatory requirements and developments towards digitalization as businesses are changing rapidly. Assessments and complex support will be needed for businesses to develop. KPMG strives to be amongst most modern law firms and the drivers for that are process efficiency, digitalization, new approaches and requirements. Despite mentioned, we are aware and prepared that turbulent times may shake up businesses therefore we are keeping the pulse and polishing our knowledge in investment protection, dispute resolution, legal restructuring matters.
What's the main change you've made in the firm that will benefit clients?
We are on our digitalization journey, looking for and implementing solutions to make our services competitive and more easily accessible for our clients in this changing and digitally driven environment. We are growing rapidly by involving industry experts in dispute resolution, IPO, FinTech, Intellectual Property Rights offering even deeper expertise, greater volume and speed. In the last year we have significantly increased our team by 40%. The DNS of our team members is to look at any topic from various angles and to seek solutions based on multi-service knowledge.
Is technology changing the way you interact with your clients, and the services you can provide them?
As previously stated we are currently on our digitalization journey. Our goal is to be a paperless office and we are very proud that we have already decreased our paper consumption by more than 90%. The implementation of technology is essential, it makes our services more accurate and effective. Of course, digital solutions also raise data issues, so we approach this matter with caution. The processing of the Latvian language is also a challenge in the implementation of digital solutions. However, we have successfully launched Whistle Blower tool as well as digital training on data privacy that clients can use at their convenience. It is also worth mentioning that our digitalization efforts make sense given that e-case was introduced in Latvian courts (all litigation documents are submitted and reviewed online).
Can you give us a practical example of how you have helped a client to add value to their business?
This is best described by our clients. As our clients have said – "KPMG team consists of experienced legal professionals with business-oriented mindset and ability to understand client needs. The team is ready to innovate and adjust the service offering to new types of business models which for us as client was a valuable experience."
We strive at our day-to-day tasks to justify our client's expectations therefore we devote a great deal of time in building team that consists of experienced legal professionals with business-oriented mindset and ability to understand client needs. The proof of this is our long-standing relationship with many of our clients and the acquisition of new clients thanks to word-of-mouth feedback.
As one of examples is management buy-out of APE Motors. KPMG Law together with KPMG Advisory team supported APE Motors in the acquisition of shares from the majority shareholder (Management Buy-Out – MBO), and the acquisition of a subsidiary in Estonia. Not only did KPMG Latvia structure of the deal and coordinate the deal value and the offer between the parties but also both attracted funds and coordinated the process of attracting funds. KPMG Law contributed to the deal by providing a full range of legal services and establishing a holding company in the form of a special purpose vehicle (SPV).
We can be part of the most complex multitasking projects as we work in synergy with KPMG Advisory, financial and tax experts covering all areas.
Are clients looking for stability and strategic direction from their law firms – where do you see the firm in three years' time?
We look forward to provide complex and solution based advice which adds value to the clients' businesses and support their growth. Services involving technical knowledge beside the legal expertise will grow due to the transformations and digitalization services. Automated tools will be involved to ensure routine legal assistance, and expert team will assist the clients with sophisticated solution advice.
We apply our values throughout our work. For example, integrity – we do what is right – and excellence – we never stop learning and improving. Our goal is to establish long-term relationships with our clients. We are successful at that and one example is Klasmann-Deilmann global leading growing media group – a company that came to Latvia in 2012, and since then we have been their legal advisor. We are developing as a trusted advisor.
We are constantly improving our knowledge as required by the market. Our goal is to stabilize our level of expertise on the one hand, and to provide input for legal growth on the other. The legal field is dynamic and combined knowledge is essential. We focus our knowledge on solutions; therefore, we see ourselves as a firm that offers added value. We have niche knowledge to find the most accurate solution for every need such as telemedicine, PPP and other areas.