Esche Schümann Commichau > Hamburg, Germany > Firm Profile
Esche Schümann Commichau
Offices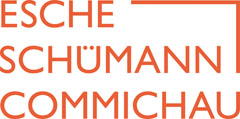 Esche Schümann Commichau
AM SANDTORKAI 44
20457 HAMBURG
Germany
Esche Schümann Commichau >
Firm Profile
The firm: Esche Schümann Commichau's origins as a law firm date back to 1822 and for more than 40 years it has provided legal and tax advice, as well as auditing services. The integrated teams comprise about 140 lawyers, tax advisors and certified accountants and a support staff of around 100.
The firm's services cover all areas of the law pertinent to commercial endeavours, national and international tax law, as well as financial advice, business consulting and accountancy services. Esche Schümann Commichau's clients are primarily mid-size to large companies and groups of companies, entrepeneurs, financial investors and publicly owned entities. The firm also offers legal and tax advice to private clients.
Esche Schümann Commichau advises both foreign investors in Germany and German clients with cross-border business interests. The firm is a member of Lawyers Associated Worldwide (LAW), an association comprising over 100 independent law firms in more than 200 economic centers around the world, and DFK International, an association of independent accounting firms and tax advisors with around 220 member firms in more than 90 countries.
Areas of practice: Esche Schümann Commichau offers comprehensive legal advice as well as legal representation. The firm's main areas of practice are plant construction; labour and employment; bank, stock exchange and capital market; data privacy; renewable energies and energy efficiency; inheritance and family law, asset structuring; corporate law, transactions; intellectual property rights; commercial and sales law; real estate, construction and public tender law; real estate transactions; information technology and new media; insolvency and financial rescue; antitrust law; public commercial; patent law; press and publishing law; litigation and arbitration; tax law; foundations; environmental and energy law; advertising and unfair competition law.
Lawyer Profiles
| Photo | Name | Position | Profile |
| --- | --- | --- | --- |
| | Dr Stephan Bauer, LL.M. | Partner; corporate law, mergers and acquisitions, restructuring, renewable energies | View Profile |
| | Mr Oliver Behn | Partner; Area of expertise: private client, real estate, succession, restitution, art and… | View Profile |
| | Ms Meike Isabel Bever; LL.M. | Associate, Certified Specialist for Inheritance Law; inheritance law; foundation law | View Profile |
| | Dr Frank Bongers | Associate; labour and employment law, data protection | View Profile |
| | Ms Lara Bos | Associated Partner, Corporate Law | View Profile |
| | Dr Boris Bross | Associated Partner; Corporate Law, Litigation | View Profile |
| | Dr Patrizia Chwalisz | Partner; labour and employment law | View Profile |
| | Dr Christoph Cordes, LL.M. | Partner; patent law, trademark and unfair competition law, drug advertising law, copyright… | View Profile |
| | Dr Andreas von Criegern | Partner; Area of expertise: construction and engineering, commercial law, real estate, dispute… | View Profile |
| | Mr Jörg Danger | Associate; Area of expertise: Commercial and Sales Law; Corporate Law; Real Estate;… | View Profile |
| | Mr Bastian Deller | Associate; Area of expertise: Corporate and Group Tax Law | View Profile |
| | Dr Martin Dieckmann, LL.M. | Partner; Area of expertise: environmental, construction and energy law, public procurement law,… | View Profile |
| | Dr Philipp Engelhoven | Partner; Area of expertise: German and European antitrust law, distribution law, construction… | View Profile |
| | Dr Sebastian Garbe | Partner; Area of expertise: commercial and corporate law, mergers and acquisitions, corporate… | View Profile |
| | Mr Stefan Gatz | Associated Partner; Area of expertise: labour and employment law | View Profile |
| | Ms Greta Groffy | Associate, Certified Specialist for Employment Law; Area of expertise: labour and employment… | View Profile |
| | Ms Saskia Hahn | Associate; Area of expertise: General Contract Law, Real Estate | View Profile |
| | Mr Marc Heinrich | Associated Partner; Area of expertise: reorganisation, insolvency law, insolvency administration | View Profile |
| | Dr Karsten Heudtlaß | Associate; Area of expertise: Board of Directors and Managing Director, Liability, D&O… | View Profile |
| | Dr Hans Jürgen Hilling | Partner; Area of expertise: corporate law, corporate litigation, directors' and officers' liability,… | View Profile |
| | Ms Eva Homborg | Associated Partner; Area of expertise: corporate law, corporate litigation | View Profile |
| | Dr Christian Hoppe | Partner, Certified Specialist for Employment Law; Area of expertise: labour and employment… | View Profile |
| | Mr Christian Hornburg | Associated Partner; Area of expertise: Trusts and Estates, Large Family Assets, Tax… | View Profile |
| | Dr Jan Boris Ingerowski, LL.M. | Partner; Areas of expertise: Construction Law, Procurement Law, Environmental and Energy Law,… | View Profile |
| | Dr Klaus Kamlah, LL.M. | Partner; Area of expertise: corporate law, mergers and acquisitions, initial public offerings,… | View Profile |
| | Ms Caroline Kaufhold | Associate; corporate law, mergers and acquisitions, capital market law | View Profile |
| | Mr Tom Kemcke | Partner; Area of expertise: tax law and tax advice, trusts and estates | View Profile |
| | Mr Jan Kind, MBA | Associated Partner, Certified Specialist for Insolvency Law; Area of expertise: reorganisation, insolvency… | View Profile |
| | Mr Jakob Kleefass | Partner; Area of expertise: corporate law, mergers and acquisitions, tax law, successions | View Profile |
| | Mr Vinzenz Koch | Associate; Area of expertise: Antitrust Law, Commercial and Distribution Law, ESG Compliance | View Profile |
| | Ms Katharina Krimm | Associated Partner, Certified Specialist for Employment Law; Area of expertise: Labour and… | View Profile |
| | Dr Robert Kroschewski | Partner; Area of expertise: tax planning, international tax law, structurings for corporations,… | View Profile |
| | Dr Christian Kube | Associate; Area of expertise: German and international Trademark Law, Design Law, Competition… | View Profile |
| | Mr Julian Leucht | Associate; Area of expertise: Contract Law, Intellectual Property Rights, Press Law, Copyright,… | View Profile |
| | Ms Carolin Linusson-Brandt | Associate; Area of expertise: labour and employment law | View Profile |
| | Mr Lukas Marek | Associate; Area of expertise: Employment and labour law | View Profile |
| | Dr Dirk Meinhold-Heerlein | Partner; Area of expertise: intellectual property, antitrust law, mergers and acquisitions | View Profile |
| | Dr Hans Mewes | Partner; Area of expertise: capital market law, banking supervision law, securities trading… | View Profile |
| | Dr Jörn-Henrik Meyn | Partner; Area of expertise: reorganisation, insolvency law, insolvency administration | View Profile |
| | Mr Jürgen E. Milatz | Partner, Attorney at Law, Tax Advisor, Certified Specialist for Tax Law; Areas… | View Profile |
| | Dr Ralf Möller | Partner, Certified Specialist for Intellectual Property Rights; Area of expertise: German and… | View Profile |
| | Mr Matthias Müller | Associate;  Area of expertise: Corporate Law, Corporate Litigation, Directors' and Officers' Liability,… | View Profile |
| | Ms Caren Paulsen | Associate; Area of expertise: Tax Advice | View Profile |
| | Mr Jan-Marcus Rossa | Partner; Area of expertise: labour and employment law | View Profile |
| | Dr Julia Runte, LL.M. | Partner, Attorney at Law, Tax Advisor, Maître en droit; Area of expertise:… | View Profile |
| | Dr Erwin Salamon | Partner, Certified Specialist for Employment Law; Area of expertise: labour and employment… | View Profile |
| | Ms Svenja Sawodny | Associate; Area of expertise: Employment and labour law | View Profile |
| | Mr Thomas Schäffer | Associated Partner; Area of expertise: corporate tax law, tax procedural law, tax… | View Profile |
| | Ms Maleen Scharfschwerdt-Otto | Associate; Area of expertise: German and international Trademark Law, Design Law, Competition… | View Profile |
| | Mr Tobias Schreier | Associate; Area of expertise: Corporate Law, M&A | View Profile |
| | Dr Peter Schunck | Associate; Area of expertise: Real Estate Law, Real Estate Transactions, General Contract… | View Profile |
| | Dr Robert Schütz | Partner; Area of expertise: foundations and non profit organisations, tax advice | View Profile |
| | Dr Oliver Stegmann | Partner; Area of expertise: intellectual property rights (trademark and unfair competition law,… | View Profile |
| | Ms Maren Stradner | Associate; Commercial and Sales Law, Contract Law, Litigation and Arbitration, Plant Construction,… | View Profile |
| | Dr Götz Triebel, LL.M. | Partner; corporate and commercial law, mergers and acquisitions | View Profile |
| | Mr Nils Weber | Associate; Area of expertise: Corporate Tax Law, Asset succession, inheritance tax law,… | View Profile |
| | Ms Hanna Wiedenhaus | Associate; Area of expertise: ESG Compliance, Litigation and Arbitration, Commercial and Distribution… | View Profile |
Staff Figures
Number of lawyers : 64
Languages
Dutch English French German Italian Polish Spanish
Memberships
Lawyers' Associated Worldwide (LAW) DFK International