The Legal 500
Webinars
Early Case Assessment and Investigations: Reducing Cost and Risk (Germany)
24 February 2021, 4.00pm CET
In association with...

← Back to Webinar homepage
Early Case Assessment and Investigations: Reducing Cost and Risk (Germany)
Overview
On behalf of Legal Business magazine (the same publishers as The Legal 500 and GC Powerlist) we would like to invite you to a webinar we are hosting on Wednesday 24 February alongside OpenText™ – the leading global enterprise information management software provider with applications for eDiscovery, investigations, contract analysis and information governance.
The 45-minute panel discussion, followed by a Q&A session, will see an expert panel of in-house and private practice legal leaders discuss the challenges of early cases assessments and investigations, and explore some of the new approaches and tools available to mitigate both cost and risk. All too often, significant time is spent on finding facts during early case assessment and investigations, only to find they need to settle –potentially unfavourably—after substantial costs have been incurred. With more than 97% of all cases settling prior to trial, early insight into case data has never been more critical to help control costs and manage risk.
–
Im Namen des Legal Business Magazins (Herausgeber von The Legal 500 und GC Powerlist) möchten wir Sie zu einem Webinar einladen, das wir am Mittwoch, dem 24. Februar, zusammen mit OpenText ™ veranstalten – dem weltweit führenden Anbieter von Software für das Management von Unternehmensinformationen mit Anwendungen für eDiscovery und Untersuchungen, Vertragsanalyse und Information Governance.
In der 45-minütigen Podiumsdiskussion, gefolgt von einer Q&A-Runde, wird ein Expertengremium aus Inhouse Juristen und Rechtsanwälten in Kanzleien die Herausforderungen bei Early Case Assessment und Investigations erörtern und einige der verfügbaren neuen Ansätze und Instrumente für Kostensenkung und Risikominderung untersuchen. Allzu oft wird viel Zeit damit verbracht, Fakten während einer frühen Fallbewertung und -untersuchung zu finden, um festzustellen, dass der Fall – möglicherweise ungünstig – beigelegt werden muss, nachdem erhebliche Kosten entstanden sind. Da mehr als 97% aller Fälle vor dem Prozess beigelegt werden, ist ein frühzeitiger Einblick in die Falldaten wichtiger denn je, um Kosten zu kontrollieren und Risiken zu erkennen und steuern.
Speakers

Dr. Marcus Reischl, partner, Gleiss Lutz
Marcus advises domestic and international clients on compliance, and represents firms in court and arbitration proceedings. He specialises in strategic compliance advice as well as setting-up, implementing and developing compliance structures. Marcus regularly assists companies with internal investigations for detecting irregularities, advising on their impact, in particular with regard to judicial and extra-judicial disputes with business partners and the co-operating with authorities.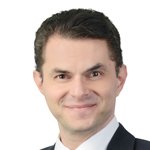 Dr. Dimitri Slobodenjuk, counsel,  Clifford Chance
Dimitri Slobodenjuk joined the Düsseldorf office of Clifford Chance in 2010 and has been Counsel since 2017. He was seconded to a large German retail company. Dimitri focuses on advice under the German Foreign Direct Investment Act. He regularly publishes legal articles in this area. In addition, Dimitri advises a broad range of clients on all areas of European and German merger control and antitrust law. Dimitri co-ordinates multi-jurisdictional merger control filings worldwide and has a deep expertise in advising companies in merger control proceedings before the European Commission and the German Federal Cartel Office. Dimitri also focuses on cartel proceedings, compliance systems, and contractual implementation of antitrust law in distribution agreements.

Christoph Schindelar, senior account executive, OpenText
Christoph Schindelar is a sales professional with 15+ years of experience in sales, with focus on the tech industry. In his current position as a senior account executive at OpenText, a global leader in enterprise information management, he is responsible for business development and sales of legal tech solutions in Austria, Germany, and CEE. His client base consists of top-tier law firms as well as the legal and compliance departments of blue chip companies. In this role, he thrives to create awareness for cutting-edge legal tech solutions that help lawyers to make their job more efficiently.


Martin Ehling, sales director DACH & southern Europe, OpenText
Enrico Reuter, deputy head of compliance marine business, thyssenkrupp

Franziska Fuchs, head of discovery and IT security law, Robert Bosch GmbH
Franziska is an experienced IT lawyer and the head of Bosch's discovery and IT security law department within the central legal department in Stuttgart. She focusses on design and implementation of corporate processes and procedures for all stages of the EDRM – from legal hold to production. She and her team frequently apply data analytics for legal fact finding in context of investigations or litigation and advise on data privacy and data protection law, IT security law and strategic information governance.
---