Event information
Date: Wed 18 Jan 2023 Time: 3.00pm-5.00pm Venue: Sofitel Legend The Grand Amsterdam. Oudezijds Voorburgwal 197, 1012 EX Amsterdam
Like never before, all eyes are on stakeholder impact and sustainability. General Counsel are beset with extending enterprise values across a changing operational footprint while keeping business transformation strategies on track.
This Roundtable will ask General Counsel to swap insights on how they are balancing maintaining key stakeholder relationships, staying on top of new waves of regulation, and supporting business. The roundtable will also share findings from both Lex Mundi's recent global focus group with General Counsel and its latest Report, Enterprise Values vs. Enterprise Value.
Speakers
Helena Samaha, President & CEO, Lex Mundi
Hel
ena Samaha is a multicultural lawyer and business leader with substantial international experience. Helena began in private practice in 1994 and worked as a finance lawyer at Clifford Chance before moving in house at Virgin Group in 1998 where she served as Group Legal Director.
She was invited to join DLA Piper as a TMC partner in 2005. Thereafter, with a global recession looming, Helena joined restructuring and turnaround consultancy AlixPartners as General Counsel-EMEA in 2008, based in Paris. In 2011, Helena moved to the Middle East and joined broadcaster OSN in Dubai as General Counsel and Company Secretary. Back in London since 2015, Helena led the Media and Programming team for Liberty Global before being appointed as Lex Mundi President & CEO in 2019.
Eric Staal, Vice President, Global Markets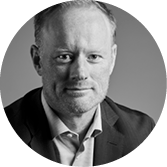 As Vice President of Lex Mundi's Global Markets team, Eric oversees the Lex Mundi Equisphere service model for corporate clients. The Global Markets team consists of professionals around the world, who interface with Lex Mundi member firms and corporate counsel to support legal projects that have cross-border dimensions. Eric also oversees Lex Mundi's 'thought leadership' insights and resources for senior corporate counsel, which help clients to address important legal and regulatory trends through online resources, templates, programs, and best-practices analysis. Eric has led many general counsel roundtable discussions and workshops for senior in-house teams. He has a Master of Arts in Law and Diplomacy (M.A.L.D.) from the Fletcher School in Boston, a Certificate in Executive Management from Oxford Said.
Owen Durnin, Head of Global Markets, Europe
Owen has a strong background in sales and business development within the UK legal services market. Owen has experience of building, developing and managing large legal  resources contracts with market-leading law firms as well as Barristers Chambers, Big 4 consultancies and as a supplier to UK Government. He is part of a global team focused on understanding the evolving needs of busy General Counsel and on building cross border legal teams to meet specific requirements.