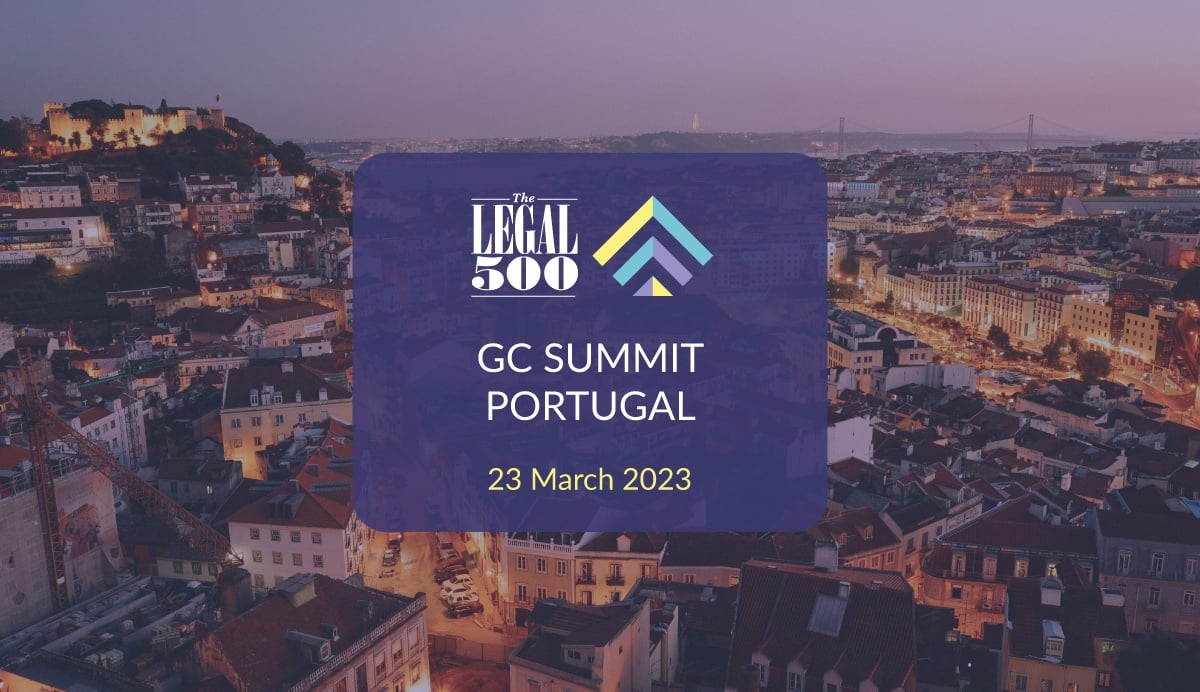 Event information
Date: Thu 23 Mar 2023 Time: 2.00pm-7.30pm Venue: Four Seasons Hotel Ritz Lisbon, Rua Rodrigo da Fonseca, 88, Lisbon, 1099-039
The Legal 500 is delighted to host the GC Summit Portugal on the 23rd of March 2023. An exclusive event designed for Portugal's illustrious in-house community to network, share experiences and learn from a distinguished panel of speakers.
The conference will cover a wide breadth of issues including the changing face of M&A, the evolution of general counsel and the key trends driving the ESG agenda and more. We are pleased to introduce this interesting schedule of panel sessions in association with our event partners Morais Leitão, Abreu Advogados, CMS and VdA.
In addition to hearing from our event partners, this event will also incorporate the unique perspective of in-house counsel on these topics, aimed at presenting attendees with a well-rounded and insightful discussion. This event is not to be missed by in-house counsel in Portugal wishing to develop professionally and meet like-minded peers. Like always, the event will conclude with drinks, food, and an exceptional chance for attendees to grow their portfolio of contacts within the Portuguese legal community.
Agenda
2.00pm – 2.30pm Registration

2.30pm – 3.00pm Welcome address and keynote
Melissa Yebisi, research analyst, The Legal 500
3.00pm – 3.50pm A Critical Look at the Evolution of the Role of General Counsel

3.50pm – 4.40pm Panel discussion 2

4.40pm – 4.55pm Coffee break

4.55pm – 5.45pm The Changing Face of M&A: Recent M&A Activity in Portugal and ESG Concerns

Moderated by João Leitão Figueiredo, partner, technology, media and communication, CMS
5.45pm – 6.35pm Focus On: Data Protection Concerns for Organisations in Portugal

6.35pm – 6.40pm Closing remarks

6.40pm – 7.30pm Drinks and networking
Speakers
Melissa Yebisi, research analyst, The Legal 500 
João Leitão Figueiredo, partner, technology, media and communication, CMS
João Leitão Figueiredo is a Partner at TMC – Technology, Media & Communications team at CMS Portugal. With over 15 years' experience, he is well versed advising a roster of national and international clients in the drafting, negotiation and termination of a wide range of IP/IT agreements (licenses, trademarks, designs, software, outsourcing, distribution agreements, transfers, assignments, etc.), as well as advising on technology, digital transformation and data analytics.
João has been involved in the most significant projects in the Portuguese market, representing large international corporations in cross-border digital transformation and business process development projects as well as IT, business process and industrial outsourcing arrangements. João also advises on cloud computing, audits, data protection & privacy, Internet of Things, E-Commerce & Internet as well as telecommunications regulation. In addition to non-contentious matters, he frequently handles IT disputes in courts of arbitration and public courts. He has also been instrumental in developing the practice of Data Protection in Portugal. His practice covers the full range of commercial activities impacted by Data Protection and IP laws, including the development of companies' strategy, policies and compliance programs. Recently, he has also been very active supporting various clients in the Implementation of the new Anticorruption and Whistleblowers Protection General Regime.