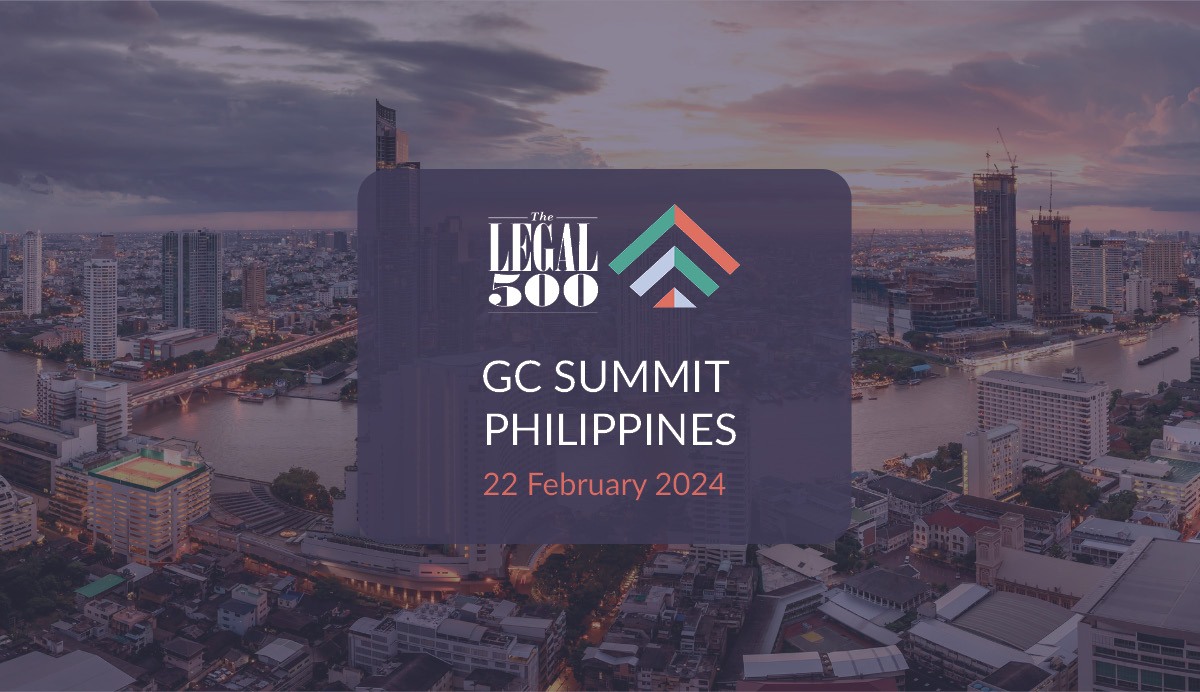 Event information
Date: Thu 22 Feb 2024 Time: 12.00pm - 6.00pm
The role of general counsel and senior in-house legal advisors is constantly evolving to meet the rapidly changing demands of organisations in today's business world. In addition to overseeing the day-to-day legal challenges affecting the business and managing legal staff, in-house lawyers are expected to diversify their service offering in order to overcome a growing list of commercial challenges. Whether it is managing internal investigations, defending their company in cross-border disputes, handling complex data or adapting to the shifting trends in M&A, the required skillset of the profession is developing at an exponential rate.
The Legal 500's GC Summit Philippines 2024 invites the most esteemed in-house counsel from the country's most prolific companies, and leading practitioners to discuss their changing roles as in-house leaders and the challenges, issues and opportunities they are set to face in 2024 and beyond.
Between comprehensive panel discussions, presentations and the opportunity to meet and engage with fellow in-house counsel, GC Summit Philippines promises to be a practical, forward-looking event bringing together the region's top legal minds.
Agenda
12.00-1.00pm Light Lunch & Registration
1.00pm-1.10pm Opening Remarks
Legal 500 GC Powerlist editor Joe Boswell will introduce the day's festivities before handing over to our keynote speaker, who will speak about some of the challenges and opportunities facing in-house counsel in the Philippines, to set the tone for the Summit.
1.10pm-2.00pm Panel 1
2.00pm–2.20pm Presentation
2.20pm-3.10pm Panel 2
3.10pm-3.25pm Coffee Break
3.25pm-4.25pm Ignite Session – The Legal 500 Lightning Talks
Three presentations on key hot topics facing in-house counsel in the Philippines
5.15pm-5.45pm Fireside Chat
5.45pm-5.50pm Closing remarks
5.50pm-7.00pm Drinks and Canapés and event concludes
In association with...
Romulo Mabanta Buenaventura Sayoc & de los Angeles ("Romulo") is one of the largest and oldest firms in the Philippines. It maintains a constant presence in international transactions and is consistently endorsed by local and international market sources as a "leading law firm" in the Philippines.
The firm offers expertise across the whole gamut of corporate issues, including strategic alliances, investments and international joint ventures. Romulo frequently handles regulatory and compliance advisory work and is well equipped to act on cross-border transactions. Romulo is composed of 93 lawyers, all of whom speak English fluently and the majority of whom have received training and graduate degrees from international universities.
Gorriceta Africa Cauton & Saavedra ("Gorriceta") is a top-tier full service law firm in the Philippines. Gorriceta is internationally ranked, recognized and multi-awarded for its excellence, innovative approach, and outstanding client service.
Our core practice areas are Capital Markets, Mergers & Acquisitions, Technology Media & Telecommunications, Corporate and Securities Law, Banking and Financial Services, Data Privacy & Cybersecurity, Construction and Real Estate, Transportation Law and Taxation.
Gorriceta prides itself as being the "Youngest Biggest Firm" in the Philippines, with nearly 50 professionals under a total complement of 80 legal and non-legal staff.
The Firm's clients include Fortune 500, S&P 500, and NASDAQ 100 companies, and several of the top 1000 companies in the Philippines.