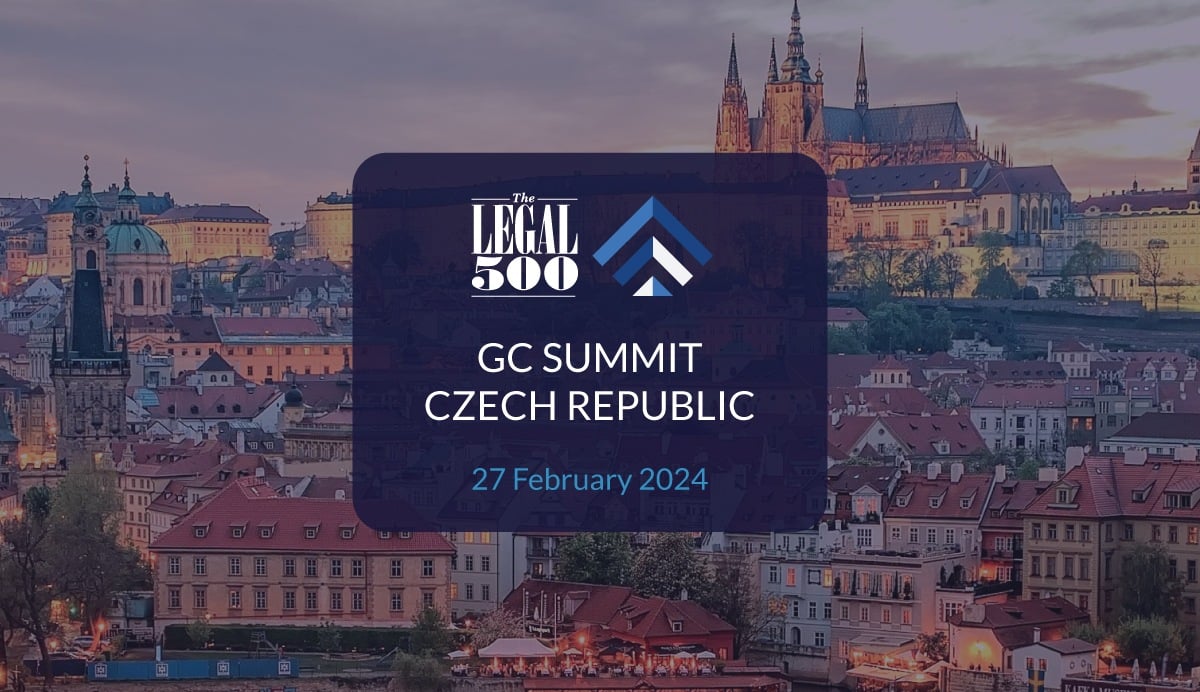 Event information
Date: Tue 27 Feb 2024 Time: 12.30pm-7.00pm Venue: TBC
The Legal 500 is delighted to formally announce the inaugural GC Summit Czech Republic, taking place in Prague in 2024.
GC Summit Czech Republic looks at the Czech Republic on the world stage and how GCs and senior in-house lawyers from around Central & Eastern Europe are coping with the legal and business challenges that domestic and international companies are faced with.
In association with our partners for this event, PETERKA & PARTNERS, Wolf Theiss, and Taylor Wessing; this conference will include a series of panel sessions covering a variety of cutting edge and up to date topics for discussion.
This includes understanding and overcoming data privacy challenges, managing international disputes, adapting to a new M&A landscape, the rise of legal tech, the growing importance of ESG and how to overcome cross-border challenges within the CEE region.
Drawing on the vast experience of our highly accomplished speakers, this event will provide practical, hands-on advice to all in-house counsel.
It is a must-attend event for any in-house counsel in the Czech Republic and wider Europe, who are aiming to reach the next level of their professional development.
In association with...

PETERKA & PARTNERS is a modern, independent law firm providing comprehensive legal services in the region of Central and Eastern Europe. Since its establishment in the year 2000, the firm has built a strong position on strategic markets with the ability to provide its clients with comprehensive legal and tax advice and become a dynamic alternative to international and local law firms.
With a team of more than 150 lawyers and tax advisors, PETERKA & PARTNERS operates eight fully-owned offices across the CEE region, in the Czech Republic, Slovakia, Poland, Hungary, Romania, Bulgaria, Ukraine and Croatia.

Taylor Wessing is a global law firm that serves the world's most innovative people and businesses. Deeply embedded within our sectors, we work closely together with our clients to crack complex problems, enabling ideas and aspirations to thrive.
Together we challenge expectation and create extraordinary results. Our 29 offices around the world are not token presences – they blend the best of local business, industry and cultural knowledge with international experience to provide astutely commercial solutions for our clients.

Wolf Theiss opened its first office in Vienna in 1957 and soon established a reputation as one of the region's leading law firms. The firm has since grown into a multinational team of approximately 360 lawyers, making it one of the largest integrated law firms in the region. It has offices* in Albania, Austria, Bosnia and Herzegovina, Bulgaria, Croatia, Czech Republic, Hungary, Poland, Romania, Serbia, Slovak Republic, Slovenia and Ukraine.
The Wolf Theiss Prague office opened in 1998 and is now viewed as one of the key international law offices in the Czech Republic. The team advises a mix of international, regional and local clients on a broad range of areas. In addition to providing client-focused and industry-driven advice in all core areas of commercial law, our expertise ranges from competition to compliance and white-collar crime matters, to IP & IT and pharmaceutical law. Wolf Theiss Prague serves as the firm's Corporate Investigations hub and has unique expertise in dispute resolution.