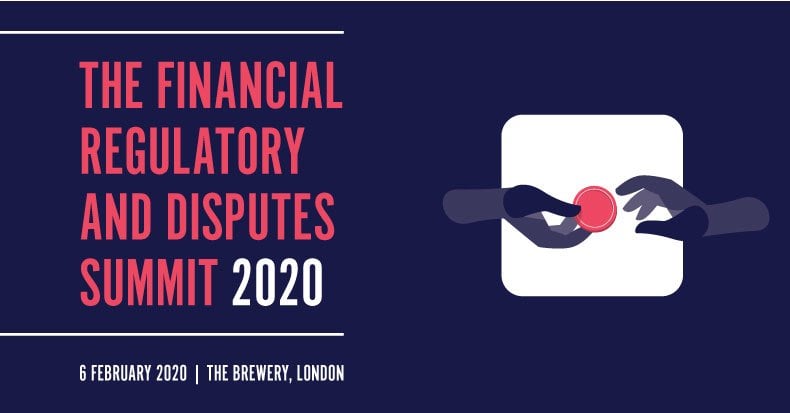 Event information
Start Date: Thu 6 Feb 2020
Timings: 8.30am
At a glance
Legal Business's Financial Regulatory and Disputes Summit returns for its second year, building on our growing portfolio of contentious practice events. This day-long discussion and networking event brings together leading dispute specialists from private practice, the judiciary, regulators and in-house legal departments at financial services companies.
Supported by our distinguished law firm and chambers sponsors, including headline partner White & Case, the summit will gather more than 100 senior speakers and guests for a best-in-class event from Legalease, one of the world's top legal publishers.
Agenda
Financial Regulatory and Disputes Summit 2020
8.15am
Registration and breakfast
9.00am
Welcome and opening remarks
9.10am
Culture and root causes: Lessons from the last decade
As market watchdogs increasingly focus on institutional culture as a driver in ethical breaches in financial services, we discuss the root causes behind the failures that have triggered a wave of investigations around the world since the banking crisis. The debate will also examine the interconnecting role of complex regulation, business models and staff incentives and assess the effectiveness of steps to address cultural problems and the role of internal investigations.Piers Reynolds, Freshfields Bruckhaus Deringer (moderator)
Tim Parkes, The Regulatory Decisions Committee
Emma Slatter, Visa
Arwen Handley, Hogan Lovells
Edward Bridge, Zurich Insurance
10.00am
2020 Vision – Charting the financial disputes shaping the year and beyond
Our panel of finance litigators will discuss key themes arising in high profile cases currently before the English Courts involving financial institutions.  Topics for discussion will include: ongoing competition law cases such as FX and LIBOR, high value financial disputes involving intermediaries and allegedly suspicious payments, plus potential future trends such as disputes arising from climate change, regulatory action and IBOR transition.Matthew Waudby, Norton Rose Fulbright (moderator)
Helen Dodds, Standard Chartered Bank
Chris Easdon, Barclays
Sonia Tolaney QC, One Essex Court
10.50am
Coffee break
11.10am
RBS rights issue and Lloyd's bank litigation – Studies in group action
Even in a period in which claims against banks have become commonplace, the prolonged shareholder claim for the controversial 2008 acquisition of the HBOS stands out. With the dispute in November finally resolving in the favour of bank, we assess the case's impact and lessons.Philip Marshall QC, Serle Court (moderator)
Simon Hattan, Serle Court
Jennifer Morrissey, Harcus Parker
Leeor Cohen, Burford Capital
12.00pm
Clean as a whistle? Cracking AML rules for capital markets
With the FCA reviewing the anti-money laundering regime for capital markets, concerns have been raised that major financial institutions are struggling to respond with effective AML rules. We assess the fault-lines and gauge practical responses such as robust reporting of suspicious activities and clear accountability on compliance and ask if technology can help bolster safeguards to financial crime.Chris Brennan, White & Case (moderator)
Jonah Anderson, White & Case
Jamilia Parry, FTI Consulting
Joe Smith, Barclays
John Flynn, Deutsche Bank
12.50pm
Taking the bank – The rise of fraud claims against financiers
Recent years have seen a spate of litigation in which claimants allege fraud against major banking groups. But why are fraud claims against banks becoming more common and what can banks do to defend themselves? Our panel assesses the rising role of economic crime in banking disputes and asks where the trends are leading.Ben Strong QC, One Essex Court (moderator)
Andrew Mitchell QC, Fountain Court
Edward Allen, Enyo
Andrew Fox, Sidley Austin
1.35pm
Lunch
2.30pm
Culture change – A watchdog's perspective
Financial Conduct Authority veteran David Blunt talks to Tracey Dovaston of Boies Schiller Flexner about the regulator's attitude to culture, governance and cleaning up the City.
3.00pm
A question of class – Banks braced as group claims reshape securities disputes
With the reverberations of the marathon RBS group litigation still being felt in the City disputes community, and external funders increasingly ready to back group claims, class action litigation is expected to present a bigger challenge to the finance industry in the years ahead. How should institutions respond to a very different style of litigation? And what are the longer-term implications of the Mastercard litigation?Natasha Harrison, Boies Schiller Flexner (moderator)
Andrew Jones, Vannin Capital
Anna Boase QC, One Essex Court
Greg Leonard, Cornerstone Research
Fiona Huntriss, Boies Schilller Flexner
3.50pm
Coffee break
4.10pm
Hunting a cloud – Watchdogs close in on culture
This panel considers the increased focus by regulators on culture, how organisations are responding and how they are measuring success. Panellists will discuss how culture impacts compliance, litigation and enforcement risk and how, in the post #MeToo era, finance houses are paying more attention to non-financial misconduct.Tracey Dovaston, Boies Schiller Flexner (moderator)
Matthew Brown, Barclays
Christopher Singh, Revolut
Ellie Renshaw, BNY Mellon
Laura Durrant, investigations and dispute expert
5.00pm
Closing Remarks
Steering committee
Senior advisers on our core advisory group to refine our programme and speak at the event include:
John Reynolds, White & Case
Ben Strong QC, One Essex Court
Natasha Harrison, Boies Schiller Flexner
Piers Reynolds, Freshfields Bruckhaus Deringer
Daisy Levay, Nomura
Philip Marshall QC, Serle Court
Matthew Waudby, Norton Rose Fulbright
Tracey Dovaston, Boies Schiller Flexner
Chris Brennan, White & Case
Speakers include: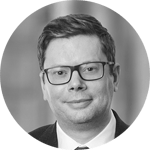 Jonah Anderson
Partner, White & Case
Jonah Anderson is a partner in the white collar team in London at White & Case. He advises on sensitive financial crime issues and helps clients navigate the criminal and regulatory landscape, with a focus on bribery and corruption, fraud, tax evasion and anti-money laundering law and regulation. He advises corporates and individuals on financial crime investigations and prosecutions by the UK authorities, including the Serious Fraud Office, HM Revenue & Customs, the National Crime Agency, the Financial Conduct Authority and the police.
---
David Blunt
Head of conduct specialists, FCA
David is head of the conduct specialists department in supervision at the FCA. David is responsible for the extension of the senior managers and certification regimes to all FCA authorised firms. This is one of the FCA's workstreams delivering on its priority of governance and culture at firms, for which David is the accountable executive. As well as having responsibility for SM&CR and the FCA's culture and governance priority, David also oversees the FCA's specialists on financial promotions and consumer contracts issues, as well as specialists in remuneration at firms and the FCA's use of its powers under s166 FSMA ('skilled persons').
David has been at the FCA/FSA since 2000 where his roles have included heading the investment banks department in supervision division and a variety of roles in the markets and enforcement divisions.
Prior to joining the FSA, David worked at the London Stock Exchange in its listing division.
David trained as a solicitor and worked at Lovells (now Hogan Lovells) from 1992-1998 where he specialised in commercial litigation involving banks and other financial services firms.
---
Anna Boase QC
Barrister, One Essex Court
Anna Boase QC has acted for a number of leading global banks and financial institutions, including Commerzbank, Citigroup, Lloyds, Goldman Sachs and JP Morgan. She has particular experience of large scale and group litigation, including in the financial services context. Anna also receives instructions from the Financial Conduct Authority. She practices as counsel (in litigation and arbitration) and as an arbitrator.
---
Chris Brennan
Partner, White & Case
Chris Brennan is a partner in the global commercial litigation practice at White & Case. Chris joined the firm in 2018, having previously led the regulatory investigations and enforcement practice at another leading law firm.
In recent years, he has advised on a number of the most significant regulatory cases in both the retail and wholesale markets. He has represented many of the leading financial institutions in relation to regulatory enquiries, investigations and enforcement action. He has also acted for individuals in relation to regulatory and criminal investigations or prosecutions. He also has experience advising public companies on market disclosure investigations.
---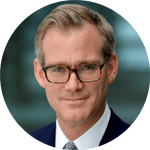 Ed Bridge
General counsel, Zurich UK
Ed Bridge is the general counsel of Zurich UK, overseeing a legal and company secretarial team that supports Zurich's general and life insurance businesses. Ed also leads the public affairs and media teams at Zurich UK.
Ed sits on Zurich UK's executive committee and attends the UK company boards.
Before joining Zurich in December 2017, Ed was legal director for Prudential Plc's UK Life business and had responsibility for regulatory and litigation matters.
Previously Ed was in private practice at Shearman & Sterling and Covington & Burling.
---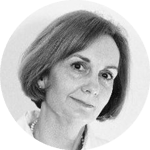 Helen Dodds
Global head of legal, dispute resolution at Standard Chartered Bank
Helen Dodds is the global head of legal, dispute resolution at Standard Chartered Bank, a member of the legal management team and sits on the legal and company secretary risk committee.
Helen set up SCB's dispute resolution team in 2005. The team now has hubs in London, Dubai, Mumbai, Hong Kong and Singapore and is responsible for overseeing and managing SCB's major disputes, orders and injunctions, reporting and training on dispute management.
Helen has a degree in modern history from Oxford University, is a Solicitor of the Supreme Court of England and Wales and is an accredited CEDR mediator.
---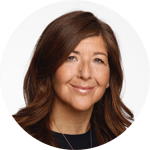 Tracey Dovaston
Partner, Boies Schiller Flexner
Tracey Dovaston is a partner at Boies Schiller Flexner. She joined the firm in January 2020, having previously been head of litigation, investigations and enforcement, UK and EME for Barclays. Tracey has extensive experience acting on behalf of financial services and corporate clients in global regulatory investigations, advising both firms and individuals under investigation by the Financial Conduct Authority, the Prudential Regulation Authority and other global regulators and prosecutors. She has managed all manner of investigations, including allegations relating to issues arising out of the 2008 financial crisis, financial crime (in particular anti money-laundering, transaction monitoring and bribery), market abuse, cyber-security and data loss/theft, tax-related and whistle-blowing investigations. Through this experience, Tracey is adept at advising financial institutions and large corporates in all areas of crisis management. Tracey has also led and successfully concluded significant value and high profile litigation disputes through dismissals, mediation, settlement and through trial.
---
Chris Easdon
Head of litigation, EME, Barclays
Chris is a director and co-Head of Barclays' litigation, investigations and enforcement team for the EME region. Chris joined Barclays in 2010 and has worked on a wide range of litigation and investigations matters spanning all of the Bank's main business areas, including the retail, corporate, wealth and investment banking businesses across EME. His portfolio has included many of the major issues to hit the financial services industry in the aftermath of the global financial crisis, including handling notable issues such as the bank's swaps litigation portfolio, litigation arising from the benchmark rate and FX market manipulation investigations, and disputes connected to the Madoff fraud and the AHAB/Al Sanea litigation.
---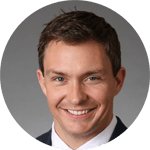 Andrew Fox
Partner, Sidley Austin
Andrew Fox's practice focuses on commercial litigation and international arbitration.
His litigation experience covers a broad spectrum of high-value and business-critical corporate and commercial disputes before the High Court in England and in the courts of many other overseas jurisdictions, principally in the Caribbean. Andrew has particular experience of litigation arising out of, and acting for, major insolvent estates (Lehman Brothers; Kaupthing Bank) and in recent years has acted in many leading cases considering and construing the terms of complex financial derivative products under terms such as the ISDA Master Agreement and other market forms. He also has considerable experience of litigation in the oil and gas and energy sectors, as well as conducting ADR processes arising out of those industries.
Andrew's arbitration experience includes acting for clients before tribunals constituted under ICC, LCIA, industry body and ad-hoc rules, and he has conducted such proceedings on behalf of clients as an advocate. He has also advised clients in respect of proceedings under HKIAC and SIAC rules and the rules of the Stockholm Chamber of Commerce. As part of a small team of Sidley arbitration lawyers, Andrew has also provided assistance on a leading pro bono engagement with the US Agency for International Development/Mongolia Business Plus Initiative, advising the Mongolian Ministry of Justice in their development of a new arbitration statute.
---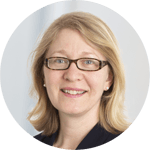 Arwen Handley
Partner, Hogan Lovells
Arwen Handley advises banks and other financial institutions on regulatory enforcement matters, internal investigations, and litigation, with a particular focus on complex, cross-border matters. Her experience of working in-house for over 17 years at UBS, Bank of America and Morgan Stanley gives her a deep understanding of clients' requirements in these areas.
---
Natasha Harrison
Managing partner, Boies Schiller
Natasha Harrison is managing partner of Boies Schiller Flexner's London office. The firm focuses on complex litigation, arbitration and investigations. Acting on behalf of funds, investment banks, corporations and governments, Natasha's practice focuses on high‐stakes international litigation and arbitration. She has extensive experience in all types of finance and business disputes and has litigated many of the most important creditor disputes of the last decade.
---
Simon Hattan
Serle Court
Simon has a broad general commercial and chancery practice, with particular experience of litigation involving civil fraud and breach of fiduciary duty, banking and finance disputes, regulatory and disciplinary proceedings (in particular those related to financial services) and trusts litigation. He is regularly instructed in significant cases in these areas and is comfortable either as sole counsel or as part of a team He was part of the team acting for the Defendants in the RBS Rights issue litigation in the Chancery Division.
Simon has been recommended for a number of years in Chambers UK as a leading junior in the fields of banking and finance, commercial dispute resolution, civil fraud, commercial chancery and financial services and in The Legal 500 for banking and finance, commercial litigation, civil fraud and financial services regulation. He is ranked in the top tier for banking and finance by both Chambers UK and The Legal 500.
---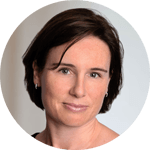 Louise Hutton
Essex Court Chambers
Louise's practice covers commercial and commercial/chancery litigation and arbitration, including banking and finance litigation, fraud, insolvency/restructuring and company law. She has been recommended for many years as a Band 1 leading junior in the fields of commercial chancery and in civil fraud by Chambers UK and is currently described as an 'exceptionally well-respected junior who has made commercial chancery the focus of her practice… She is increasingly instructed in extremely high-value commercial and financial disputes, acting for banks, creditors and trustees' and as being 'Sought after for her advice and advocacy in major pieces of fraud litigation incorporating the full spectrum of allegations. Many of her cases are banking-related'. She is also recommended in Chambers Global as a leading junior (Band 1) in Commercial Chancery, and by The Legal 500 for banking and finance and for civil fraud, and was named in The Lawyer's Hot 100 2019.
---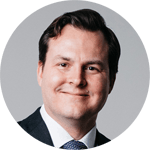 Andrew Jones
Managing director, Vannin Capital
Andrew works with law firms and claimants on how third-party funding can be pursued and utilised across a broad range of high-value commercial litigation disputes. Based in London, his role focuses on identifying and providing a full appraisal of disputes that Vannin will consider for funding, as well as monitoring disputes that Vannin has committed to fund. Before joining Vannin in July 2017, Andrew was a managing associate in the dispute resolution practice at Linklaters in London. Prior to that, he spent more than ten years practising in the dispute resolution department at Freshfields Bruckhaus Deringer LLP, including a secondment to the litigation group at Barclays Bank plc. Andrew is a solicitor of the Courts of England and Wales.
---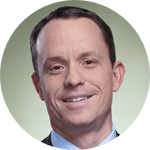 Greg Leonard
Vice president, Cornerstone Research
Greg Leonard heads Cornerstone Research's European finance practice. Dr Leonard has nearly two decades of experience consulting for clients in complex litigation and regulatory proceedings. On behalf of clients, he has led regulatory investigations on both sides of the Atlantic, managing teams and simultaneously supporting experts across multiple related matters. Dr Leonard has substantial experience directing analyses of large and complex high-frequency financial data sets, from both private entities and trading exchanges.
---
Philip Marshall QC
Serle Court
'One of the Bar's most successful silks', Philip Marshall QC is a senior commercial and chancery silk who specialises in complex commercial disputes and commercial fraud, particularly international fraud. He continues to be involved in a number of high-profile matters and is 'selected for very sophisticated cases'. In 2009 he was authorised to sit as Deputy High Court Judge (Chancery and Queen's Bench Division) and regularly acts and advises in several overseas jurisdictions including the British Virgin Islands, Bermuda and Hong Kong. He is called to the Bar of the British Virgin Islands. Philip is classified in Chambers & Partners as one of 'the Stars at the Bar' and is recommended in eight different practice areas. He is a legal commentator for the BBC, ITV and Sky News and was The Times 'Lawyer of the week' for work on a major fraud case. Significant cases include Emmerson International v Renova Industries; Raj Al Khamah Investment Authority v Bestfort & ors; Orb v Ruhan & ors; Mazey Properties v Harris; Constantin Medien v Ecclestone; Aeroflot v Berezovsky; and JSC BTA Bank v Ablyazov. Philip has acted for claimants in a number of group clams including the RBS Rights Issue litigation and in respect of the Tesco accounting scandal.
---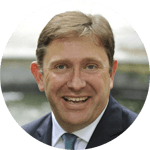 Andrew Mitchell QC
Fountain Court Chambers
Andrew Mitchell QC is an experienced commercial silk with a speciality in investment and retail banking, regularly listed in the top tier. He was instructed in most of the major banking disputes of the last decade, including the Swaps and LIBOR litigation, in which he appeared in many of the leading cases including in the Court of Appeal. He also has significant experience of financial services regulation, group actions and consumer redress schemes.
---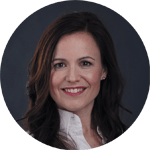 Jennifer Morrissey
Partner, Harcus Parker
Jennifer has a particular focus on financial services litigation and large shareholder actions. She represents private and corporate clients including a number of international and domestic investment funds, investment banks, private trust companies and high-net worth individuals.
She was a key member of the team running the Lloyds-HBOS litigation, a claim pursued by a group of 6,000 former shareholders in Lloyds TSB against the directors of Lloyds Bank and Lloyds Banking Group for breaches of duty in relation to Lloyds TSB's acquisition of HBOS in 2009. She also represents litigation funders on the enforcement of litigation funding agreements. Her practice combines High Court litigation and arbitration. Jennifer has spoken at international conferences on class actions and group claims and has written in the legal press on litigation funding and costs issues.
---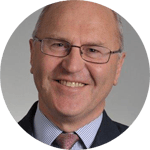 Tim Parkes
Chair, regulatory decisions committee, FCA
Tim became chair of the FCA's regulatory decisions committee (RDC) in January 2016. The RDC is the FCA's decision-maker with respect to contested cases. These include contested enforcement cases, contested applications for FCA authorisation and cases where the FCA proposes to use its early intervention powers to remove or impose requirements on permissions held by authorised firms.
Before joining the RDC he was a partner at global law firm Herbert Smith Freehills LLP for nearly 30 years.
As a commercial disputes solicitor in the areas of litigation, arbitration and alternative dispute resolution, he practised in both London and Hong Kong dealing with complex, high-value disputes, many of which arose out of the global financial crisis, often involving regulatory considerations. He was the firm's executive partner, Asia managing partner and latterly head of commercial litigation in London. He was also a member of the firm's governing council for many years.
---
Jamilia Parry
Senior managing director and head of digital risk and compliance, FTI
Jamilia Parry is senior managing director and the head of digital risk and compliance at FTI. She is a senior regulation professional with significant experience in dealing with the EMEA, UK and US regulators. She has led numerous AML, sanctions, markets misconduct and governance investigations, enterprise wide risk assessments and threat analyses, including delivering regulatory transformation programmes to fix the root causes of the identified issues.
---
Ellie Renshaw
Head of the UK office of regulatory relations, BNY Mellon
Ellie is the head of the UK office of regulatory relations. The office of regulatory relations provides centralised management of BNY Mellon's relationship with global regulators.
Ellie joined BNY Mellon in October 2019. Prior to joining, she worked at Barclays for eight and a half years initially in a policy, governance and reporting role; she moved into relationship management (including FOS, BBA – now UKF, CMC strategy and engagement) then moving to the regulatory relations function in April 2016. During this time Ellie was a key interface between Barclays and the primary regulators (FCA and PRA) for a number of group functions and Barclays Bank UK, the new legal entity created as a result of structural reform.
Ellie has worked in financial services for over 20 years, with a short period at a government education quango – The National College for Teaching and Leadership. The disciplines have been varied spanning brand and marketing, operations and technology, complaints and customer experience.
---
John Reynolds
Partner, White & Case
John Reynolds is a well-known and formidable dispute resolution lawyer whose international practice has a particular focus on banking, finance and investment disputes. John is also global co-head of the firm's financial institutions group.
John represents investment banks and other financial institutions in a broad range of disputes, and in regulatory enforcement and investigation processes, commonly spanning several jurisdictions. His workload related to the global financial crisis began with the landmark litigation arising from the nationalisation of Northern Rock.
---
Piers Reynolds
Partner, Freshfields Bruckhaus Deringer
Piers is a partner in Freshfields' Financial Institutions Disputes Group. He acts for banks, insurers, and other financial institutions in litigation, regulatory matters, and investigations including in the retail, wealth, and wholesale sectors. Many of Piers' cases are multi-jurisdictional. Piers' recent matters include advising on: one of the largest-ever Dubai FSA investigations; proceedings before the Financial Reporting Council; numerous FCA enforcement and other regulatory proceedings; civil litigation in relation to M&A in the financial services sector; breach of confidentiality; mis-selling; sanctions; tax disputes before the First Tier Tribunal; FOS issues; and derivatives disputes.
---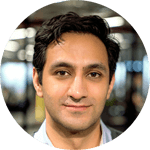 Chris Singh
Head of regulatory compliance, Revolut
Christopher Singh is the head of regulatory compliance at Revolut. Christopher's focus at Revolut is enhancing the existing conduct risk management framework and working closely with the head of risk, MLRO and head of legal to improve the strength of the entire control environment within Revolut.
Christopher joined Revolut from the Financial Conduct Authority where he had been for the last nine years. The majority of this time was spent supervising a large complex international banking group, but he also spent time working in thematic teams and enforcement. Prior to joining the FCA, Christopher worked in the Office of Fair Trading's litigation unit. Christopher has a legal background and has been called to the Bar and admitted to the Roll of Solicitors.
---
Joe Smith
Director, global financial crime counsel, Barclays Bank PLC
Joe Smith is global financial crime counsel at Barclays. Based in London, he leads a team of lawyers who provide specialist counsel to Barclays businesses and functions globally on a wide range of complex anti-money laundering, counter-terrorist financing, sanctions and anti-bribery and corruption investigations and compliance advisory matters.
Joe plays a leading role in the bank's engagement with UK government and law enforcement partners on significant AML policy and legislative initiatives, including the Joint Money Laundering Intelligence Task Force, SARs and economic crime reform, and the Criminal Finances Act. He is chair of the UK Finance Economic Crime Lawyers Group.
Joe trained as a solicitor at Freshfields Bruckhaus Deringer, qualifying in 2005.
---
Ben Strong QC
Barrister, One Essex Court
Ben has a wide ranging commercial practice at One Essex Court. His recent cases have focussed on banking and financial services, as well as civil fraud, professional negligence, international joint venture disputes and jurisdiction challenges. Ben acts for both private and public sector clients, and in court litigation, arbitration and disciplinary hearings.
---
Sonia Tolaney QC
One Essex Court
Described as 'an iron fist in a silk glove', Sonia Tolaney QC is widely regarded as one of the leading commercial silks at the Bar. Sonia has acted in a huge number of the landmark financial disputes of the last decade and is well known for her 'incredibly compelling advocacy', 'lethal cross examination' and 'great tactical sense and litigation ability'. In recent years, she has been named the Commercial Litigation Silk of the Year and Banking Silk of the Year (Chambers UK Bar Awards). She is currently the elected Chair of COMBAR; and sits as a Deputy High Court Judge (Commercial Court).
---
Matthew Waudby
Partner, Norton Rose Fullbright
Matthew Waudby is a specialist in banking disputes and civil fraud. He has a particular focus on derivatives, structured finance and debt capital markets litigation. Matthew is recommended for both banking litigation and civil fraud in The Legal 500 2018 where he is described as 'the most extraordinary person, whose strategic and analytical thinking is impressive and he manages the most stressful situations in a calm and undisturbed manner'.
---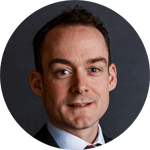 Edward Allen
Partner, Enyo Law
Edward graduated from Oxford University before becoming a solicitor with Dechert. He is currently a partner of Enyo Law.
Edward has acted in a wide range of international and domestic commercial disputes and has particular expertise in civil fraud and complex financial proceedings, often involving banks.
He regularly acts for sovereign states, state institutions, corporations and high-net worth individuals.
Edward has been described in legal directories as a "rising star', "well respected' and 'highly rated'. He is one of The Lawyer's Top 100 for 2020.
---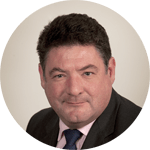 John Flynn
Deutsche Bank
John is currently the regional head of anti-financial crime for UK and Ireland and the money laundering reporting officer. He joined Deutsche Bank in 2014 as the global head of anti-fraud and investigations and subsequently was the AFC lead on a global financial crime remediation project.
Before joining Deutsche Bank he was the head of financial crime prevention and MLRO for BNP Paribas Investment Bank in the UK. He was also responsible for the oversight of four other MLRO's in the UK, covering wealth management, asset management, security services and real estate. The scope of this role covered all aspects of financial crime including anti-bribery and corruption, fraud, sanctions and anti money laundering.
---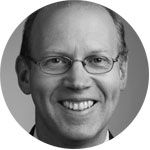 Simon Clarke
Herbert Smith Freehills
Simon Clarke is a partner of Herbert Smith Freehills, based in the London office, specialising in banking and financial services litigation. Simon advises clients on complex civil claims and regulatory issues including contractual disputes, derivatives, structured products, banking confidentiality, investment management and advice, product mis-selling, regulatory investigations, and internal systems and controls. Simon has helped clients in proceedings in Denmark, France, Germany, Greece, Italy, the Netherlands, Singapore, Switzerland and the United States.
Simon is global co-chair of Herbert Smith Freehills's banks sector group. He is an accredited CEDR mediator. He was one of the partners who led a team representing the Royal Bank of Scotland and its former directors in defending actions brought by shareholder and investor groups in connection with RBS's 2008 rights issue.
---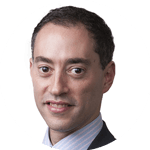 Dr Adam Sanitt
Norton Rose Fulbright
Dr Adam Sanitt is head of disputes knowledge, innovation and business support for Norton Rose Fulbright.
He specialises in banking and finance disputes, with a particular focus on structured finance and complex cross-border litigation. He edits the Banking and finance disputes review and writes for that and other publications. Adam is also a member of the firm's FinTech practice, working on blockchain and artificial intelligence solutions.
---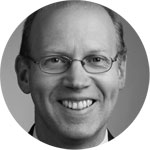 Simon Clarke
Herbert Smith Freehills
Simon Clarke is a partner of Herbert Smith Freehills, based in the London office, specialising in banking and financial services litigation. Simon advises clients on complex civil claims and regulatory issues including contractual disputes, derivatives, structured products, banking confidentiality, investment management and advice, product mis-selling, regulatory investigations, and internal systems and controls. Simon has helped clients in proceedings in Denmark, France, Germany, Greece, Italy, the Netherlands, Singapore, Switzerland and the United States.
Simon is global co-chair of Herbert Smith Freehills's banks sector group. He is an accredited CEDR mediator. He was one of the partners who led a team representing the Royal Bank of Scotland and its former directors in defending actions brought by shareholder and investor groups in connection with RBS's 2008 rights issue.