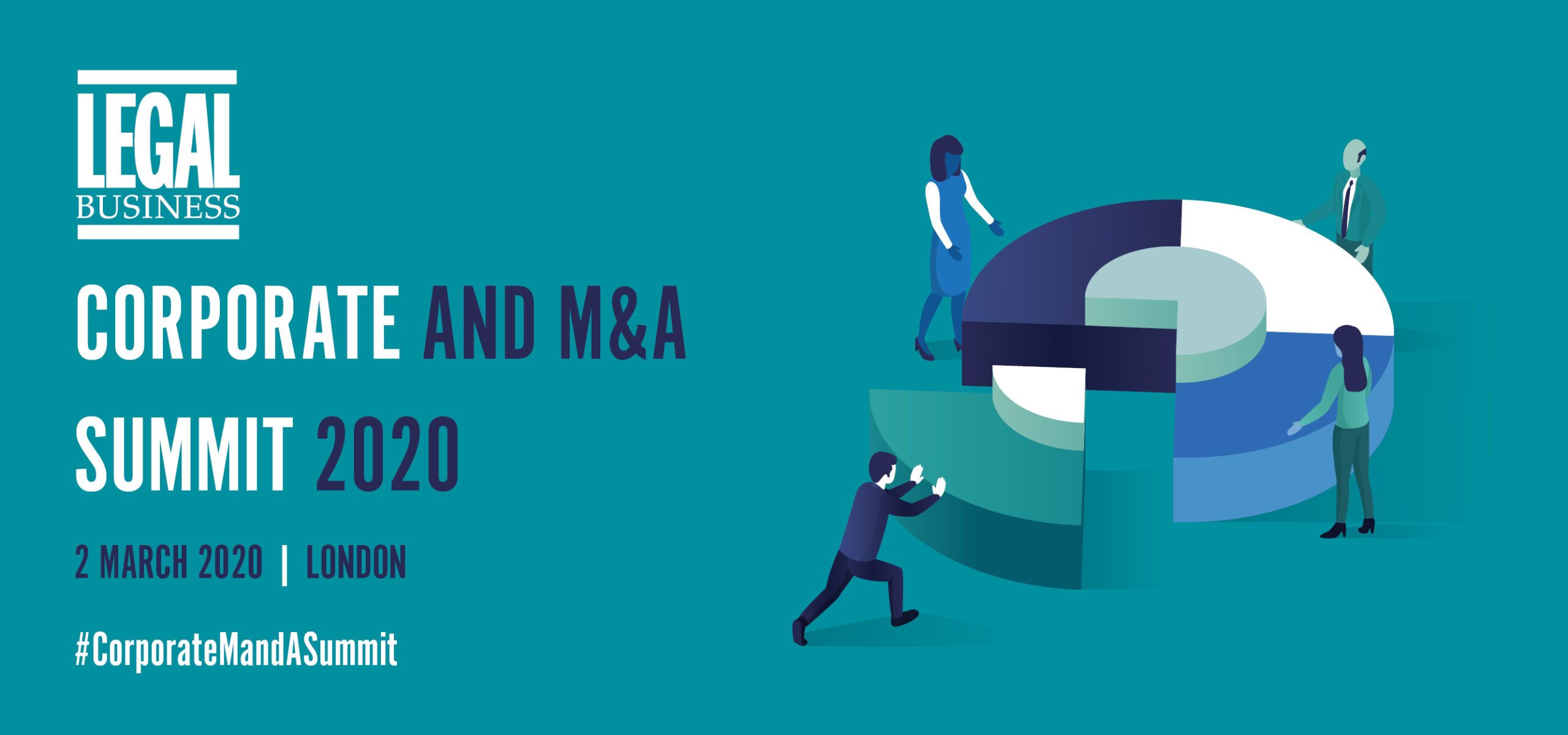 Event information
Start Date: Mon 2 Mar 2020
Timings: 8:30am
Venue: etc.venues St Paul's, 200 Aldersgate, London EC1A 4HD
Overview
The Legal Business Corporate and M&A Summit 2020 is now in its second year and will unite well over 100 in-house counsel, deal professionals, private practice lawyers and bankers focused on M&A and the wider world of corporate transactions.
Last year's event was a huge success, tackling subjects such as the growing impact of antitrust in marquee deals and building a private equity portfolio. The 2020 agenda will be released in the coming weeks.
Agenda
Corporate and M&A Summit 2020
8.30am
Registration and breakfast
9.00am
Opening remarks
9.10am
Postcards from the boardroom – The veterans' perspective

We bring together a group of veterans from in-house and advisory to give unvarnished perspectives on changing dynamics of the boardroom in high-stakes deals, experiences of working with law firms on strategic M&A, and forecasts for how the market will evolve.

10.10am
Starting up – Taking a fintech company to IPO

Lucy Vernall, GC of Funding Circle, shares her experiences of taking the fintech company to IPO in September 2018 with Chris Haynes of Gibson Dunn. Vernall will provide insight into preparing for a listing, the lessons learned in the aftermath and issues faced throughout the process.

11.00am
Coffee Break
11.20am
Dealmakers 3.0 – Welcome to the next generation of M&A professionals

We meet the rising stars of the M&A world, looking at current roster of in-house counsel and young partners at major firms, addressing how they develop, how their approach differs from the old guard and how they are likely to shape the deals of the future.

12.10pm
Tooling up – Gauging the next generation of M&A kit

Next-generation tools are starting to revolutionise the M&A process, bringing concepts like machine learning and advanced automation to document-heavy areas like due diligence. We assess what's on offer, size up the latest trends in M&A support and hone in on best practice for deploying tech on marquee deals.

1.00pm
Lunch
2.00pm
More than money – What boards and dealmakers need to know about ESG

As the decades-long dominance of shareholder capitalism fades in favour of broader considerations, directors and c-suites are being asked to take on board a broader range of environment, social and corporate governance factors in their deals. We explore how far ESG issues should drive the buy and sell dynamic.

2.55pm
The New Giants – Key trends in technology M&A

With technology permeating almost all industry sectors and tech-driven companies among the largest and most influential in the world, we review the key trends in the active market for major TMT deals. Includes the factors influencing deals, evolving attitudes of key regulators in the sector and the price-moving points to focus on in tech DD.

3.45pm
Coffee Break
4.10pm
Don't get left behind – why transactional risk insurance is here to stay

We consider the evolution of TRI as a necessity on private equity deals, auction processes and corporate carve-outs. This includes debate on how TRI has changed M&A lawyering, due diligence processes and outcomes for buyers and sellers, including the fact that warranty claims are commonplace on insured deals.

5.00pm
Closing Remarks
5.05pm
Drinks reception
Speakers
James Aitken, Aitken Advisors
James Aitken founded consultancy Aitken Advisors after a lengthy sell-side career advising risk-seeking institutional investors about financial system fault lines. James started his career in 1992 as a foreign exchange trader and in 2002 joined the AIG Financial Products team in London. In 2006 he joined UBS, where he deployed his knowledge of the inner workings of the financial system to help his institutional investor clients successfully navigate their portfolios, before founding his own consultancy in 2009.
---
Alexander Kaarls, Houthoff
Alexander Kaarls is Head of the Corporate/M&A Group and has a particular focus on complex cross-border mergers, acquisitions and capital markets transactions, with 26 years' experience. He regularly advises clients on corporate governance, joint venture, securities regulatory compliance, and general cross-border matters.
He has authored and co-authored articles published in, among others, the International Financial Law Review, the International Comparative Legal Guide to Mergers & Acquisitions, the International Law Practicum, the European Lawyer, Advocatenblad (the Netherlands Bar periodical) and Maandblad voor Vermogensrecht (a leading Dutch periodical on contract law).
Alexander is a member of the Netherlands Bar (since 1993) and the California Bar (since 2002). He joined Houthoff in 2004, after spending ten years practicing with Skadden, Arps, Slate, Meagher & Flom LLP in London, Brussels and Palo Alto (California).
Alexander has been ranked as the Netherlands' 'leading M&A lawyer' by the predominant Dutch M&A website and database OverFusies several times (based on total deal value).
---
Aaron Fairhurst, CMS
Aaron Fairhurst is the Co-Head of the Tax Team and has worked at CMS since 2002.
Aaron has worked in a wide range of transactional and advisory roles, both domestic and international, covering income tax and capital gains tax, corporation tax, VAT and stamp taxes.
He primarily advises corporate and individual clients on the tax implications of disposals and acquisitions, joint ventures and reorganisations in the energy and infrastructure sectors, the corporate recovery sector and the private equity markets. Aaron is also well known and highly regarded in the W&I insurance market.
---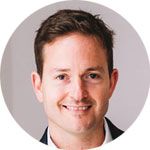 Adrian Massey, BlackRock EMEA
Adrian Massey is director – legal counsel at BlackRock EMEA. His experience covers international M&A transactions, investments (both equity and debt), joint ventures, commercial agreements and finance deals. In addition, he has knowledge of private equity fundraising, co-investments, primary and secondary investments, complex deal structuring and compliance matters. Prior to joining BlackRock, he was corporate counsel at the London office of O'Melveny & Myers.
---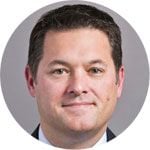 Chris Haynes, Gibson Dunn
Chris is a corporate partner at Gibson Dunn and heads the firm's UK equity capital markets practice. He has more than 20 years' experience of equity capital markets transactions and mergers and acquisitions, including advising corporates, investment banks and shareholders on IPOs (including dual track processes), rights issues and other public and private equity offerings, as well as on public takeovers, private company M&A and joint ventures. He also advises listed and private companies on corporate and securities law and regulation. He has extensive expertise of advising companies in the technology sector, amongst others, and in that sector has acted on IPOs such as AO World, Hostelworld, Just Eat, MoneySupermarket and Zoopla.
---
Claire Boydell, Arma Partners
Claire is an experienced corporate lawyer, having spent over ten years at Freshfields Bruckhaus Deringer, in their London and Paris offices, and three years at Barclays as a Director in the M&A Legal team. Claire joined Arma Partners, financial advisors to the Digital Economy, as General Counsel in 2015.
---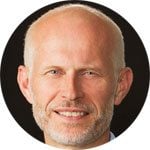 Chris Coulter, Cooley
Chris advises both established and fast-growth early-stage businesses on a range of technology, data, cyber security, contract and IP issues and assists companies on their digital transformation. Chris' experience includes counselling
---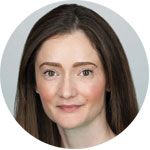 Elizabeth Hithersay, S&P
Elizabeth is associate general counsel, corporate international, at S&P Global, a global financial data and analytics company with a market cap of $71 billion whose businesses include S&P Global Ratings and S&P Dow Jones Indices. Elizabeth is responsible for corporate matters across EMEA and APAC, including executing M&A, restructurings and Treasury and capital management strategy, and ensuring subsidiary governance and annual compliance for 80+ subsidiaries across the regions. Prior to joining S&P Global in 2016, Elizabeth spent 12 years at Clifford Chance.
---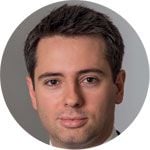 James Fletcher, Ashurst LLP
James is a partner in the Corporate department in London who specialises in cross-border public and private M&A, and corporate advisory work.
His recent experience includes advising: Liberty House on its £740m acquisition of various European steel plants from ArcelorMittal; Wells Fargo and Goldman Sachs on Berry Group's £3.3bn takeover of RPC Group plc; Oxford Instruments plc on multiple M&A transactions; Ladbrokes Coral on its £3.9bn takeover by GVC Holdings; and AVEVA Group plc on its £3bn combination with Schneider Electric's software business.
---
Geoff Dunnett, Shieldpay Professional Services
Geoff Dunnett is director of Shieldpay Professional Services. Geoff is a qualified solicitor and practised as a project finance lawyer at Milbank, Tweed, Hadley & McCloy and Mayer Brown, before working as an independent legal consultant to startups and lastly as a business associate for Techstars -Barclays tech accelerator. Geoff's transactional law experience has helped form the functionality of Shieldpay's third-party-managed account and corporate escrow offering.
---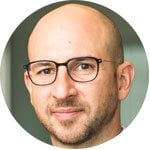 Lorenzo Corte, Skadden, Arps, Slate, Meagher & Flom LLP
Lorenzo Corte is co-head of Skadden's London M&A Group and focuses on cross-border mergers and acquisitions and governance, including contested takeovers, private sales and acquisitions, private equity transactions and joint ventures. He also leads Skadden's Italian Desk. Lorenzo lectures and participates in seminars related to his practice and is an adjunct professor in M&A at Ohio State University School of Law and also teaches at Fordham University School of Law.
---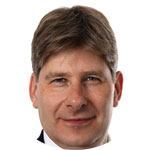 Martin Mankabady, Dentons LLP
Martin is a corporate partner in Dentons' London office. Martin is also the Global Chair of Dentons' Insurance group, and Sector Leader for the UK and Middle East for Diversified Industrials.
Martin has particular experience in corporate and commercial matters, including mergers and acquisitions. Martin also advises a number of insurers which underwrite warranty & indemnity insurance in connection with M&A deals.
Martin is widely acknowledged to be a leading practitioner in his field, and legal directories have commented that he is "very good and knows his stuff" and have praised him for his "quiet, effective, good-humoured mastery of deals and detail" and his "user-friendly, get-things-done" approach.
---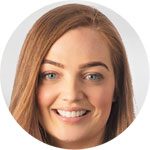 Mary Bartle, Informa
Mary is Senior M&A Counsel at the FTSE 100 constituent events, intelligence and publishing company Informa PLC. In her role, she covers a broad range of acquisitions, divestments and joint ventures across all divisions of the company. Prior to moving in house, she focused on public and private M&A at Clifford Chance LLP in London and at Blake, Cassels & Graydon LLP in Canada.
---
Matt Mullan, BAE Systems
Matt has over 20 years' in-house M&A experience. He has worked in both the telecoms and defence industries and led numerous international transactions spanning the Middle East, Asia, Europe and the Americas. His work includes complex acquisitions, disposals and joint ventures.
---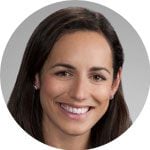 Farah O'Brien, Latham & Watkins
Farah O'Brien is a partner at Latham & Watkins' London office. She specialises in cross-border M&A transactions for private equity clients. She joined Latham in 2005 and has been a partner since January 2016. Her experience includes advising Bridgepoint on its acquisition of Kyriba Corp., EQT Partners on its acquisition of Facile.it, and The Carlyle Group on its acquisition of Gardner Group.
---
Philip Whitchelo, Intralinks
Philip is the Head of Market Insight at Intralinks, where he has been a member of the leadership team since 2010. He is an Honorary Visiting Fellow in the Faculty of Finance at Cass Business School, City, University of London, and is also a member of the Advisory Board of the M&A Research Centre at Cass. Philip is a globally recognised expert and speaker in the theory and practice of M&A and is the co-author of over a dozen M&A research studies. He began his career at Deloitte in London and has 25 years' experience working in M&A investment banking, strategy, corporate development and private equity.
---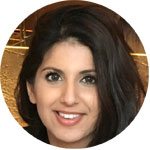 Priya Bains, Luminance
Priya Bains is Head of Product at Luminance, the artificial intelligence platform for the legal profession. She is responsible for overseeing the business and strategic development of Luminance In-House, which is built for in-house legal teams to manage their contract negotiation workflows. Priya has worked with organisations across the globe to drive product development and implement the use of Luminance in their day-to-day processes.
---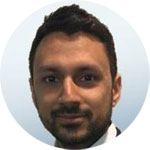 Rikin Morjaria, Freshfields Bruckhaus Deringer
Rikin is a Senior Associate in the Corporate department at Freshfields Bruckhaus Deringer. He advises clients on complex cross-border and domestic mergers and acquisitions, joint ventures and general corporate issues across a number of different sectors.
Rikin is currently on secondment to Freshfields' Innovation team where he is using his client and transactional experience to help the team develop innovative ways of engaging with clients, including through the use of legal tech.
---
Robert S Webb QC
Robert Webb, is currently Chairman of Darktrace Limited, Chairman of Luminance as well as a Senior Advisor at Brunswick LLP. He is a Door Tenant of Brick Court Chambers.
Until 1998, Robert was a practicing Barrister, a Recorder and Head of Chambers at 5 Bell Yard, London. His field of practice was commercial law, aviation law and mass disaster litigation.
From 1998 to 2009 he was General Counsel of British Airways. He is also a past Chairman of BBC Worldwide and of Autonomy plc, a former Senior Independent Director of the London Stock Exchange, a former Director of Holdingham Group for 14 years (previously Hakluyt) and a former Director of Argent Ltd and of Air Mauritius. He was General Counsel of Rolls-Royce Plc (2012-16).
He is a Bencher of the Inner Temple, a former Trustee of Comic Relief and a former Fellow of UNICEF.
---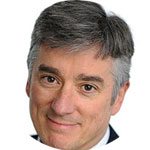 Robert Ivens, Legal Consultant
Robert has spent most of his legal career at Marks & Spencer. As head of legal, he was responsible for all legal advice provided to the M&S Group worldwide during a period that included two failed bids by Philip Green. He retired from M&S in 2016 and is currently working as a legal consultant.
Married, with two adult sons, Robert lives in London and Scotland.
---
Roger Barron, Paul Hastings
Roger Barron is a partner in the London office of Paul Hastings, a leading global law firm. He has nearly 30 years' experience of advising on public and private M&A transactions, primarily with a cross border focus. He has worked on transactions in a variety of sectors, including energy, utilities, media and telecoms, and is a key boardroom adviser for a number of the firm's FTSE and Fortune 500 companies. Outside the law, Roger is a board member of the London Philharmonic Orchestra, having been a trustee of the Mayor's Music Fund and a member of the development committee of the Royal Opera House.
---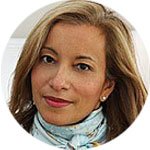 Stephanie Betts, M&G Investments
Stephanie Betts joined M&G in January 2018 as Investment Specialist for the Equity Income team with a focus on best in class corporate governance. She joined from Citigroup (after an extended maternity leave) where she was managing the European equities desk selling to French and a selection of UK institutional accounts. Stephanie began her career as a securities regulation lawyer with Sullivan & Cromwell (Paris) before transferring to Lehman Brothers in investment banking (New York), and equities capital markets and sales (London). Thereafter, she joined JP Morgan and latterly Citigroup where she ran European Sales to institutional clients (hedge funds and asset managers) . Stephanie graduated from New York University School of Law with a Master's Degree (LLM) in Corporate Taxation & Securities Regulations and holds an MBA in Corporate Taxation and Finance from the Institute of Political Sciences in Paris and a Law Degree in Corporate Law & Tax from the University of Paris II–Assas.
---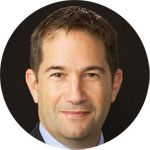 Justin Stock, Cooley
Justin focuses on M&A, corporate finance and private equity. Justin has acted on acquisitions and disposals for trade buyers and portfolio companies acquiring and disposing of both controlling and non-controlling interests and has particular experience in advising companies in the technology sector.
---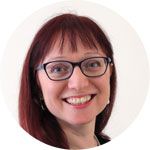 Tanya Nash, RiskPoint
Tanya joined the W&I insurance market in 2014 having previously spent 19 years in private practice as a Partner at both Dentons and Ince & Co, covering a wide range of international and domestic M&A and other corporate transactions. Tanya has particular experience of and interest in deals in the energy industry but has worked across numerous industry sectors.
RiskPoint is an underwriting agency and certified Lloyd's Coverholder with offices in Copenhagen (HQ), Frankfurt, Stockholm, Oslo, Helsinki, Amsterdam, Zurich, London and Madrid. RiskPoint M&A offers limits of up to EUR 150 million per transaction and represents and has full underwriting authority for eight major insurers. RiskPoint M&A offers warranty and indemnity insurance, tax risk insurance and contingency risk insurance.
---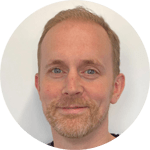 Rich Hathaway, Flyt
Following 15 years in private practice as a banking and finance lawyer at a number of City law firms, Rich took the plunge to follow a life-long interest in technology and joined a tech start-up. After a couple of twists and turns, Rich accepted the challenge of GC at Flyt, delivering software integrations into hospitality tech hardware. Several reorganisations and a successful acquisition by Just Eat plc later, he is now enjoying wearing both GC and Chief Operating Officer hats at a tech subsidiary of a FTSE100.