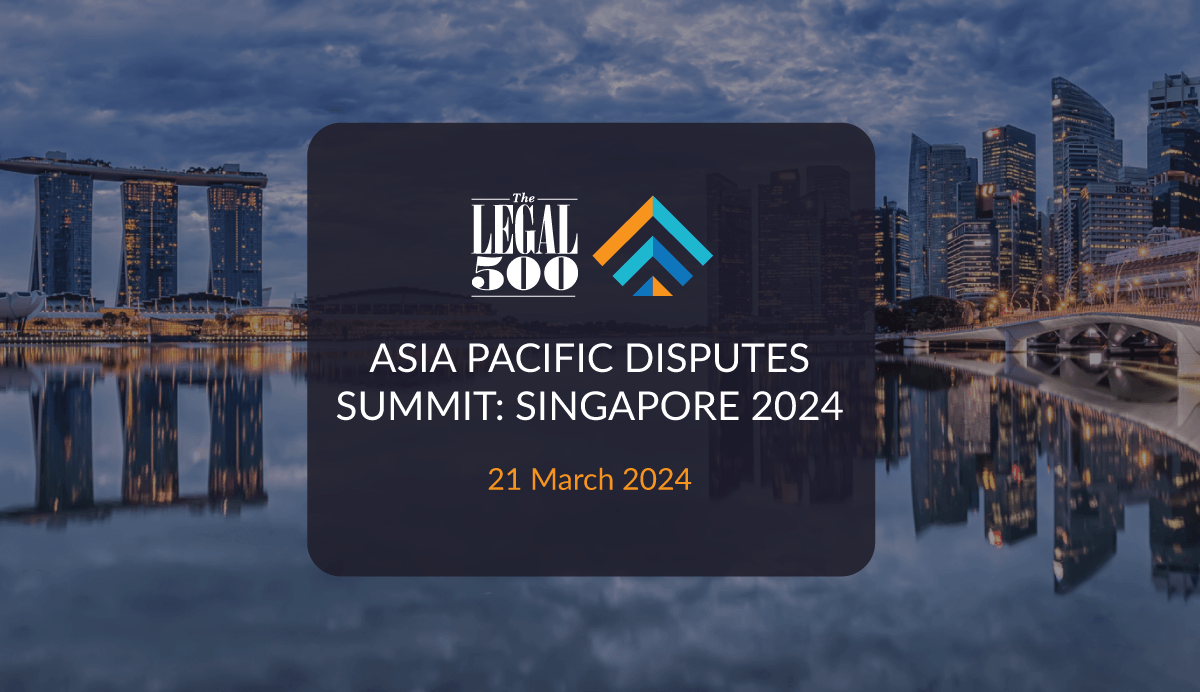 Event information
Date: Thu 21 Mar 2024 Time: 8.30am - 6.30pm
Amid a scene of change and uncertainty, organisations around the world are increasingly faced with an increased risk of disputes, amplified by the rise of technology, ever-evolving ESG considerations and supply chain disruption.
Running a successful business depends on anticipating risks and establishing robust compliance now more than ever, to successfully protect your organisation in today's inter-connected world. For General and In-House Counsel across Asia Pacific, the challenge is even greater, with remote working, digital transformation and multi-jurisdictional nuances requiring a broad perspective and deep understanding of the local outlook.
The Legal 500's Asia Pacific Disputes Summit brings together prominent General Counsel and leading disputes practitioners from around the region, for a day packed full of practical discussions around dispute avoidance, management and resolution.
Made up of panels, interviews and presentations, sessions are set to cover topics ranging from the ever-evolving role of GCs at a time of international volatility; choosing the most appropriate arbitration forum, the rising significance of ESG and role of international arbitration, the emergence of legal tech and the role it can play in dispute management, litigation arising from greenwashing, and from failures in the assessment, mitigation, and disclosure of climate risks; crisis management, the legalities and options when it comes to third-party funding, and the challenges and risks presented to boards when navigating internal and external investigations.
Attendees can expect high-profile speakers, plenty of time for debate, and networking drinks to end the day.
Agenda
8.30am–9.00am Arrival and Registration
9.00am–9.10am Opening Remarks
9.10am–10.00am Panel 1
10.00am–10.50am Panel 2
10.50am–11.05am Coffee Break
11.05am–11.55am Panel 3
11.55am–12.25pm Fireside Chat 1
12.25pm–1.25pm Lunch
1.25pm–2.15pm Panel 4
2.15pm–2.45pm Fireside Chat 2
2.45pm–3.00pm Coffee Break
3.00pm–3.50pm Panel 5
3.50pm–4.40pm Panel 6
4.40pm–4.50pm Closing Remarks
4.50pm–6.30pm Networking Drinks