Doing Business in...
Vietnam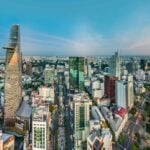 VIETNAM SNAPSHOT Formal name: The Socialist Republic of Vietnam. Population: 98.59 million (approximately). Average annual population growth: 1.14%%.
Contributed by Frasers Law Company
Read More...
Legal Market Overview
Vietnam continues to be one of the fastest-growing economies in the region and, with growth measured at 6.7% estimated by the IMF, and remains a popular destination for foreign investors, particularly in the power sector. The projects and energy space has seen businesses in the sector feed the nation's thirst for power, and work for many law firms has involved in the financing and refinancing of large power projects in the country including the Nam Dinh and Mong Duong 2 coal-fired power stations.
Foreign investment continues into the renewable energy sector, with Korean and Japanese investment visible in Vietnam – investors from these countries are also involved in the construction of metro projects in both national capital Hanoi and commercial hub Ho Chi Minh City (formally in the past, and informally among locals now, known as Saigon).
In the midst of the US-China trade war, Vietnam has found itself at an advantage due to the shift in production out of China, with the Asian Development Bank reporting putting a figure of 33% on the growth of Vietnamese exports to the US. Chinese direct investment into Vietnam continues to increase with figures propelled at $1.3bn at the beginning of 2019, making it one of the biggest foreign investors in the country, despite tensions over maritime boundaries being the latest installment of a bilateral relationship that has been occasionally tempestuous for millennia. US investment is estimated to grow surpassing its peers to take top spot in two years. Tourism and hospitality is another notable part of the economy, with a street circuit in Hanoi set to join the Formula One calendar in 2020.
In terms of legislation, the new labour code was passed in November 2019, promising to provide greater rights for employees and an updated definition of sexual harassment in the workplace. In the litigation space, real estate and construction disputes have been a key matter, as has intellectual property enforcement.
Local firms YKVN and VILAF are highly prominent, with a range of international firms including Allen & Overy LLP and Baker McKenzie visible. A number of international firms operate from Southeast Asia such as Singapore and have small teams based in either Hanoi and Ho Chi Minh City to facilitate the cross-border workload. Only Vietnamese-owned firms can litigate under that name, however this can include locally-owned parts of broader networks if firms wish to structure themselves appropriately.