Doing Business in...
United Arab Emirates (UAE)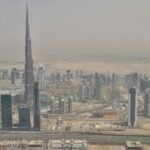 The UAE and the middle-east has always been a fascinating place for the outside world; some still imagine it as a land of flying carpets and magic lamps, while others know it as a modern sophisticated country exemplified by the engineering marvel the Burj Khalifa. Doing business in the UAE is a topic that has …
Contributed by Mahmood Hussain Law Firm
Read More...
Legal Market Overview
Lawyers on the ground in the UAE report a multi-faceted, and not entirely negative, picture of the market. A global entrepot asked the same questions as the rest of the world, challenges in the real estate sector are nothing new, with the mass market never having returned to its pre-2008 highs and experiencing a slow-down pre-Covid, even if a number of flagship projects linked to Expo continue to create work in the country. However, the entry in to liquidation of Arabtec, a local and government-connected contractor, is a visible shock to the market and could lead to some contractors with a more limited presence in the region to question their commitment. The legal market's fortunes, however, do not follow in lockstep with this; Saudi Arabia's Vision 2030, which includes high-profile projects across the west coast of the Kingdom such as the Red Sea Development Project, Neom and Amaala, has involved legal advice from a number of UAE-based legal teams. On the M&A side, a number of opportunities for distressed deals have arisen – particularly for private equity, which has rebounded from the Abraaj collapse.
Despite Covid-19 and tragic events in Lebanon, 2020 and early 2021 have been marked diplomatically by the UAE resolving two of its key diplomatic disputes. The first is the Abraham Accord, which normalises relations between the UAE and Israel. Opportunities abound, with Gulf pools of capital ready to invest in Israeli start-ups, with shared interests in fintech and cybersecurity. Subsequently, in early 2021 Qatar and the other members of the GCC moved towards a re-opening of borders, air links and trade links that were closed in 2017. In addition, Sudan being removed from the US' list of "state sponsors of terrorism" could also encourage foreign investment into the country. Law firms will have different ways of servicing this work, however the UAE looks in pole position for at least some of it.
The international drive towards economic substance regulations driven by the European Union has been felt in the UAE, an internationalised jurisdiction acting as a hub for firms with operations in many of the Eastern Hemisphere's key emerging markets, and has had as one of its calling cards a system for free zones. Most visibly among these, the DIFC and ADGM (to which the NMC Health structure has been domiciled after the high-profile turbulence in that company) continue to thrive, with recent events causing some observers to identify potential growth in professional negligence cases coming before their separate, English language and common law court systems, primarily against auditors.
Away from these jurisdictions, the UAE has a civil law system in the Arabic language, where locally qualified advocates (a prerequisite for which is UAE citizenship) have exclusive rights of audience but often work with those qualified elsewhere in the Arab world; it is a notable point that, even by the standards of other civil law systems, the UAE's "onshore" courts place a premium on written rather than oral advocacy.
Many elite international law firms are present in the market, although it should be noted that firms vary in size in terms of their presence. Al Tamimi & Company is to some extent the UAE's home-grown international firm, with offices across the Arab world, and Emirati firm Hadef & Partners is another local name to note. Offshore firms Maples Group and Walkers are also present.