Doing Business in...United Arab Emirates (UAE)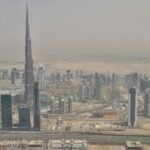 The UAE and the middle-east has always been a fascinating place for the outside world; some still imagine it as a land of flying carpets and magic lamps, while others know it as a modern sophisticated country exemplified by the engineering marvel the Burj Khalifa. Doing business in the UAE is a topic that has …
Contributed by Mahmood Hussain Law Firm
Read More...
Legal Market Overview
The clear entrepôt of the Middle East, Dubai is home to a reasonably busy legal market. While economic turbulence is, according to many litigators, a driver of local work in region, with some local turbulence in the national economy, transactional lawyers have been kept busy with work from across the region. Much legal work has come from the liberalisation of Saudi Arabia. All manner of projects across the broader region have kept the market busy, tempered somewhat by the regional issues with Qatar, which have had a dampening effect on the broader UAE economy. The UAE – a real estate-heavy economy – has encountered issues with falling rents, leading to some stress in the construction market, which is at least generating contentious work. The Expo 2020 project is still continuing, albeit with question marks as to the use of the site thereafter.
The UAE's legal system is, on a national level, a civil law one familiar to much of the Arab world with a civil code based on the Egyptian one (in turn strongly influence by the French code). However, much economic activity in the UAE is carried out in a range of economic free zones, two of which – the DIFC and the ADGM – have adopted an English-based common law system for most non-criminal legal issues, and have foreign, experienced, judges.
Clients have a great range of choice in the market, with a number of globally notable law firms present in the market to varying degrees. Foreign firms at the top of the market include both the global deal heavyweights and a number of other firms that have reaped rewards from lengthy connections to the Middle East and a broader international mindset. Turning to home-grown firms, Al Tamimi & Company is now arguably an international firm in its own right too thanks to its offices across the Arab world, from Cairo to Muscat and from Erbil to Jeddah. Hadef & Partners LLC leads the charge for other, UAE focused-firms.