Doing Business in...Sweden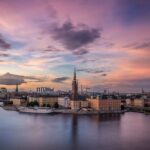 1. 5 REASONS TO DO BUSINESS IN SWEDEN Below we have listed five main advantages of doing business in Sweden: 1. Sweden is an impressive supplier of innovative solutions and products in a broad range of business areas particularly in the tech sector. Sweden is being regarded as an incubator for high-tech start-ups. The Swedish …
Contributed by Hammarskiöld
Read More...
Legal Market Overview
With a busy M&A market, a high number of IPOs and a bustling technology sector, Sweden still finds itself in exceptionally good position overall. However, the market slowed towards the end of 2018 and some anticipate further challenges may be on the horizon. Reports show a minimally higher unemployment rate and slower economic growth than expected, underlined by the fact that the GDP grew by 2.5% instead of the predicted 2.9%. Sweden's political circumstances may provide a partial explanation; after the general election in September 2018 resulted in a hung parliament, Swedish politics remained in a deadlock for several months, which left investors and employers hesitant.
On the legal side, the new GDPR rules brought a significant amount of work across various practice areas and caused an increased demand for compliance advice, and Sweden's booming start-up scene saw fast paced developments, particularly in the fintech and healthcare sectors. The market has also seen a substantial volume of private equity transactions and with the general transactional success, insolvency teams have focused their efforts on restructuring mandates. Employment lawyers have been instructed in a series of internal investigations following the initial impact of the #MeToo movement.
Local full-service law firms are an integral part of the Swedish legal market, with Mannheimer Swartling, Advokatfirman Vinge, Setterwalls and Wistrand being the key names in the region. As Stockholm is often seen as the Nordic hub, several international law firms have established footholds there including White & Case Advokat AB, DLA Piper and Baker McKenzie. The strong demand for boutique firms also persists, predominantly in the dispute resolution, IP and IT, and real estate and construction areas; Advokatfirman Kahn Pedersen KB, A1 Advokater, Synch Advokat AB and AG Advokat are key examples.
The Stockholm office of Advokatfirman Lindahl KB divided into Westerberg & Partners , established by the IP team and all dispute resolution partners, and Cirio Advokatbyrå AB. MAQS Advokatbyrå also lost a significant proportion of its team in Stockholm. Byström Rooth & Partners Advokater KB dissolved.