Doing Business in...
Egypt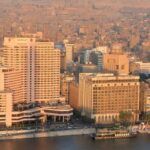 Introduction Egypt has been opened for business since the late President Sadat announced the open-door policy in the October Paper of April 1974. During those 47 years, Egypt has amassed a considerable experience and benefited from international best practices in attracting investments. In July 2004, Ahmed Nazif became prime minister of Egypt. He adopted a …
Contributed by Ibrachy & Dermarkar
Read More...
Legal Market Overview
Egypt has the third largest economy in Africa and with a population exceeding 100 million, it is the most populous Arab country. It lies in a highly strategic position, bordered by the Gaza Strip, Israel, Libya, and Sudan, and is home to key assets including the Sinai Peninsula and the Suez Canal. Its president, Field Marshal Abdel Fattah Saeed Hussein Khalil el-Sisi, and prime minister Moustafa Madbouly are at the head of an economy that continues to grow strongly despite the global Covid-19 pandemic, largely due to an on-going programme of economic reforms.
The country continues to attract overseas investment in key sectors, including healthcare, pharmaceuticals, agribusiness and renewable energy. A programme of new legislation, which includes a new data privacy law, a reform of the tax code and a moratorium on tax disputes, and banking laws aimed at minimising the grey economy, are helping to not only attract foreign investment, but also to enable small and medium-sized domestic companies to operate in a more transparent and compliant way.
The country's increasingly robust finance and capital markets regime led, in 2020, to several major firsts, most notably the first launch of a sovereign green bond by an Arab country. The government's $750m offering is part of its commitment to a more eco-friendly future for Egypt. The country also issued the first shari'ah-compliant sukuk under its new capital markets law.
The legal market is still populated by many traditional family-run firms, though new firms have gained a lot of ground in recent years, and more continue to enter the market. Matouk Bassiouny & Hennawy has become one of the dominant firms, alongside long-established players such as Zulficar & Partners Law Firm, Al Kamel Law Office, Shalakany Law Office, Zaki Hashem & Partners, Attorneys at Law, Shahid Law Firm and Karim Adel Law Office. A growing number of firms are expanding beyond their domestic market, with Matouk Bassiouny & Hennawy opening offices in Dubai, Sudan and Algeria. New firm ADSERO-Ragy Soliman & Partners continues to expand with key partner hires, extending the scope of its work into new areas such as banking and finance, employment and corporate and M&A. International firms with a longstanding presence in Cairo include Helmy, Hamza & Partners (member firm of Baker & McKenzie International) and Dentons Egypt LLC, while MHR & Partners in association with White & Case LLP continues to build its market presence.