Gelepu Ioana-Monica Law Office > Bucharest, Romania > Firm Profile
Gelepu Ioana-Monica Law Office
Offices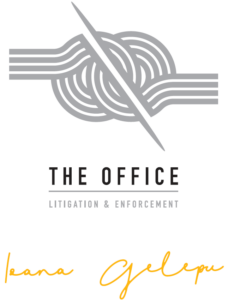 Gelepu Ioana-Monica Law Office
14 Ion Slatineanu Street
floor 2, apartment 1
Bucharest
Romania
Gelepu Ioana-Monica Law Office >
Firm Profile
The Office Litigation & Enforcement handles exclusively the litigation segment.
Ioana Gelepu practiced for 21 years in two leading law firms, being partner for 12 years in the second.
Drawn by an independent professional destiny and the factotum model of bringing the level of a litigator's professional services up to the standard of a personal adviser, she decided that, starting the 1st of March 2023, she would change her career path to work in an elite boutique litigation practice (The Office Litigation & Enforcement).
Ioana Gelepu combines the know-how of business lawyering with a highly personalized approach involving personal management of almost every detail involved in the strategy and argument of a case, a combination that ensures a high-class product, a pragmatic and efficient adaptation to the evolution of the case and a "shoulder-to-shoulder" relationship with the client throughout the litigation duel.
Key Clients
American International School of Bucharest
ArcelorMittal Tubular Products Roman
CBRE REAL ESTATE CONSULTANCY
GBI PAPREC
LACTALIS ROMANIA GROUP
MaxBet
Oceanul Indian, owner of the chain Stradale restaurants and canteens in office buildings
Ploiesti Shopping City, part of NEPI Rockcastle group
Roumasport (Decathlon)
Silcotub, part of TenarisSilcotub group
Main Contacts
| Department | Name | Email | Telephone |
| --- | --- | --- | --- |
| Head of The Office Litigation & Enforcement | Ioana Gelepu | ioana@gelepu.ro | +40.724.590.431 |
Languages
English
Client Testimonials
Client: Group Lead Attorney, Company – Industry/Sector: industrial and logistic real estate
Testimonial: 'Ioana has a keen knowledge of litigation, which she manages in a very personal way, being involved down to the smallest details. She is tireless when seeking solutions to seemingly impossible situations. When it comes to strategies, her vision is extremely pragmatic and oriented towards ingenious solutions. I also particularly appreciate her efficient and direct communication.'
Client: Legal Director, Company – Industry/Sector: steel Industry
Testimonial: 'Ioana is the right lawyer for a case that is both delicate and sophisticated.'
Client: CFO, Company – Industry/Sector:

Steel industry
Testimonial: 'Ioana has been with us for over 15 years in managing litigation matters, being an invaluable help in this matter.'
Client: Legal Manager, Company – Industry/Sector: s

hopping centers management
Testimonial: 'Ioana assisted us in a very complex employment litigation. She is a true professional with extensive expertise, always acting in a pro-active and timely manner, highly capable to handle quite sophisticated legal work. I admire her tenacity as she approaches all angles of the case with great determination, leaving no stone unturned! Not to say that her negotiation skills are very impressive too! I warmly recommend Ioana if you are looking for a lawyer with great communication and interpersonal skills too. I genuinely felt privileged to have her on board in our case.'
Client: Legal Director,  Company – Industry/Sector: d

airy industry
Testimonial: 'Ioana is a one of the highly experienced lawyer, dedicated to her mission, honest in setting the client expectations, with a business oriented approach when it comes to find the best ideas in solving the disputes, having an analytical thinking and a strong ability to convert facts into legal arguments.'
Client: Legal Manager, Company – Industry/Sector: retail segment
Testimonial: 'Our court cases have always been impeccably handled by Ioana, from defining the appropriate strategy to maximizing any opportunity of turning the odds in our favor, based on her extensive experience and strong determination, even in the face of most difficult situations. Moreover, her valuable counseling enables us to adjust commercial decisions in order to minimize risks and avoid litigations.'
Client: Major shareholder, Company – Industry/Sector: restaurants sand canteens in office buildings
Testimonial: 'I have had the opportunity to work with Ioana on several occasions, in commercial cases, including unfair competition or involving real estate matters, and in connection with labor litigation. My appreciation of her is both on a professional level, as an expression of the lawsuits she has won or her success in negotiations, and on a personal level, for her integrity.'
Client: Legal Director, Company – Industry/Sector: Owner and operator of shopping centers in Central and Eastern Europe (CEE)
Testimonial: 'Ioana is the lawyer capable of unravelling the ins and outs of a dispute no matter how complicated it may be. Extremely tenacious, rigorous and meticulous in finding solutions to delicate situations. She is a very open communicator, so we all felt on the safest and most competent hands.'
Client: HR Manager, Company – Industry/Sector: not-for-profit organization providing educational services
Testimonial: 'Ioana Gelepu is a true powerhouse in the legal litigation field. With an impressive track record of winning every case she has managed for us, her expertise is unparalleled. Her strategic acumen and ability to grasp complex situations make her an invaluable asset. She consistently delivers results, and her dedication to achieving the best outcomes is unwavering. I highly recommend Ioana for anyone seeking top-notch legal representation. She strives for excellence.'
Client: Manager & Operations Director, Company – Industry/Sector: movie theatres
Testimonial: 'Ioana is a unique mix of legal knowledge, experience as litigator and a surprisingly sharp and thorough business acumen in various industries.'
Interviews
Ioana Gelepu, head of Ioana Gelepu The Office Litigation & Enforcement
What do you see as the main points that differentiate Gelepu Ioana-Monica Law Office from your competitors?
Ioana Gelepu Office Litigation & Enforcement promotes a formula that emphasizes Ioana's personal involvement in nearly all the details of the mandates entrusted. I am the one who will lead each mandate through its specific path, from the macro vision (the determination of the course of action) to the micro details, such as the identification of the concrete arguments supporting the client's position, being the author of putting each "brick" as a part of the construction and creation process of a case.
Which practices do you see growing in the next 12 months? What are the drivers behind that?
Ioana Gelepu The Office Litigation & Enforcement is a litigation boutique. The cases we handle are exclusively from the litigious or pre-litigious spectrum (meaning all types of situations where the seeds of discord have already been sown).
By itself, this is an area that is constantly being fueled (there were no years of litigation recession on the Romanian market).
The trend over the last 12 months (and prior to this timeframe) has been an increase of administrative and labor disputes. Regarding the first hypothesis, the explanation may derive from a certain slowness, on the one hand, and rigidity, on the other, of the reactions/positions of the public authorities. As for labor law, I believe the explanation comes from the fact that the whole economic background is becoming increasingly dynamic, and employers are becoming bolder in making various decisions with economic impact on the HR area.
What's the main change you've made in the firm that will benefit clients?
Ioana Gelepu The Office Litigation & Enforcement has a light policy on costs. A key principle leading to this outcome, implemented with the aim of contributing to a lawyer-client relationship built on effective communication, is the non-quantification of those negligible, strictly indispensable services that can be qualified as purely administrative activities.
Is technology changing the way you interact with your clients, and the services you can provide them?
No until now. Given the field in which we operate (litigation), being attentive to the peculiarities of the case and addressing them creatively are essential tools for a fruitful outcome. As such, the whole relationship with the client is based on a highly personal approach, with the effect that we avoid any kind of patterns in our work.
In terms of modern types of client interaction (Zoom, Microsoft Teams, etc.), I can say that we use them in everyday interaction, hence they are perceived as the "new normal" in communication.
Can you give us a practical example of how you have helped a client to add value to their business?
We're always vigilant about every twist and turn a dispute reaches. When discussing a pre-litigation project, the number of turns tends to increase, as the opposing party's reactions to the client's various proposals and positions are less predictable (or even unpredictable) than in a litigation situation (where the parties are constrained by procedural rules to make their arguments known from the outset). Within this specific context, the scenery of the dispute is likely to change from one day to the next. Precisely because we do not use universally valid prescriptions but try to enhance the client's position by applying an adapted "treatment" from one day to the next, we have been able to avoid in some cases time-consuming and high-cost litigation by presenting to the client all the scenarios and their possible implications brought by a re-positioning of the opposite party during peace negotiations.
Briefly, we have been guided by a relentless attention to details, a seamless involvement to lead the case towards the most prudent course, but also by a frank dialogue, so that the client can have realistic expectations about the case and be able to take the wisest decisions from a business angle, which in some cases means precisely avoiding a litigation.
Are clients looking for stability and strategic direction from their law firms – where do you see the firm in three years' time?
As explained above, the signature feature of Ioana Gelepu The Office Litigation & Enforcement is that almost all the details of the projects are managed by me, being directly involved in each mandate, with all that this very particular approach entails. Therefore, we aim for a careful selection of the mandates, with a caseload not exceeding 100 files and a team of maximum 3-4 lawyers.