Firm Profile > Irwin Mitchell > Crawley, England
Irwin Mitchell
Offices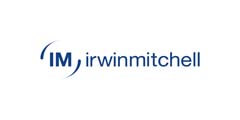 Irwin Mitchell
BELMONT HOUSE
STATION WAY
CRAWLEY, WEST SUSSEX
RH10 1JA
England
Irwin Mitchell > The Legal 500
Rankings
Irwin Mitchell >
Firm Profile
THE FIRM
Irwin Mitchell understands that whether it's business or personal, everyone's situation is different. When it comes to legal advice or support with financial planning they're the expert hand, with the human touch.
Irwin Mitchell employs 3,000 staff and has 15 offices throughout the UK and recently posted its 11th consecutive year of turnover growth to £276m.
The firm is recognised as the number one Superbrand in the legal sector and has the largest market share for complex personal injury and medical negligence and a reputation as a leading firm for litigation work. They are also the Official Legal Partner to England Rugby and British Rowing.
They're recognised in The Times' list of the best law firms in England and Wales and are officially a Great Place to Work, ranking 15th nationally across all sectors. Some of their recent award wins include Employment Law Firm of the Year, Catastrophic Injury Team of the Year and Excellence in Client Service.
Irwin Mitchell also works with First Law International an established worldwide network of leading independent law firms, helping clients with a wide range of international legal issues. They have successfully taken cases to the highest courts in the UK and Europe on behalf of clients and have the skills, experience and insight to deliver expert advice in more than 80 jurisdictions throughout Europe, the Americas, and Asia.
Irwin Mitchell is committed to becoming a leading Responsible Business with a clear focus on embedding Sustainability and Inclusion in everything it does. The Irwin Mitchell Charities Foundation (IMCF), the firm's independent registered charity, has also made over £2.5m of charitable donations since its formation in 1997.
Priding itself on being diverse and inclusive, Irwin Mitchell was recently named as one of the leading law firms for supporting women and has introduced a series of family friendly policies in recent months including its Flexible by Choice ways of working allowing all colleagues to choose where and when they work subject to role and client requirements.
Irwin Mitchell recently reorganised into two main teams: Client Services and Commercial Growth team to put clients at the heart of the business and accelerate growth.
MARKET
As one of the largest law firms in the UK, Irwin Mitchell provides a wide range of legal and financial services to thousands of individuals and businesses. In these times of unprecedented change their focus remains the same; to support their colleagues, clients and communities. Their track record and human touch, coupled with a reputation as a litigation powerhouse makes them stand out from the crowd.
As the leading complex personal injury and medical negligence practice in the UK, they support thousands of families whose lives have been turned upside down by the unexpected. With a national public law team and the UK's leading Court of Protection practice they work tirelessly so their clients have everything they need. Their in-house asset management division supports the work they do by providing tailored financial planning and investment advice and has recently reached a milestone £1bn of assets under management
Irwin Mitchell's private client offering specialises in residential property, family, wills, probate and tax, trusts and estate disputes. This is supported by experienced wealth management advisers that help people of all ages prepare for their current and future financial needs. Their prestigious client base includes high and ultra-high net worth individuals including business owners and entrepreneurs, corporate executives, investors and multi-generational families.
The firm also offers a wide range of commercial and corporate services for businesses and institutions and has expertise in sectors including manufacturing, technology, finance, consumer businesses, education, media and sport. Their strength comes from offering so much more than legal advice. They understand the current climate and are committed to helping businesses grow while managing risk in a volatile market.
Main Contacts
| Department | Name | Email | Telephone |
| --- | --- | --- | --- |
| Group chief executive | Andrew Tucker | | |
| Group chairman | Glyn Barker | | |
| Chief operations officer | Craig Marshall | | |
| Chief commercial growth officer | Vicky Brackett | | |
| Chief finance officer | Richard Allen | | |
Lawyer Profiles
| Photo | Name | Position | Profile |
| --- | --- | --- | --- |
| | Faye Bargery | Partner Faye has over seven years' experience in corporate and banking law… | View Profile |
| | Thomas Barnard | Senior associate | View Profile |
| | Dan Bastide | Partner Principal areas of practice include MBOs and other leveraged transactions, acquisition… | View Profile |
| | Sarah Birkbeck | Partner IP and IT dispute resolution and reputation management. | View Profile |
| | Alison Bruce | Associate solicitor | View Profile |
| | Clementine Burch | Senior associate Clementine has considerable experience in high-value, complex and international disputes,… | View Profile |
| | Aurelia Butler-Ball | Senior associate Expertise in the media and entertainment industries, advising individuals and… | View Profile |
| | Katie Byrne | Senior associate Katie has considerable experience in a wide range of domestic… | View Profile |
| | Natalie Cane | Solicitor Natalie is rapidly gaining experience in all aspects of construction law… | View Profile |
| | Mark Clinton | Partner Mark's principal areas of practice include: construction and engineering law; advising… | View Profile |
| | Daniel Hedley | Daniel is a specialist IT lawyer who worked in technical and service… | View Profile |
| | Rose Macfarlane | Senior Associate Solicitor Rose advises individuals and families of high net worth, sometimes… | View Profile |
| | James Mapley | SolicitorJames is developing experience in preparing advice reports and offering dispute resolution… | View Profile |
| | Hannah Nix | Senior associate | View Profile |
| | Stuart Padgham | Director. Stuart is a highly experienced commercial/ IT lawyer. His expertise includes… | View Profile |
| | Robert Parks | Senior associate | View Profile |
| | Sejal Patel | Associate | View Profile |
| | James Pavey | James is a partner specialising in resolving and avoiding public and private… | View Profile |
| | Lucy Samy | Associate solicitor | View Profile |
| | Caroline Shelton | Partner | View Profile |
| | Charlotte Sloan | Senior associate | View Profile |
| | Rebecca Walker | Senior associate | View Profile |
| | Andrew Walker | National head of restructuring and insolvency. Specialises exclusively in turnaround and insolvency… | View Profile |
Staff Figures
Number of partners : 226 Number of other UK fee-earners : 1750
The Lex 100 Verdict
A major name in the personal service legal market, Irwin Mitchell has a lot more to offer. It is full-service, providing trainees with something different from other training contracts: with a 'split training contract between business legal services and personal legal services', the firm allows trainees to choose a stream, which has proven very popular. One trainee commented: 'I liked that I could do the personal service stream and not have to risk doing any corporate or business seats'. Irwin Mitchell is a Lex 100 winner in six categories – job satisfaction, living up to expectations, client contact, work/life balance, social life and approachability of supervisors. Trainees commonly mention the firm's 'people' and 'ethos' as well as 'varied areas of expertise', particularly in public law and medical negligence. The firm also has a 'wide range of business legal service seats and this side of the business is growing – it's an exciting time to be a trainee.' In terms of training, the firm is described as having 'more structure in place' than competitors. A trainee adds, 'there are defined seats and an expectation for the supervisor/trainee relationship. There are people in defined roles ready to help you with any issues you may have'. Negatives include the period of furlough some new starters experienced and the slow development of home-working IT systems. But highlights included 'writing a letter of claim and getting very minor amendments from my supervisor and then sending it to the defendant who then awarded our client £100k', 'winning at trial' and 'completing an involved deal with a team that I really felt a part of'. A perennial winner of our awards, a diverse and unique structure and locations across the country, Irwin Mitchell is worth a second look.
Top Tier Firm Rankings
Firm Rankings