Firm Profile > Irwin Mitchell > Birmingham, England
Irwin Mitchell
Offices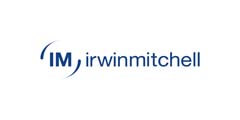 Irwin Mitchell
IMPERIAL HOUSE
31 TEMPLE STREET
BIRMINGHAM
B2 5DB
England
Irwin Mitchell > The Legal 500
Rankings
Irwin Mitchell >
Firm Profile
Nationally acclaimed, future focused, innovative and supportive, Irwin Mitchell understands that whether it's business or personal, everyone's situation is different. When it comes to legal advice and support with financial planning they're the expert hand, with the human touch.
Irwin Mitchell employs over 3,000 staff and has 15 offices throughout the UK. By offering personal and specialist services to national and international organisations and institutions, small and medium-sized businesses and individuals, they help to navigate life's ups and downs.
On top of its commitment to reducing its environmental impact and providing pro bono legal advice to those who cannot afford access to justice, the Irwin Mitchell Charities Foundation (IMCF), the firm's independent registered charity, has made over £2.5m of charitable donations since its formation in 1997. In 2019, the IMCF donated more than £418,900 to 13 good causes around the UK, through Irwin Mitchell's Charity of the Year programme.
Irwin Mitchell has the largest online market share for personal injury and medical negligence, and the greatest share of voice in legal editorial coverage in the UK media. Their reputation as a leading firm for litigation work has been acknowledged by the Lawyer magazine who named them as the third most active firm in the UK. They are the Official Legal Partner to England Rugby .
They're recognised in The Times' list of the best 200 law firms in England and Wales and are officially a Great Place to Work, ranking as number one in their industry. Some of their recent award wins include Employment Law Firm of the Year, Catastrophic Injury Team of the Year and Excellence in Client Service.
Priding itself on being diverse and inclusive, Irwin Mitchell was recently named as one of the most inclusive employers in Britain by LGBTQ equality charity Stonewall.
Market
As one of the largest law firms in the UK, Irwin Mitchell provides a wide range of legal and financial services to thousands of individuals and businesses. In these times of unprecedented change their focus remains the same; to support their colleagues, clients and communities. Their track record and expertise, coupled with a reputation as a litigation powerhouse makes them stand out from the crowd.
They understand that consumer needs are changing and combine the latest technology and excellent service to deliver impressive results, and build long lasting relationships. This was demonstrated perfectly by the way they reacted to the Covid-19 pandemic, temporarily closing 15 offices and moving to home working in a matter of weeks, so that they could continue to support their clients.
As the leading personal injury and medical negligence practice in the UK, they support thousands of families whose lives have been turned upside down by the unexpected. With a national public law team and the UK's leading Court of Protection practice they work tirelessly so their clients have everything they need. Their in-house asset management division supports the work they do by providing tailored financial planning and investment advice.
Irwin Mitchell's private client offering specialises in residential property, family, wills and tax, trusts and estate disputes. This is supported by experienced wealth management advisers that help people of all ages prepare for their current and future financial needs. Their prestigious client base includes high and ultra-high net worth individuals including business owners and entrepreneurs, corporate executives, investors and multi-generational families.
They offer a wide range of commercial services and have expertise in several other sectors including manufacturing, technology, finance, consumer businesses, education, media and sport. Their strength comes from offering so much more than legal advice. They understand the current climate and are committed to helping businesses grow while managing risk in a volatile market.
Main Contacts
| Department | Name | Email | Telephone |
| --- | --- | --- | --- |
| Group chief executive | Andrew Tucker | | |
| Group chairman | Glyn Barker | | |
| Chief executive, personal legal services | Craig Marshall | | |
| Chief executive, business legal services | Vicky Brackett | | |
| Group finance director | Richard Allen | | |
Lawyer Profiles
| Photo | Name | Position | Profile |
| --- | --- | --- | --- |
| | Ben Acheson | Partner Ben is head of the Real Estate team in our Birmingham… | View Profile |
| | Satinder Bains | Partner Satinder began her career at Irwin Mitchell specialising exclusively in mesothelioma and… | View Profile |
| | Sarah Balfour | Partner Expertise: divorce, children, pre and post nuptial agreements, cohabitation. | View Profile |
| | Philip Banks | Partner Heads a team within Irwin Mitchell's international travel litigation group, acting… | View Profile |
| | Steven Baylis | Associate solicitor Steven specialises in education and community care law and cases… | View Profile |
| | Sara Burns | Partner Experienced in cases involving all types of injury and a range… | View Profile |
| | Suki Chhokar | Partner Suki primarily deals with group actions against UK based tour operators,… | View Profile |
| | Hannah Clifford | Senior associate Specialisms: HR issues – reorganisations, disciplinary proceedings and dismissals. Employment… | View Profile |
| | Alida Coates | Partner Alida heads up the Midlands workplace illness team, which is the… | View Profile |
| | Clare Comiskey | Associate legal executive | View Profile |
| | Laura Daly | Senior associate Expertise: military injury, medical negligence, brain injury, oncology and fatal… | View Profile |
| | Luke Daniels | With 15 years of experience, Luke heads the Birmingham child abuse litigation… | View Profile |
| | Nick Dawson | Nick has considerable experence in all aspects of corporate transactions, but has… | View Profile |
| | Fergal Dowling | Works across all aspects of employment law and human resources, particularly contentious… | View Profile |
| | Helen Dyke | Senior associate Specialisms: Disciplinary investigations Disciplinary advice Education – Employment Related Matters… | View Profile |
| | Glen Edney | Head of motor claims department in Birmingham and member of the National… | View Profile |
| | Gemma Fenton | Associate | View Profile |
| | Clive Garner | Partner in the personal injury division and head of Irwin Mitchell's international… | View Profile |
| | Stephen George | Stephen leads the restructuring and insolvency team in Birmingham. He has 25… | View Profile |
| | Joanna Grewer | Partner | View Profile |
| | Mark Hands | I am a Partner in the family law team. I've helped families… | View Profile |
| | Jenna Harris | Senior associate Specialisms: medical experts, medical law, medical law & patients rights,… | View Profile |
| | Rebecca Hearsey | Senior associate | View Profile |
| | Stuart Henderson | Managing partner for the personal injury division and executive board member on… | View Profile |
| | Hayley Hill | Senior associate | View Profile |
| | Christopher Hurlston | Associate | View Profile |
| | Elaine Huttley | Senior associate Leads on contentious matters and experienced in the Employment Appeals… | View Profile |
| | Lisa Jordan | Partner and national head of the medical law and patients rights team… | View Profile |
| | Amy Keogh | Senior associate Amy joined our Birmingham office as a solicitor in early… | View Profile |
| | Mandy Luckman | Mandy leads our national Cosmetic Law team and has experience of all… | View Profile |
| | Stephen Nye | Lead partner of the Birmingham serious injury team. Represents clients who have… | View Profile |
| | Samantha Owen | Associate solicitor | View Profile |
| | Zahra Pabani | Partner Zahra is part of the national team and supports clients in… | View Profile |
| | Jatinder Paul | Senior associate | View Profile |
| | Clare Pearson | Associate legal executive | View Profile |
| | Simon Prew | Senior associate | View Profile |
| | Chris Rawstron | Partner. Birmingham head of business legal services and national head of corporate… | View Profile |
| | Tim Rayner | Tim is a Partner in the Irwin Mitchell real estate team with… | View Profile |
| | Rosalie Reading | Senior associate | View Profile |
| | Sarah Riding | Sarah heads up the commercial and sourcing team in Birmingham. Sarah has… | View Profile |
| | Emma Rush | Emma is a partner within the Medical Negligence team in the Irwin… | View Profile |
| | Amandeep Samra | Associate solicitor | View Profile |
| | Donna Seferta | Senior associate Expertise: employment law; employees and employers, employer internal investigations, disciplinary… | View Profile |
| | Shazia Shah | Senior associate Specialisms: contentious and non-contentious employment law; discrimination issues, unfair dismissal,… | View Profile |
| | Iain Shoolbred | Senior associate | View Profile |
| | Lindsay Tomlinson | Partner in the Birmingham medical law and patients' rights team. Lindsay has… | View Profile |
| | Stuart Tym | Senior associate District level planning experience: section 106 agreements, affordable housing &… | View Profile |
| | Hilary Wetherell | Partner in the serious injury team in the Birmingham office specialising in… | View Profile |
| | Clare Wiseman | Clare is a Partner in our Family Law team, based in Birmingham.… | View Profile |
Staff Figures
Number of partners : 249 Number of other UK fee-earners : 1,500+
The Lex 100 Verdict
A major name in the personal service legal market, Irwin Mitchell has a lot more to offer. It is full-service, providing trainees with something different from other training contracts: with a 'split training contract between business legal services and personal legal services', the firm allows trainees to choose a stream, which has proven very popular. One trainee commented: 'I liked that I could do the personal service stream and not have to risk doing any corporate or business seats'. Irwin Mitchell is a Lex 100 winner in six categories – job satisfaction, living up to expectations, client contact, work/life balance, social life and approachability of supervisors. Trainees commonly mention the firm's 'people' and 'ethos' as well as 'varied areas of expertise', particularly in public law and medical negligence. The firm also has a 'wide range of business legal service seats and this side of the business is growing – it's an exciting time to be a trainee.' In terms of training, the firm is described as having 'more structure in place' than competitors. A trainee adds, 'there are defined seats and an expectation for the supervisor/trainee relationship. There are people in defined roles ready to help you with any issues you may have'. Negatives include the period of furlough some new starters experienced and the slow development of home-working IT systems. But highlights included 'writing a letter of claim and getting very minor amendments from my supervisor and then sending it to the defendant who then awarded our client £100k', 'winning at trial' and 'completing an involved deal with a team that I really felt a part of'. A perennial winner of our awards, a diverse and unique structure and locations across the country, Irwin Mitchell is worth a second look.
Top Tier Firm Rankings
Firm Rankings